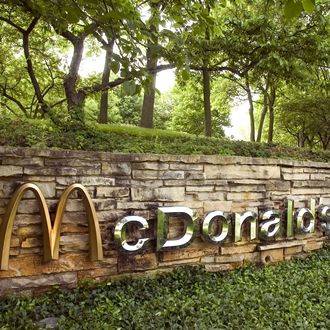 A great day at McCorporate.
Photo: Tannen Maury/Bloomberg via Getty Images
Outside of a $15 minimum wage, the fast-food industry's big mortal fear when it comes to labor law is over classifying companies with franchise business models as "joint employers" along with their franchisees. Their fear increased substantially in 2016, following news that President Obama's Labor Department had issued guidelines recommending precisely this classification. It's probably no surprise, then, to learn that yesterday the new Labor Department came to those giant corporations' rescue by deleting the Obama-era guidelines entirely.

The retail industry was pretty happy about the changes. The International Franchise Association, a big fast-food trade group, said the guidelines under Obama's DOL were some of "the most costly and burdensome regulations impacting the franchise business model." The group said it was "pleased" that the new agency is taking steps to undo a federal ruling that's "made it harder for America's 733,000 franchise owners to grow and create new jobs." The U.S. Chamber of Commerce's statement called the Obama-era guidelines "enforcement traps waiting to spring," and the National Retail Federation celebrated the move as an "important first step" in getting rid of the "uncertainty that led to more growth-chilling litigation."
The DOL's withdrawal doesn't necessarily translate to an immediate win for fast-food employers, though. The guidance it removed wasn't technically law, so judges weren't obligated to defer to it, former Labor deputy secretary Seth Harris tells the L.A. Times. He feels, "If anything, it makes it harder for employers, because they don't know clearly what standards they should apply."
But it does signal a priorities switch — one where the Labor Department pursues fewer cases that go "up-chain to a corporate franchisor," as another former Labor official explains. That will almost certainly affect the eventual outcome of cases before the National Labor Relations Board. The NLRB has recently taken workers' side in several joint-employer cases. The big one to watch, though, involves McDonald's, and it's still being challenged in court. In the meantime, there are currently two vacancies on the NLRB that President Trump gets to fill, assuming he ever gets around to it.