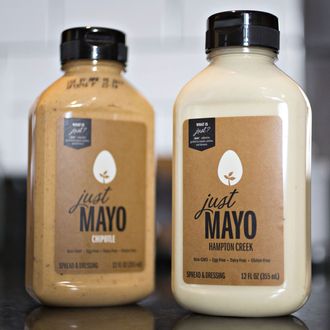 Not Tar-zhay material anymore.
Photo: Daniel Acker/Bloomberg via Getty Images
Target says it is removing every single product made by Hampton Creek, the embattled vegan start-up. The company isn't offering many specifics yet, but Bloomberg reports the retail chain has received what it considers to be credible allegations of food safety concerns, plus claims that several of Hampton Creek's products are improperly labeled.
A rep says they've launched "a full review" into the matter, but since it's always better for a brand to be safe than sorry, Target started yanking everything from its 1,800 stores and website yesterday anyways. This person explains that the company acted with such speed (i.e., within 18 hours of receiving the reports) because of the "specificity and seriousness" of the claims, which detail both potential health violations as well as "manipulation and adulteration" of products.
The examples Target publicly released are wild enough to sound like some competitor's smear campaign: One is a report that pathogens were found in a manufacturing facility used by Hampton Creek. Another is that the start-up's products have tested positive for not just salmonella, but listeria, too. A third is that certain items purporting to be non-GMO actually aren't. A fourth is that Just Sweet Mustard contains honey, which is not an ingredient listed on the label. Target is so serious about the product withdrawal that it remotely disabled cash registers so shoppers can't purchase Hampton Creek products — Bloomberg says it's now "impossible for consumers to purchase items from Hampton Creek," even if they find a rogue one left on the shelf.
Hampton Creek is pushing back hard, naturally: "The allegations that our products are mislabeled and unsafe are false," it says in a statement. "We have robust food safety standards, and as such, we remain confident about the safety of all products we sell and distribute. We look forward to working with Target and the FDA to bring this to a quick resolution."
Target carries 20 different Hampton Creek products — not only Just Mayo and Just Sweet Mustard, but also Just Cookie Dough and a variety of other Just Dressings. In fact, the start-up's Target business is responsible for a third of its total retail sales; Target is thus Hampton Creek's largest retail account and is reportedly worth $5.5 million per year, an insider tells Bloomberg. (This will hurt, in other words.) Target hasn't confirmed any of these claims yet, and of course didn't say where they came from. But given the recent crazy infighting at the company — three top execs just tried staging a coup — it's not hard to imagine a couple of likely sources.