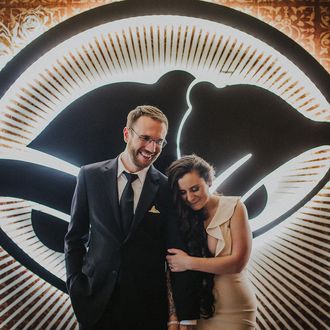 Match made in heaven.
Photo: PRNewsfoto/Taco Bell Corp.
Nothing truly says holy matrimony like a white wedding gown and Doritos Locos fingers. Luckily, the nuptials package Taco Bell created for its gimmicky Love and Tacos contest earlier this year will soon morph into a permanent option at its sprawling, new flagship location on the Las Vegas Strip. People who'd normally have to roll the dice on an ordained Elvis impersonator's "It's Now or Never" at the Little Chapel of Love can instead now trust the masterminds behind fried-egg taco shells to properly commemorate this occasion.
Bell superfans will recall the Love and Tacos contest this is spun out of — it's the one in which, several months ago, over 150 couples fought for a chance to get married by Taco Bell. (This is neither here nor there, but the clear winner of that contest was robbed. How do you not award the prize to a woman who photographed herself in a dress she made from burrito wrappers?) Contestants who lost, plus anyone else who wants "an experience you'll 'taco 'bout' for years to come," as the company puts it in a press release, can go to the Cantina location on the Strip starting August 7 and order a shotgun wedding right off the menu. The package costs $600 and includes a ceremony performed by an ordained officiant, a private reception for as many as 15 guests, Taco Bell–branded Champagne flutes, a 12-pack of tacos, a Cinnabon Delights cake, and a bouquet made from hot-sauce packets.
That officiant, sadly, will not be a uniformed Taco Bell employee, the company has clarified. Still, couples who sign up can expect to be united forever in the bond of marriage within four hours.