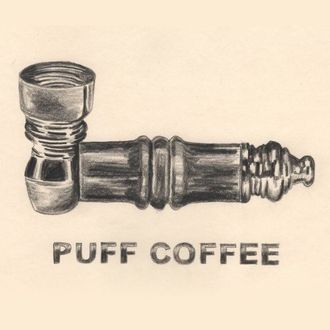 The roastery's interesting logo.
Photo: Wes Lang/Courtesy of Puff Coffee
Duane Sorenson, Stumptown's founder, is returning to coffee after a two-year hiatus. The Oregonian reports that he's opening a new café and roastery called Puff in his hometown of Portland this fall. The third-wave pioneer surprised a lot of people in 2015 when he sold Stumptown to billion-dollar coffee giant JAB Holding, now also the owner of Keurig, Peet's Coffee & Tea, Caribou Coffee, and Intelligentsia, as well as Panera Bread and Krispy Kreme. Not a whole lot has changed at Stumptown since acquiring a new owner, but Sorenson did leave the company.
Sorenson basically says the noncompete he signed at the time has expired, so he wants back in the game. "I miss roasting coffee," he tells the paper. Since leaving the coffee industry, he's done well for himself as a restaurateur (Puff will be located directly behind his successful downtown-Portland fried-chicken joint, the Woodsman Tavern). He says he now realizes he "pushed and pushed and went nuts" while running Stumptown, so presumably the plan this time is to keep things a little slower-paced.
Puff's opening date is set for November, and the space sounds like your regular third-wave coffeehouse, only with one of America's preeminent connoisseurs of the commodity at the helm. Wes Lang, an artist who's collaborated with Kanye West, designed Puff's pipe logo (Sorenson didn't bother explaining why he went with the curious smoking theme), and the café is apparently being envisioned as a spot that doubles as a dance venue and concert space for local artists. Sorenson also tells the Oregonian he hasn't 100 percent ruled out opening more Puff locations "over time," throwing out that he can't help but remain "very competitive."