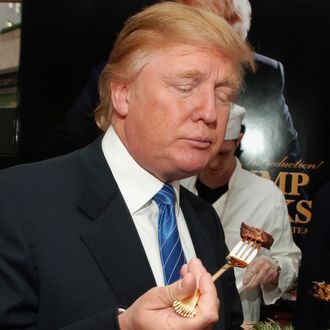 Let them eat steak.
Photo: Stephen Lovekin/WireImage
Since May, the Trump administration has been boasting about the president's bilateral trade deal with China. (Commerce Secretary Wilbur Ross declared it "gigantic," while the dealmaker-in-chief himself tweeted, "This is REAL news!") The excitement's over China agreeing to open its markets to U.S. beef for the first time in 14 years. Indeed, the first imports arrived just last week, something big meat producers like Tyson had apparently been drooling over for months. And that overeagerness to dive into China's untapped market is now having an unpleasant side effect, several steakhouse owners tell the New York Post: The domestic price for their beef has climbed higher as a result, nearly prohibitively so in some cases.
Per the restaurateurs who griped, beef prices have leaped by as much as 30 percent just in the past month. Bobby Van's Steakhouse owner Rick Passarelli says steak is running them about $13.50 a pound right now instead of $10 (the going rate at the start of 2017). He says he's stooped to telling servers they should suggest a nice chicken parmigiana instead of pushing the steakhouse's steak, since margins are higher.
Meanwhile, New York's meat mega-purveyor Pat LaFrieda tells the Post that U.S. beef companies have been "gearing up" for China by literally setting meat aside in their freezers. The consequence? "There is much less available on the market," he says. Restaurants he supplies are paying about 20 percent more, and many have started requesting cheaper cuts — hanger, flat-iron, chuck, and the like. "If a skirt steak was $5 a pound a couple of months ago, my customers are paying about $6 a pound now," he explains, promising: "You will see less rib-eye, filet mignon and NY strip on restaurant menus."
Overall, the wholesale price of beef rose more than 13 perfect for the month of May. Granted, the fact beef's been unprecedentedly cheap for a year makes it hard to shed too many tears for steakhouse owners, but it's not hard to grasp why they're annoyed, especially since Trump's USDA also banned imports of all fresh Brazilian meat last week.