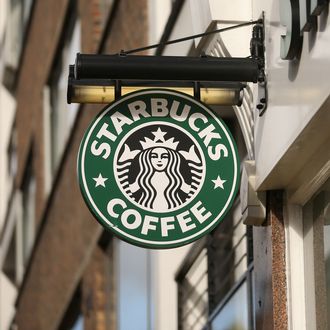 Making strides toward that goal of employing 10,000 refugees by 2022.
Photo: Oli Scarff/Getty Images
Starbucks is entering round two of its refugee-hiring plan, the backlash be damned. It announced today — which, not by accident, is World Refugee Day — that cafés in Europe will recruit 2,500 new refugee workers over the next five years. This marks the second phase of a policy that Starbucks rolled out in January as essentially Howard Schultz's retaliation to President Trump's travel ban. ("These uncertain times call for different measures," Schultz wrote of the 2,500 jobs Starbucks pledged to U.S. refugees at the time.) In Europe, the company will target refugees who live in eight countries — England, France, Germany, Austria, Switzerland, Spain, Portugal, and the Netherlands.
Separately from that commitment, Starbucks also says it's going to give jobs to another 1,000 refugees in Canada. That brings the total number so far to 6,000, more than halfway to its goal of 10,000. The chain promises to work with aid groups in all of these countries to help place workers in open positions. The Refugee Council, a nonprofit it's partnering with in England, tells the AP that it's hard to overstate the "positive difference" the initiative will make in the lives of those refugees.
When the hiring pledge was unveiled back in January, Trump supporters fought against it hard with tirades questioning Starbucks's respect for veterans and protests that got #BoycottStarbucks to briefly trend on Twitter — attacks that, while not exactly withering, did hurt the brand's public perception. Now, the 25,000-store coffee chain, the alleged corporate outlet for Schultz's "liberal agenda," is at the mercy of whatever devastating hashtag Le Pen voters and the pro-Brexit crowd can think up.