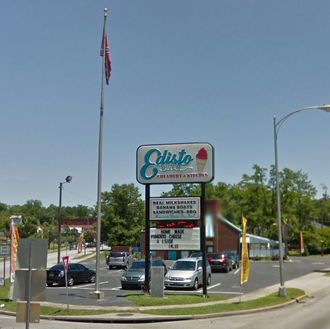 The optics are clearly not so good.
Photo: Google
When Tommy Daras bought the lot for his Orangeburg, South Carolina, restaurant, it came with an accessory he didn't bargain for: a large Stars and Bars that belonged to the previous owner, and now hangs mere feet from his establishment's sign. Daras's Edisto River Creamery & Kitchen has since grown into a popular target for vandals and angry protesters who either think it's his Confederate flag, or know it's not and don't want him moving it. Unfortunately for Daras, the Sons of Confederate Veterans legally claims to own the land the flagpole sticks out of, and the situation's grown so tense that the group now insists it will have him arrested for trespassing if he so much as thinks about laying a finger on it.
The property's previous owner was an infamous barbecue baron named Maurice Bessinger who, among other things, believed that ending school segregation was a "really bad" idea, and considered the Civil Rights Act to technically be "unconstitutional." He installed Confederate flags at all of his Maurice's Piggie Park locations after South Carolina moved the one atop its statehouse dome to a less-conspicuous spot on the capitol grounds (Governor Nikki Haley removed it once and for all in 2015). Before he died in 2014, Bessinger apparently sold the area immediately surrounding the flagpole on Daras's property — about 130 square feet — to the Sons of Confederate Veterans for the fire-sale price of $5. "He put it in the hands of people that he trusted because he loved his Confederate ancestors and his Confederate history just like we do," one of the group's members explains to Fox 8.
Daras says "all hell broke loose" after the Dylann Roof massacre. Employees now get harassed nonstop, and he adds he's wound up "fist-fighting with people in the parking lot." Everyone just assumes it's his flag because it "looks like it's attached to this building." He says he initially tried compromising, but has wised up to the fact that the Sons of Confederate Veterans are just "racists" set on "bringing down my business with them."
The group vows that the flag will fly "as long as they're alive." Daras has hired a lawyer to see what a judge has to say about that — they argue the pole actually sits on land zoned for commercial use, and therefore must be removed because it violates a city ordinance. The Sons of Confederate Veterans seem to have produced a deed showing the 130-square-foot parcel does in fact belong to them, and city records show they're very diligent about paying the property taxes on it. Everything's at an impasse, meaning that Daras will keep wincing every time he looks out his restaurant windows, unless the courts intervene.