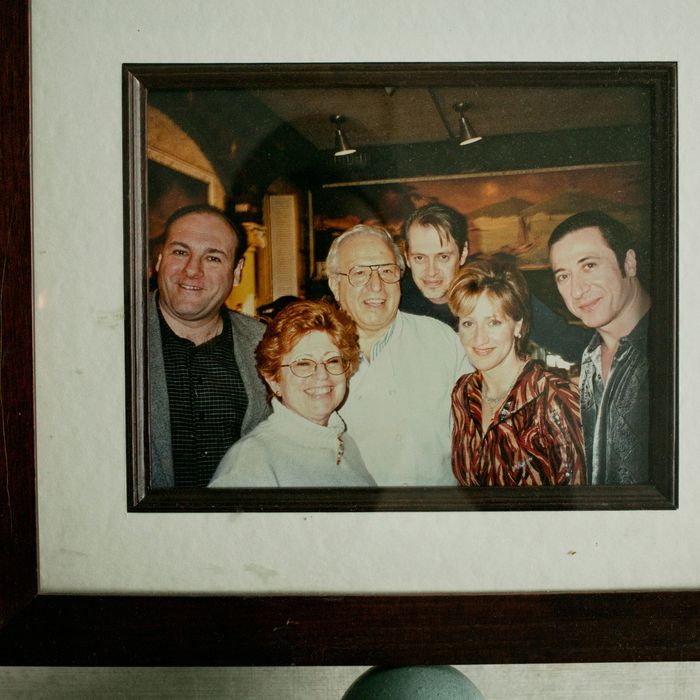 Cast members, in a shot that hangs at Mario's in the Bronx.
Photo: Melissa Hom
On June 10, 2007, nearly 12 million TV watchers all had the same thought: "Did the cable just go out?" They'd seen the Soprano family squeeze into a booth at Holsten's ice-cream parlor, eating "New Jersey's best onion rings" while waiting for Meadow. When that front door opened, though: blackness. The final scene of the final episode of The Sopranos ended with what has become the most famous cut-to-black in the history of premium cable, leaving everyone to wonder what the literal darkness meant. But even though that was the last we'd see of Tony Soprano — and James Gandolfini suddenly passed away six years later — the show has never left New York City's restaurants and Italian food shops.
In fact, Sopranos memorabilia is more or less ubiquitous, with framed and signed cast photos hanging in all five boroughs. Gandolfini's visage graces the wall of Bamonte's in Williamsburg. Prince Street Pizza features numerous shots of Gandolfini and Tony Sirico. Gino's in Bay Ridge, L&B Spumoni Gardens, Il Cortile, the list goes on.
Far more than gimmickry décor, the photos are often embodiments of Italian-American pride, an association with the people who helped create a truly iconic series, and they all have some kind of story attached. For some restaurant owners, being a part of that series, even in the periphery, is something they're still talking about a decade after the show's much-dissected finale.
The Time Uncle Junior Serenaded a Bunch of Nuns
For an episode in the show's fourth season, Mario's, a family-run Neapolitan joint in the Bronx, served as the setting for a short dinner scene. At the time, The Guardian declared that the restaurant had "just received an accolade more valuable than a Michelin star — a scene from the new [season] of The Sopranos."
Owner Joe Migliuicci was already a fan when producers scouted his restaurant. "My whole family came in [to watch], and we stood behind the bar with earphones in to listen," he says. "Growing up in this neighborhood and seeing all the mobsters, I could relate to all the things that happened on the show."
The scene in question featured Edie Falco, Federico Castelluccio, and Gandolfini, who was apparently just supposed to cut his order of chicken royale for the scene, but kept eating it anyway. And now, a framed photo commemorates the episode: In the picture, Castelluccio, Falco, and Gandolfini squeeze around Migliuicci and his wife, Barbara. Steve Buscemi, who directed that specific episode, hovers behind them all.
That same frame also contains a shot of Migliuicci with Dominic Chianese, a.k.a. Uncle Junior. Even though he wasn't in the scene, he's gone on to become a regular at Mario's, even serenading a large group of nuns who were dining at the restaurant. As Migliuicci recalls, "He went out to his car, got his guitar, and then came back in to entertain them."
A Violent Showdown Led to a Heartwarming Wedding Reception
John's of 12th Street is an East Village red-sauce icon; it's also the spot where Tony Soprano so memorably pistol-whipped Coco for making salacious comments to Meadow while she was on a date. When The Sopranos crew approached owner Nick Sitnycky about the scene, he says he felt both honored and blessed; like Migliuicci, he watched the show as it aired. John's has served as a location for numerous shoots over the years, but Sitnycky says he's most proud of this scene, which featured some of his employees. "They had two of our guys cleaning in the scene when Tony knocks [Coco's] teeth out on our bar," he says.
Now, the person whose photo hangs on the restaurant's Wall of Fame is of a more unlikely character: Armen Garo, whose face was bloodied and teeth were knocked out in his brief onscreen appearances.
"Coco, who was the beat-up guy, actually became a really good friend of ours," Sitnycky explains. "He was getting married a year after he shot the scene, and he had his wedding reception at the restaurant because the scene meant so much to him."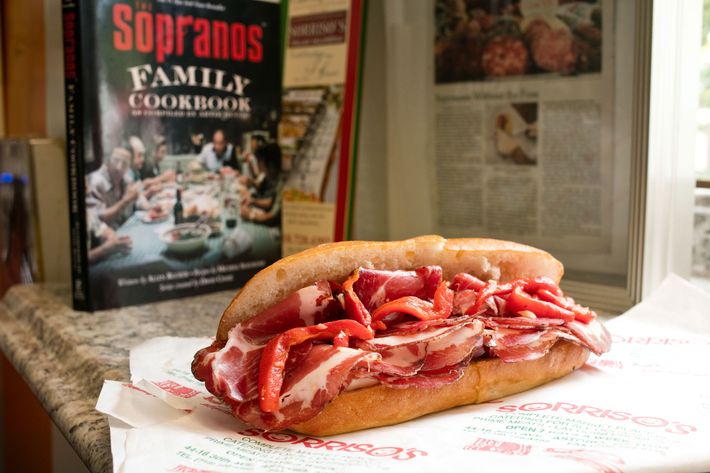 Classic Italian Heroes
The ultimate compliment in the New York food world is to get a sandwich named for you. At Sorriso Italian Salumeria in Astoria, The Sopranos is honored with two.
Frank DePaolo sells fresh-made mozzarella, housemade soppressata, and nearly two dozen types of sandwiches, including the Godfather, the Goodfellas, and the Scarface. "The Sopranos" features hot or sweet capicola, fresh mozzarella, and roasted peppers. Another combination — capicola, salami, provolone, roasted peppers, and artichoke hearts — is the signature "Gabaghoul," named after the Neapolitan word for capicola that will be instantly familiar to any Sopranos loyalist.
"In the middle of the series, I thought we should come out with a new sandwich," DePaolo says of The Sopranos, and he ended with two. As it turns out, the Gabaghoul's popularity is as enduring as the show's. "It's one of our best-selling sandwiches," DePaolo says.