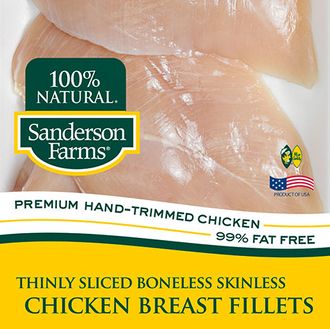 Hmmm.
Photo: Sanderson Farms
Your all-natural breast fillets might be coming from a bird that secretly clubbed all night to EDM. According to a new lawsuit filed by consumer-advocacy groups, ketamine is one of several "other pharmaceuticals" that recently turned up in USDA tests of Sanderson Farms' supposedly "100% Natural" chicken. Three consumer groups — the Center for Food Safety, the Organic Consumers Association, and Friends of the Earth — brought the complaint yesterday after obtaining Sanderson's Food Safety and Inspection Service tests, which they got ahold of through a Freedom of Information Act request.
According to Bloomberg, they learned a variety of suspicious substances had been detected in the third-largest U.S. poultry company's chicken. From the end of 2015 to the end of 2016, the USDA did 69 inspections at Sanderson's facilities. Agents took samples of the products made at each facility and analyzed them for contaminants. The results apparently came back positive for things that weren't "100% Natural" one third of the time. Among them: chloramphenicol, an antibiotic not approved in animals that will become food because it's been shown to have a toxic effect on bone marrow. Also, a form of ciprofloxacin, a common human antibiotic that's started showing signs of bacterial resistance in recent years. Other drugs that shouldn't be in chicken — an opioid analgesic called butorphanol, and the synthetic hormone melengestrol acetate — were found, too, along with some 82 other instances of Special K, pesticides, and additional "unconfirmed residues." (The USDA wouldn't say how, or if, it punished Sanderson.)
The consumer groups argue that Sanderson's mum about what it does with that ketamine, though the assumption is it probably operates as some sort of sedative before slaughter. Bloomberg says they want the company to admit its "100% Natural" claim is more or less hogwash, and pay for "a corrective ad campaign."
Sanderson is already somewhat infamous in consumer-advocacy circles for its unapologetically pro-antibiotics stance. Last year, it launched a big ad campaign arguing that the industrywide trend toward removing drugs was a "marketing gimmick" simply used to overcharge consumers. But in a statement to Bloomberg, it still denied that it puts any of these weird drugs in its chicken. "Sanderson Farms does not administer the antibiotics, other chemicals and pesticides, or 'other pharmaceuticals' listed in the complaint with one exception," its statement says. "Our veterinarians do from time to time prescribe penicillin in FDA approved doses to treat sick flocks." It's definitely true that all that partying can take a toll on the body's immune system.