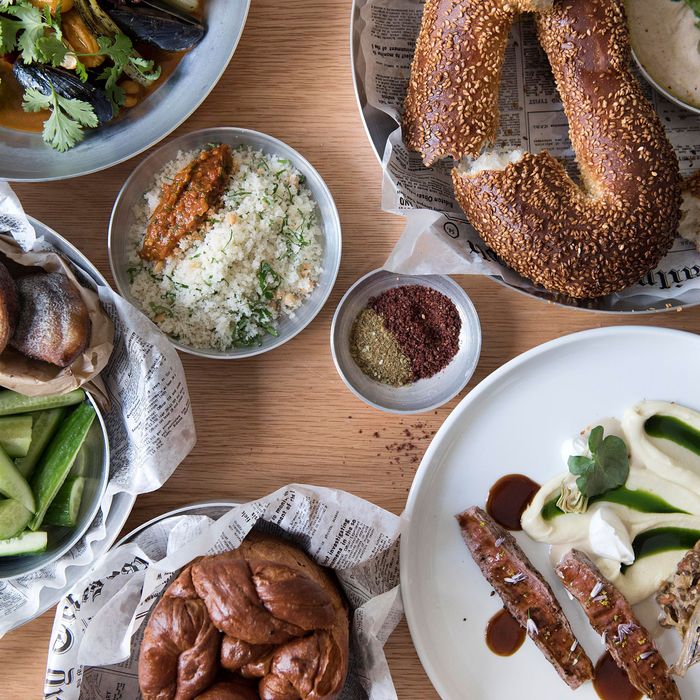 A typical spread at Nur, which is billed as "modern Middle Eastern."
Photo: Liz Clayman
At newly opened Nur in New York City, the soft, slightly sweet Jerusalem bagel is longer and lighter than its New York counterpart. It's made with yeast dough and milk powder, and in lieu of boiling, baked in a 500-degree oven for just 15 minutes. You won't find lox or cream cheese on the side; it's topped with sesame seeds and accompanied by herby lima-bean msabbha, which is similar in consistency to hummus, plus sumac and za'atar, the fragrant spice blend that's become synonymous with Middle Eastern cooking.

"In the mid-'80s, you couldn't get anything decent Israeli in New York, except for Mamoun's on MacDougal Street," says Gadi Peleg, the owner of Nur and Breads Bakery, who was born in Petach Tiqv but grew up on the Upper West Side. "All Israelis went there. That was our outlet for the food that reminded us of home, and it's not even Israeli. It's Jordanian or Lebanese."
In just the last year or so, that's changed completely: Israeli-leaning Nur, Miss Ada, and Kubeh have opened in New York in 2017, joining other relative newcomers like Timna, Dizengoff, Bar Bolonat, Glasserie, and Nish Nush. Israeli chef Elior Balbul will introduce Alenbi, an Israeli fine-dining restaurant, in Crown Heights this summer. This phenomenon in New York follows what's happening around the country: The James Beard Foundation crowned Mike Solomonov "Outstanding Chef" for Philadelphia's Zahav, and gave a "Rising Star Chef" award to Zachary Engel, of Shaya in New Orleans. In L.A, Sara Kramer and Sarah Hymanson earned Food & Wine's "Best New Chefs" title for Kismet, and Sqirl's Jessica Koslow will open an 8,000-square-foot, all-day restaurant named Tel, as in Tel Aviv, early next year.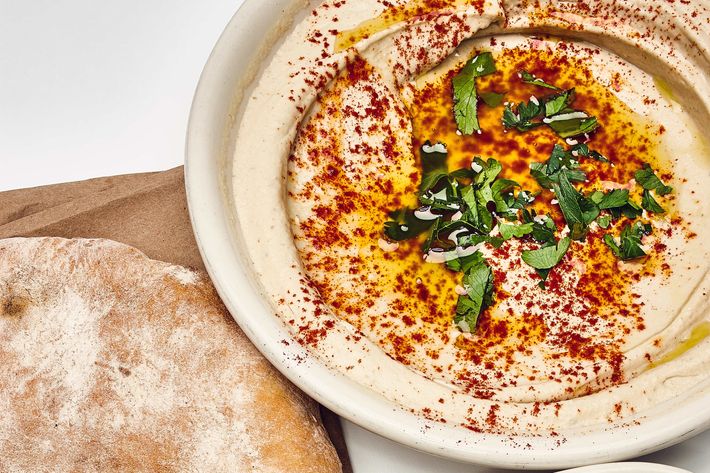 New York has long been associated with Jewish culture and traditional Ashkenazi dishes like borscht, knish, bialys, and babka. In Israel, however, it's almost impossible to find a deli selling puffy, boiled bagels or pastrami sandwiches. New York's Israeli dishes are more closely tied to Sephardic and Mizrahi Jewish traditions: Both Nur and Timna make kubaneh, a bread that Yemeni Jews brought to Israel when they immigrated. Tel Aviv native Einat Admony, who opened Taïm, a fast-casual falafel joint, over a decade ago in New York, serves a sabich sandwich, with sliced eggplant, a boiled egg, hummus, parsley, Israeli salad, pickled cabbage, and amba (mango) sauce. Sabich is said to have originated from the Shabbat breakfast eaten by Iraqi Jews, who introduced the sandwich to Israel when they immigrated in the 1950s.
The flavors of Israeli cooking are simultaneously bold and comforting. Think shakshuka, with poached eggs swimming in tomato sauce; or shashlik, meat that's marinated in wine vinegar and grilled over scorching coals. This type of cooking also appeals to diners who have embraced a health-conscious approach to eating. It's high in olive oil, beneficial fats like tahini, and fresh vegetables, but never restrictive or bland. "People are much more aware about the Mediterranean diet, so it was always obvious to me that this boom was going to happen," says Admony, who also owns Balaboosta and Bar Bolonat, plus a forthcoming couscous restaurant. She initially worried when she noticed so many Israeli restaurants opening — a sharp, sudden increase in competition — but now she's proud to be considered a pioneer in New York. Other Israeli chefs in the city echo the sentiment; there's a true sense of camaraderie and community.
Keep in mind that the country of Israel isn't even 70 years old, and the very topic of what constitutes as "Israeli cuisine" is contentious, as politically complicated as it is culinary. Cultural sensitivity is a larger issue than it is with typical restaurant trends. Israel is a nation of immigrants only a few generations old — home to a considerable Arab minority, as well as populations from Morocco, Hungary, Russia, Iran, Iraq, Jordan, among others. "When you talk about Israeli food, so much of it is actually Palestinian," says Naama Shefi, the founder of the Jewish Food Society who previously worked at the Israeli consulate and started a culinary department to promote the country through food. "In the first few decades of this young country, people weren't that into eating. They were more in survival mode, building a country." It's only been in the last decade, Shefi explains, that Israeli chefs have traveled abroad to culinary schools and professional kitchens. (According to U.S. Census Bureau data from 2011 to 2013, an estimated 139,980 Israelis live in America today — a small group, but Israel is roughly the size of New Jersey.) "That's really helped to accelerate the cuisine."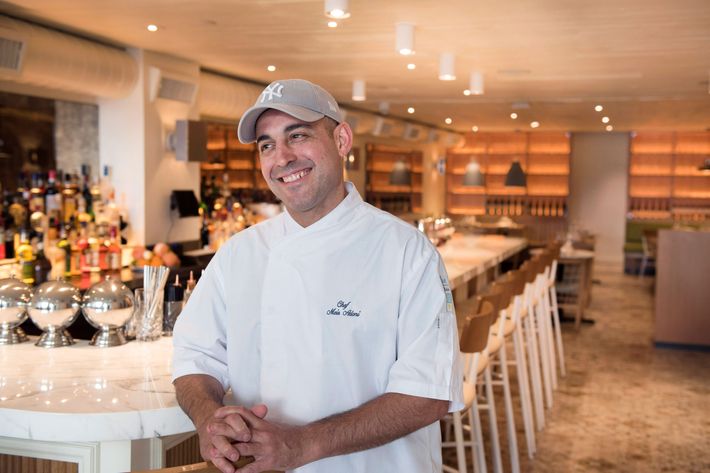 The origins of many dishes are amorphous to Israelis and academics, let alone to cooks and diners trying to translate the cuisine here in the States. From a chef's perspective, the idea of "Israeli" food can be more difficult to categorize than Korean or French. "Learning how to cook there 20 years ago, nobody was saying, 'This is Israeli cuisine,' because they were a generation away from immigrants," says Solomonov, who was born close to Tel Aviv. "If you go to Israel and you get the chopped salad — cucumber, tomato, what we call an Israeli salad — Israelis in Israel call it "Arab salad." Or, you go get sabich, thinking it's Israeli street food, but no, it's Iraqi."
Nur has an Israeli owner and an Israeli chef — Meir Adoni, who runs a restaurant empire in Tel Aviv — but they refer to the food at the restaurant as "modern Middle Eastern." Adoni created a New York restaurant because he wanted to both fulfill a lifelong dream and fill a perceived gap in the market. "I felt that Middle Eastern food was something that New York was missing," Adoni says, despite the existence of places like 12 Chairs and Taboon (which is "Middle Terranean"). "What we are creating at Nur is like a new language. The flavors and a lot of the techniques are coming from Israel, but in a different and modern way that fits New York better." This translates to his signature brain fricassee: a riff on a classic Tunisian fricassee sandwich, but with a butter croissant in lieu of fried bread, and tuna subbed for veal brain.
Admony says the question "What is Israeli cuisine?" annoys her. She feels confident calling her food "modern Israeli" because she relies on Israeli ingredients and products. At Bar Bolonat, customers still express outrage that there's no hummus on the menu; she serves chicken with crispy rice and pomegranate sauce because it's her mother's signature recipe. To her, what's considered Israeli cuisine is "very personal." Solomonov says he still gets flak, but he proudly labels his restaurant as Israeli because "the culinary traditions that are important to me are ones that I've learned in Israel."
"Israeli cuisine is a melting pot — almost like New York is a melting pot," says Tomer Blechman, the chef and owner of Miss Ada in Fort Greene, who was born in Israel and trained at Gramercy Tavern. He serves shakshuka, hummus, and falafel, but also herring crostini and whipped ricotta with brown butter and honey. He's even working on a kebab burger. "We took dishes from Morocco, North Africa, Eastern Europe, and France. But for me, Israeli cuisine is fresh. We grow everything in our country. We import almost nothing." (Peleg says Israeli cooking is "the first and original farm-to-table cuisine.")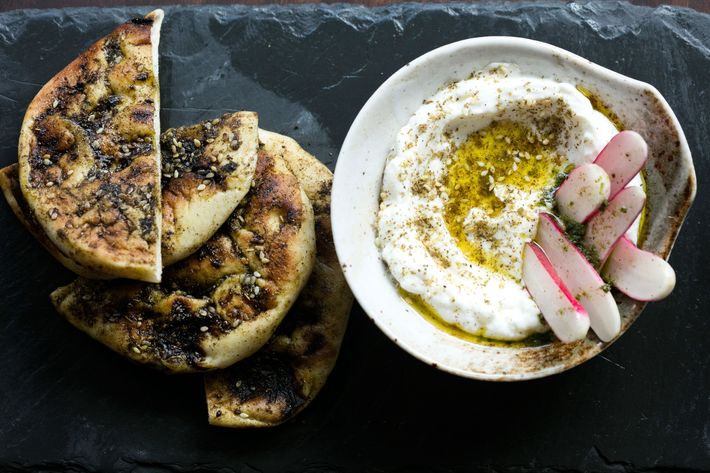 What further complicates the idea of "Israeli" cuisine is the country's political strife. Even za'atar has become a symbol of the Israeli-Palestinian conflict. Food can seem insignificant in this context, but it has the power to help bridge cultural divides. Increasingly, Israeli chefs are celebrating Palestinian traditions. Adoni and Peleg serve "Palestinian tartare" at Nur, with hand-cut beef, smoked-eggplant cream, sheep's yogurt, artichokes, and tahini. Admony is working on a new book called Shuk: The New Israeli Cooking, inspired by inspired by Israel's outdoor markets, and she says it includes copious Palestinian and Arabic recipes that she explicitly credits.
"I don't care about authenticity," Shefi says. "But I do care about integrity and honesty. If a chef puts rotisserie chicken on a menu and calls it 'chicken shawarma' because they added some spices, that's annoying. And I see this all the time in New York. I feel like it's our responsibility as Israelis to dig deep and to know the origins and to credit whenever possible."
This is a personal calling to Solomonov, whose brother David died at age 21 while serving in the Israeli army. "You know, people tend to politicize everything," he says. "But we have this opportunity for diplomacy through food and we should be taking advantage of it. It opens up so many conversations. I'm just excited for that — for the next level, you know?"