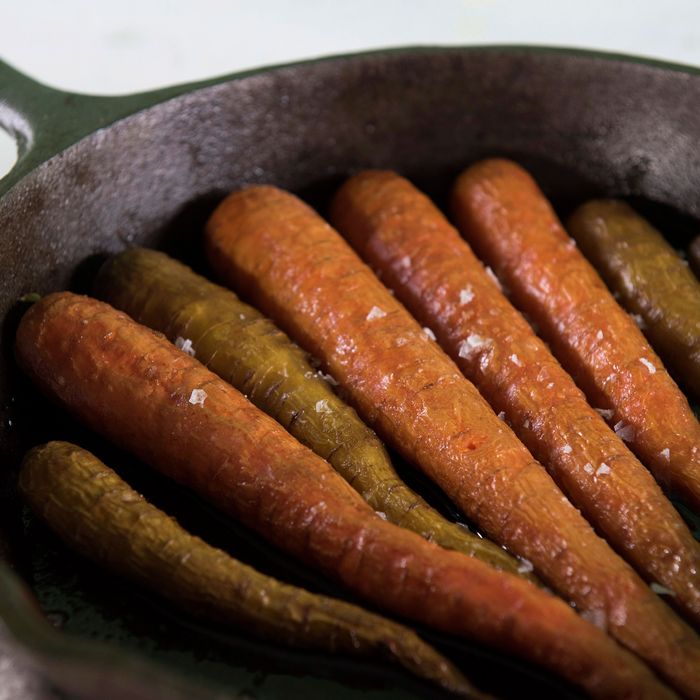 Combine carrots, butter, and a little bit of patience.
Photo: Liz Clayman
I don't remember the first time I ate roasted vegetables, but it wasn't among the first of my eating or cooking experiences. What's now a cliché — a mixture of, like, potatoes, turnips, celeriac, carrots, beets, sweet potatoes, garlic, onion, you name it, doused in olive oil — was not even remotely common 30 years ago. At some point, though, you started to see variations on this theme everywhere, and it became a staple at home, for me and many others.
After all, it's easy to toss everything in a roasting pan, throw that in the oven, and move on to other tasks while the vegetables cook. Recently, though, I've started to become bored with mixed roast veg: It began to taste, well, vague. Ill-defined. Turnips are no one's favorite food. Celeriac can be delicious, but it also dominates anything you put it in. Similarly, beets are too sweet to pal around with anything else. Some vegetables fall apart while others remain tough. And so on.
Increasingly, I find myself cooking each of these babies individually. As late spring turns into summer and we grow "real" vegetables again, I'm focused on carrots. And the highest and best use of carrots is roasting, not with seven other things, but alone, whole. With a lot of butter.
Watch: Bittman walks you through his recipe for buttery roasted carrots.
In this part of the country, good carrots are pretty easy to come by, and they really do keep forever. Even those that are grown by the truckload in Central Valley of California aren't bad, though they can't compare to the local version.
Recently, a friend asked me how I figured out new ways to cook things. "Sadly," I said, "I have no fucking clue." It just happens sometimes. There are occasions where I seek advice, but for the most part, it just seems to come together.
That's the case with these carrots. It's a dead-simple technique: I wanted the carrots whole, and close to "natural," which meant scrubbed, but unpeeled. I also wanted them buttery, which was easy enough. I take a lump of butter — and then, sometimes, another lump of butter — and put it in a pan on the stove while the oven heats to 350 or 375 degrees. You don't want it too hot for these, just enough so the outside just begins to brown and toughen as the inside becomes creamy.
I trim and scrub the carrots. I roll them in the melted butter, add a healthy amount of salt, and put the pan in the oven. Now and then, I turn them. Sometimes, I put in more butter. If they're getting close to browning too quickly, I turn the oven down to 300 degrees — this is not a dish to rush. When they're tender, which takes about 45 minutes — or even an hour, for one-inch-thick carrots — I take them out. They're fine instantly and they're good after they've cooled a bit, when they're still warm but not quite room temperature.
Buttery Roasted Carrots
1 pound of medium-size carrots, whole, scrubbed well, and unpeeled
4 tablespoons butter (at least)
Salt
Preheat the oven to 375 degrees. In a medium-size pan set over medium heat, combine the carrots, half the butter, and salt to taste. When the butter melts, roll everything around to coat well. Add more butter and put the pan in the oven. If the carrots look like they're cooking too quickly, turn the oven down to 300 degrees. Cook them until the outside is gorgeously browned and the carrots tender, about 45 minutes to an hour. Serve immediately, or warm.
You might be the exception, but if you are, the person sitting next to you agrees with me. Turnips can be wonderful, but in many places they were usually fed to animals, unless people were short on potatoes and carrots.
Olive oil also works, of course.
Another friend: "Your secret is you put a lot of butter in stuff." That's not entirely true, but, yeah, duh.