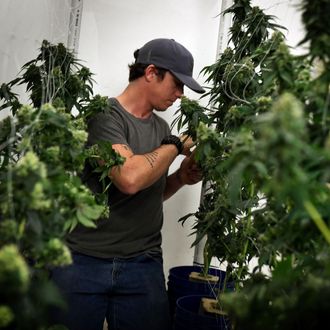 Looks relaxing.
Photo: Mark Ralston/AFP/Getty Images
With marijuana now a billion-dollar enterprise, Colorado's hospitality-industry workers are at a crossroads: Keep working in food, where the pay is low, the hours are long, and the kitchens are sweltering and full of harassment, or take a job in the state's burgeoning weed business. Salaries could start as high as $22 an hour, plus benefits, and you'll work in a climate-controlled grow facility. It hasn't been a difficult choice, as for months now, the problem's been borderline crippling for restaurateurs.
Denver's restaurant scene has exploded in recent years, further exacerbating the problem. It was No. 3 on Zagat's "Hottest Food Cities of 2016," this year's James Beard Award semifinalists included four from the city or nearby Boulder, and several dozen new restaurants opened just this last spring alone.
A co-owner of the award-winning Frasca Food and Wine told Bloomberg in March that "Colorado's restaurant labor market is in Defcon 5 right now, because of weed facilities." He explained that being a line cook is "a lot of work, lot of hours, very intense," and if someone's having a bad week, it's not hard "to quit for a grow facility where you're making several dollars more an hour." Other restaurateurs have complained that the choice is "pretty obvious" as well. An owner of several popular Denver restaurants estimates alcohol sales have dropped by roughly $100,000 at two of his spots, and the Chipotle-backed pizza chain Pizzeria Locale has guessed that an employee departs for a pot-industry job every few weeks.
Seems like very depressing news, but restaurateurs might actually have reinforcements on the horizon: This summer, Denver will open the country's first marijuana cafés, places where theoretically you can smoke and eat. It won't solve all their problems, BuzzFeed notes. As they currently stand, it's BYO pot. That means restaurants that pay the $1,000 license fee won't be able to supplement income by also selling weed or edibles (and they also can't combine pot with on-premises alcohol sales). Still, for restaurant owners operating on such tiny margins, it's a good bet many of them are at least entertaining the idea.