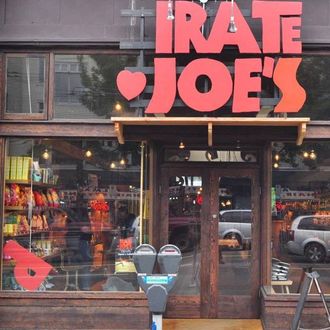 Rest in peas.
Photo: Pirate Joe's/Facebook
Pour one out for Vancouver's supplies of Speculoos Cookie Butter. The five-plus-year reign of Pirate Joe's, Canada's rogue Trader Joe's, has come to a sad, permanent end. Mike Hallatt started his unsanctioned resell shop in 2012, after moving to Vancouver from California. He couldn't believe his favorite grocery store didn't have any Canada locations, so he did the obvious thing: He went into the import-export business, and started hauling Trader Joe's products across the border by the vanload. ("The customs agents know who I am," he told Grub Street in 2014. "They love the story. As long as I do the paperwork, they're good.") He also tacked a buck or two onto the price of each product and made a nice profit.
Naturally, his illegitimate operation quickly came onto Trader Joe's radar, and the company sued Hallatt for trademark infringement and unfair competition, among several other things. The company banned him outright from all stores, so Hallatt would don wigs, put on a pinstripe suit, or even dress in drag to sneak in and shop. He eventually started posting Craigslist ads for what he jokingly called "day laborers" — undercover shoppers who, for $25 an hour, would go buy up vast supplies of food, usually under the guise of it being for an event or party, so they didn't raise suspicions.

He scored a big legal win in 2013, when a federal appeals court ruled that because Hallatt's alleged high supermarket crimes had occurred north of the border, Trader Joe's couldn't prove any adverse effect on its U.S. business. The case got remanded to the lower court, and was scheduled for a new trial in November. Hallatt was trying to raise money for his defense, which he guessed would cost $250,000. As of this week, though, he'd only cobbled together about $5,900 on Crowd Justice, an online fundraising platform. Trader Joe's hasn't released a public statement, but the New York Times reports that the closure was a result of the two sides finally reaching a settlement.
Hallatt posted a thank-you note to Facebook supporters on Wednesday, with a picture of the storefront, whose sign was missing the P, so that it read, "Irate Joe's":