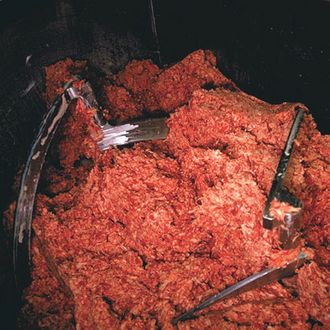 ABC could be in for an unappetizing verdict.
Photo: USDA
Attorneys gave opening statements yesterday in the defamation trial over ABC's 2012 exposé on "pink slime." The lawsuit, which was brought by Beef Products, Inc., a former industry heavyweight that claims the report almost single-handedly ruined its business, is one of the largest ever against a media company. Gawker lost $130 million against Hulk Hogan; BPI is seeking $1.9 billion in damages, and thanks to an idiosyncratic law in South Dakota, where the trial's being held, that amount could triple if ABC is found guilty, bringing the total to almost $6 billion. ABC's report hinged on the big reveal that 70 percent of supermarket ground beef contained "lean, finely textured beef," which today is better known as "pink slime" thanks to ABC. It's effectively a cheap filler product made from low-quality chunks of meat that's blasted with ammonia to destroy any bacteria.

After ABC's series ran, BPI faced a backlash, and ultimately had to lay off 700 workers and close three of its processing plants. According to The Hollywood Reporter, company lawyers presented BPI as a small-town American success story ruined by ABC in Monday's opening statements. Through "game-changing technology," founder Eldon Roth, a South Dakotan who never graduated high school, revolutionized the beef industry by giving consumers leaner, enviro-friendlier beef at an affordable price, they said. Life was great, then ABC ran its "pink slime" exposé.
BPI argues that term was only used to sensationalize ABC's report. "It connotes something disgusting, inedible," an attorney told jurors, then showed them a picture of LFTB and said, "It physically doesn't look like slime." Part of BPI's claim rides on how many times ABC used the phrase, which across all platforms was 350.
ABC contends there was no "actual malice," which BPI will have to prove to win the case. Its lawyers made sure to note yesterday that Rush Limbaugh and The Daily, a now-defunct news app owned by Rupert Murdoch's News Corp, attacked LFTB long before ABC did.

A loss could have grave consequences for ABC. It's serious enough that the network's parent company, Walt Disney, actually wrote a warning about it into its regulatory filing. "The Company is not able to predict the ultimate outcome of this matter," it says, "nor can it estimate the range of possible loss." The trial is expected to last several months.