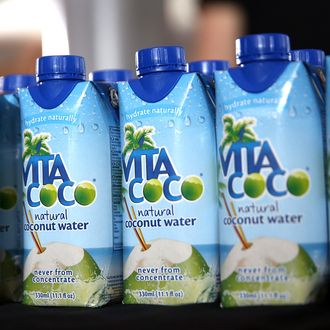 This could be your newest Mountain Dew fusion flavor.
Photo: Tim P. Whitby/Getty Images
People with inside knowledge say that PepsiCo has made a bid for Vita Coco, the coconut-water brand that's slowly remaking itself into a coconut-everything empire by "owning the coconut in different areas of the store." The acquisition would help the struggling soda-maker diversify its offerings. Right now, these mostly encompass sugary drinks and chips ending in -tos (Doritos, Cheetos, Fritos, Tostitos, etc.). Sources tell Reuters that the offer was "less than" parent company All Market thinks its organic cash cow is worth, which is also probably why they add there's "no certainly" these discussions will result in a deal.
Back in February, CEO Mike Kirban told Bloomberg that Vita Coco is now worth nearly $1 billion, and that "strategic acquirers" are coming out of the woodwork left and right as a result. "We talk to quite a few of them regularly," he said. It sounds like one of those was PepsiCo, which makes a lot of sense — because you could say Pepsi's been on a health vision quest lately. In October, the company announced it wants sales of its "everyday nutrition" category (PepsiCo-speak for healthier snacks, things with protein, bottled water, and unsweetened tea) to outpace the rest of its products' rate of growth by 2025. It also recently bought kombucha-maker KeVita and took a dive into organic Gatorade. Vita Coco, meanwhile, just rolled out a coconut-milk product, is in the middle of ramping up its line of "artisanal" boxed coconut waters, and is launching a new coconut oil over on the cosmetics aisle that Pepsi's execs must love, since nobody can say a damn word about its sugar content.