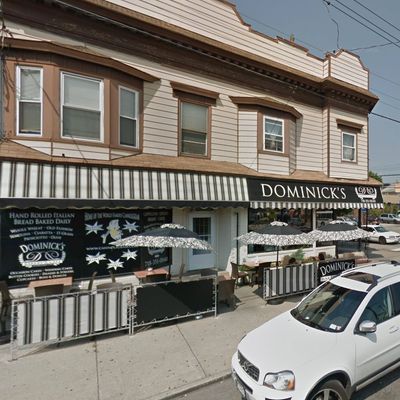 Staten Island is up in arms.
Photo: Google
This past Sunday was the inaugural SSG Michael Ollis Memorial 5K Run/Walk, named and held for the soldier who died in 2013 saving the life of a fellow soldier in Afghanistan. The proceeds went to the SSG Michael Ollis Freedom Foundation, a nonprofit created to benefit veterans, and was held in Ollis's home neighborhood of New Dorp, Staten Island. It's a cause that you wouldn't think would provoke any controversy. But a neighborhood bakery owner there has unexpectedly caused a local uproar, after complaining about the event on social media.
Staging the run required shutting down some streets for three hours, one of which is home to Dominick's Bakery & Cafe. Owner Dominick De Lillo griped about the situation on Facebook, writing, "Guess there are no businesses in new dorp that prepares all week for Sunday! What a fucking joke." When people pointed out that the run was for Ollis, he responded, "Isn't there another way to show appreciation without adversely effecting a neighborhood filled with small mom & pop businesses?" He posted photos of his empty restaurant and parking lot to his personal Instagram, captioning the first image, "It's a snow day at 90 degrees today."
Staten Island has been up in arms since. The Dominick's Bakery & Cafe page on Facebook has been flooded with negative posts, with many saying they will no longer patronize the place. One poster claiming to be a veteran writes, "I too am a business owner on Staten Island, a veteran and now no longer a patron of Dominick's." Others have called him a "disgrace" and a "piece of garbage," and insinuated that the community will boycott the business. (Grub's Staten Island source reports that "everyone I know on Facebook is boycotting him now.") The sentiment was repeated in a review posted today to the business's Yelp page, which has been stamped with an Active Cleanup Alert. Unfortunately for De Lillo, the run may have had the effect he feared it would.
Di Lillo has since apologized both in person to the Ollis family, he tells Staten Island Live (and the Michael Ollis Freedom Foundation confirms this), as well as on his Facebook page. (Threats, the restaurateur says, have prompted him to delete two social-media accounts.) According to the restaurateur, he told the family he would give free food to runners in future years and will donate all of his profits from July 4 sales going forward. Speaking with Staten Island Live, he attributes the posts to bad judgment and says, "I'm just hoping everyone is kind enough to make good on the mistake I made."
This post has been updated with new information.