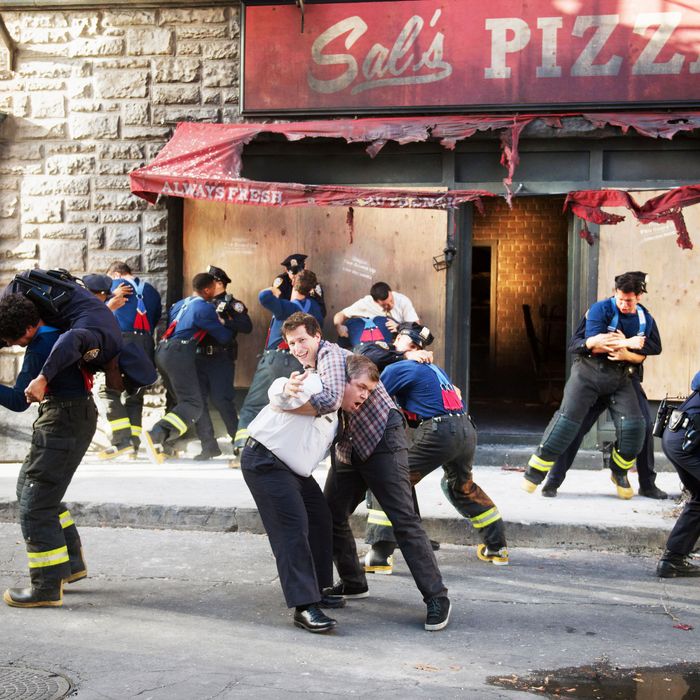 A real-life, actual pizza fight.
Photo: Eddy Chen/NBC Getty Images
Casual observers might think that New York's only vicious food fight is its decades-long battle between factions of ice-cream vendors. They're wrong. News broke this week that the owners of Emmy Squared are locked in a legal battle with their investors — exactly the kind of behind-the-scenes drama that can help canonize a New York pizza parlor. For as long as New Yorkers have gotten into screaming matches about the best slice shop, the city's pizzeria owners have engaged in feuds of their own. Sometimes, it's just infighting, or the mayor mocking his constituents. Other times, the mob gets involved. Here's an up-to-date list of New York's 12 best pizza feuds, presented in order.
1. Roberta's versus Itself
Bushwick pizzeria Roberta's is both the poster child for the New Brooklyn restaurant and the home of what was a vicious battle between its co-founders, two of whom filed an emergency restraining order against a third, and accused him of things like forcing them to put his mistress on the payroll. It's proof that even the worst-laid plans of mice and men somehow work out.
2. L&B Spumoni Gardens versus the Square
What happens when one mob-associated guy uses the allegedly stolen recipe from a classic Brooklyn pizzeria with mob ties (L&B Spumoni Gardens) for his own Staten Island pizzeria (the Square, now Sharkey's Square)? The mobsters hash it out at — where else? — a Panera Bread and philosophize, asking questions like, "Are we gonna go after every pizzeria that puts sauce on their slice?"
3. Patsy's versus Patsy Grimaldi
In 1991, East Harlem's classic Patsy's was sold to longtime employee Frank Brija, who sold the name and branding rights in 1995 and took Patsy Grimaldi to court for using the Patsy's name … even though Grimaldi was the restaurant founder's nephew and, uh, also named Patsy.
4. Bill de Blasio versus New York City
As New York's mayor, Bill de Blasio has certain basic responsibilities, including, but not limited to, paying proper respect to New York's food traditions. Is it any surprise, then, that New Yorkers freaked out when he used a fork and knife to eat his pizza at Goodfella's in Staten Island, which any Italian-American will tell you is like having sex in the Vatican.
5. The Pizza Nazi versus the Playland Motel
What would you do if the hotel your restaurant was located in closed and you lost access to the equipment that wasn't necessarily yours anyway? As any reasonable man would, Whitney "Pizza Nazi" Aycock cut a giant hole in the wall and used a forklift to abscond with the giant, $15,000 Stefano Ferrara oven, which, surprise, prompted the hotel's owner to sue him.
6. Emmy Squared Founders versus Emmy Squared Investors
In just a few short years, Emily and Emmy Squared have become two of New York's favorite pizzerias. Now, the owners have expanded to Manhattan and entered into a legal battle with a group of investors that include members of an Instagramming burger club. Welcome to the big leagues.
7. Grimaldi's versus Juliana's
More than a decade after Patsy Grimaldi sold Grimaldi's to Frank Ciolli, the famous pizzeria was booted from its original home. Like a guy stealing the girl back from the friend he introduced her to, Grimaldi then swooped in and took over the location. This caused Ciolli to lose his cool, but all that time working the oven meant Grimaldi, even in his old age, didn't sweat it.
8. The Great Dollar Slice War of 2012
During the height of the dollar-pizza frenzy in 2012, two neighboring shops (Bombay Fast Food/6th Ave. Pizza and a 2 Bros. location) developed bulletproof business plans: Sell the pizza for as little as possible, a.k.a. 75 cents a slice — one owner even threatened to sell his for nothing — until you realize you're driving yourself out of business.
9. Totonno's versus Everyone
Totonno's owners and sisters Cookie Cimineri and Antoinette Balzano will not tolerate anyone telling them someone besides their grandfather Anthony "Totonno" Pero brought pizza to America. They don't want any money, so much so that if you disagree, they'll probably kick you out before you can order.
10. Jon Stewart versus Chicago
As the host of The Daily Show, Jon Stewart never shirked from speaking truth to power. He bravely chimed in on the New York versus Chicago pizza rivalry, saying deep-dish is "like sex with a corpse made of sandpaper" and "a fucking casserole." Stewart later backed down, saying he possibly overreacted because he's a New Yorker who loves his slices. This could mean that he realized there are more important things to care about, but was probably because the Deep Dish Mafia got to him.
11. Ray's versus Ray's versus Ray's versus Ray's versus …
One of the great mysteries of New York pizza is who the hell is the Ray that all those Ray's are named for? In the '90s, one Ray emerged to rule them all, claiming to be the actual original, forming a triumvirate with other's who had opened Ray's pizzerias, and enacting plans to take over the slice world.
12. Joe's Pizza versus Joe's of Bleecker
New York's best slice is at Joe's Pizza in the West Village, which many consider an institution. Owner Pino "Joe" Pozzuoli abode by his son-in-law Giuseppe Vitale using the name Joe's of Bleecker at his own pizzerias (one in Brooklyn, two in California), until Vitale and his daughter divorced and he decided to hit him where it hurts.