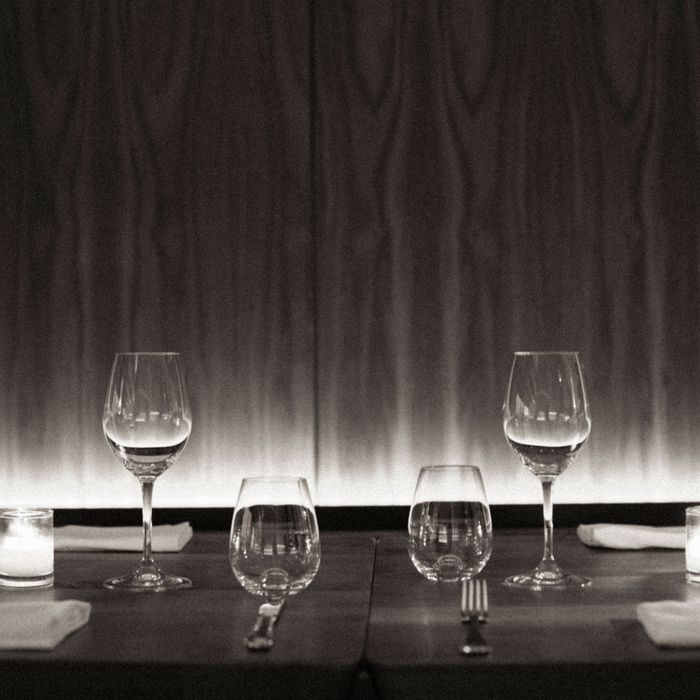 A number of New York restaurateurs say business has plummeted since the election.
Photo: Mint Images/Getty Images/Mint Images RF
On November 7, 2016, business at Moti Mahal Delux in Lenox Hill was fine. Better than fine, says owner Gaurav Anand, who, in addition to that midtown restaurant, runs two other Indian spots in Manhattan: Bhatti Indian Grill in Murray Hill, and Awadh on the Upper West Side. "Our business was in full swing," Anand explains.
And then, on November 9, less than 24 hours after Donald Trump was elected president, it stopped. "Like, choked," Anand says. "It was the next day." In November and December — usually his busiest months — sales were down 9 percent, compared to the same period in 2015. "November was a disaster for us," he sighs. More than six months later, business still hasn't fully recovered: The restaurants are down 5 percent across the board, a dip that has held steady since the new year.
He is hardly alone. Restaurant owners across the city say that business has dropped noticeably in the wake of the election. The questions they're now asking themselves: Is that dip directly related to the results, and will business be down for the remainder of Trump's presidency? People in the industry, at least, see a connection: "For the last year and a half, the only topic of conversation in America — and frankly most of the world — has been Donald motherfucking Trump, and that cannot help how people feel about spending money," says Mile End owner Noah Bernamoff. "There's no question that consumer confidence has been lost by the political situation."
Jonathan Wu, of Fung Tu on the Lower East Side, estimates that in the immediate aftermath of the election, business dropped 30 percent. "I just don't think people were in the mood to be spending a lot of money," he says. "There was that feeling of uncertainty."
Other operators say they've seen the same thing: "We are down in revenue for the first quarter across the board," says Andy Ricker, who runs locations of Pok Pok in Brooklyn and Portland. "Things have not improved at all since the beginning of this election cycle, is what I can say for sure," he explains. "I mean, look, when you have a potential constitutional crisis and nobody knows what the fuck is going to happen next" — we spoke soon after James Comey's firing — "people are typically not in the mood to go out and be carefree." So, this is a result of the election, right? "Whether you can make a direct correlation between Trump being in the White House and business sucking? As a human being, you can feel it."
You might call it a Trump Slump, but is that really what's going on? "I find it plausible that people are hunkering down and conserving resources as a little insurance policy against catastrophe," says Barry Schwartz, a professor of psychology at Swarthmore College. But he also isn't entirely sold on the theory. The closing of Koi, which shuttered its outpost at Trump Soho in late April, citing a drop in business since the election, is about as clear a case of a Trump Slump as there is. In most cases, though, the evidence remains circumstantial.
Bonnie Riggs, a restaurant-industry analyst at the market-research firm NPD Group, Inc., isn't buying it. "It has nothing to do with the election. It has nothing to do with Trump. It's reflective of what's going on in the restaurant industry," she says. "I am sure that everybody's looking for answers, and for some reason, everybody looks to Trump as being their problem." If New York City has been hit particularly hard, Riggs suggests, it has more to do with the incredible density of independent restaurants in the city and the rise of meal-delivery services than "whatever this other thing is."
Further complicating the issue is that there is no objective data clearly drawing a line between Trump's election and a downturn in restaurant business. It's also worth noting that, nationally, consumer confidence surged after the election. In March, it reached its highest levels since December 2000, according to the Conference Board, an economic-research firm, which would seem to run counter to the narrative that nobody's in the mood to spend. (It has since begun to cool, with back-to-back declines in April and May.)
But there are a number of other factors that, at the very least, indicate that something's up: Earlier this year, the city's tourism agency predicted that the number of international visitors would drop by 300,000 in 2017 thanks to Trump — the first slump in seven years. That would mean $600 million less spending in the city. "I don't want to overestimate the effect Trump's [attempted] negative immigration reform has had on our business," Bernamoff says, "but we're definitely down on tourist traffic. There's no doubt about it."
There is another information set that would appear to be a smoking gun, at least as far as New York's restaurants are concerned. The numbers from the University of Michigan's Index of Consumer Sentiment come the closest to presenting a data-backed explanation for the Trump Slump. The index examines consumer confidence in light of political affiliation: Since the election, Democrats are not feeling optimistic about the future of the economy. Republicans are.
"I think Democrats are really uncertain about where the economy is heading because of Trump's economic policies," says Richard Curtin, who is the chief economist for the university's Surveys of Consumers. Since the new administration has been in a state of suspended animation, that uncertainty has remained constant. "Our theories suggest it's discretionary spending that is affected most by economic uncertainty," he explains.
In any area that's evenly divided among party lines, it might not matter since the optimists' spending and pessimists' belt-tightening could cancel each other out. But New York City is not an even landscape: It is — with the notable exception of Staten Island — overwhelmingly blue (79 percent of the city's voters cast their ballots for Hillary Clinton in the 2016 election). So, for most owners, the slump has dragged on — and, Curtin suspects, will continue to drag on, until "there is some conclusion on the part of the public" that Trump's proposed policies are "either inevitable or impossible." But going on month five, nobody yet knows. "Right now, Democrats fear the worst, but they don't know that it would happen. They're uncertain about it."
Even in Manhattan, there are outliers: Sammy Musovic — an outspoken Melania fan who owns Sojourn, Vero, and Selena Rosa on the Upper East Side — reports that business is booming. Sales were down last January; now, he says he's up "about 15 percent, so you could literally say I'm up about 20 percent." But restaurants that haven't seen an upswing have had to get creative. "I'll take a positive out of the election and say that it's forced me to put into practice all these things that I actually wanted to do for a long time," Wu says. His menu has gotten more casual, with lower prices; he's replaced some of the more "esoteric menu items" with new, more common dishes like moo-shu duck and General Tso's lobster. "It's forced me to dig deep," he says. "I view it as a creative challenge."
If there is any bright spot regarding the New York hospitality industry's business prospects, it's booze. (Which is likely either encouraging or depressing, depending primarily on whether or not you own a cocktail bar.) Vicki Freeman — who owns and operates the restaurants Cookshop, Rosie's, Hundred Acres, and Vic's — saw a noticeable uptick in liquor sales in the immediate aftermath of the election: 25 percent of total sales had been liquor before the election; immediately after, it jumped to a solid 35 percent. Bernamoff says his Brooklyn cocktail bar, Grand Army, is doing very well: "We've had a good few months." Does it all seem politically motivated? "I can't help but think," he says, "that being depressed about our situation has driven more people to spend more time in the bar setting."