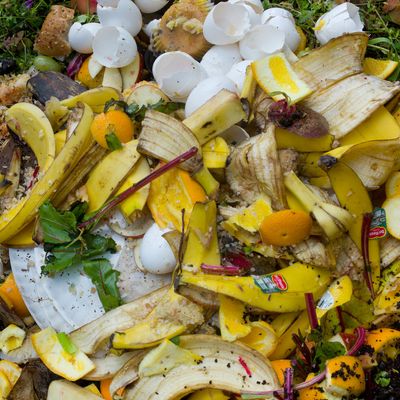 Getting their own home next to paper and plastics.
Photo: Andrew Lichtenstein/Corbis via Getty Images
New York always has some impossibly monumental city-improvement project in the works (hello, Hudson Yards and Second Avenue subway), but truly one of its more ambitious plans is to send zero waste to landfills by the year 2030. One of Mayor de Blasio's big goals for doing this has been to expand the recycling and composting programs. It makes sense when you think about it, but the bulk of the city's trash is organic waste — lots of paper and grass clippings, but also a really heaping pile of food scraps. And this effort is actually about to expand considerably. The New York Times took a look today at the magnitude, and the story walks readers through changes it says will affect "how all New Yorkers deal with refuse, and test the city's ability to manage organic materials on a scale never seen in the United States."

New York's organics-collection program is already America's largest, and by the end of next year, every person in the city is supposed to have a way of recycling food scraps. This costs about $28 million, and involves distributing millions of brown bins for food scraps that go beside the traditional blue and green ones for recycling. As you might imagine, this is a difficult task, filled with logistical problems. Taller buildings are a particular struggle: Every floor's trash room has to be reorganized, and somebody has to haul all those brown bins out to the curb — probably against their wishes. High-traffic parts of town present another issue; the city can't do curbside pickup here as easily. The solution for now is drop-off sites at subway stations, libraries, and local businesses that volunteer as sites for bins.
Composting is the next program. New York has two sites suited for food waste. One's at Rikers; the other is Fresh Kills on Staten Island; and neither location is what you'd call "convenient." As a result, most organics will be hauled off to third-party facilities located outside the city. (The Times reports the hardest part of the entire endeavor is finding places capable of "handling the Chinese takeout and fettuccine Alfredo that city dwellers toss.")
Eventually, the city would also like to use food leftovers to power apartments and buildings, because a process called anaerobic digestion can break waste down into a slurry that can be refined and used as fuel. The only problem with that is, it takes months of calibration, since it's done naturally with microbes.
Of course, none of this matters if residents don't participate. The Sanitation Department has apparently discussed making the program compulsory, just as recycling is. Per a law passed in 2015, big food-waste creators like restaurants, hotels, and stadiums are already required to separate food waste from regular trash, so officials are cool keeping it voluntary for residents until "more New Yorkers are involved," but expect them to reevaluate that position as soon as they can.