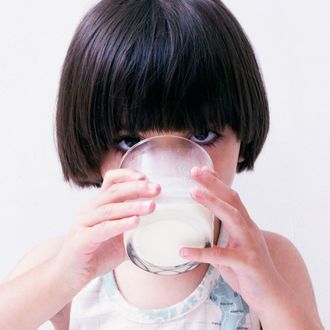 Does a toddler good, apparently.
Photo: Tara Moore/Getty Images
A little ammo for the nondairy haters this week: A new study of more than 5,000 children has observed a link between "noncow milk beverages" and below-average height. Plenty of past research suggests a diet rich in milk can have a positive effect on how tall children are, but researchers at St. Michael's Hospital in Canada wanted to know how popular alternatives, like soy milk or almond milk, stack up. Vegans and the lactose intolerant may not love their findings, which were published Wednesday in the American Journal of Clinical Nutrition: They looked at 3-year-olds whose medical data was part of Canada's very large TARGet Kids! research cohort and found that the ones who had three cups of nondairy milk per day were actually 0.6 inches shorter than peers who drank the same amount of cow's milk. The height disparity was relative to the quantity consumed, too — the more coconut or hemp or flax or whatever plant-based milk it was that a kid drank, the shorter he or she was likely to be.
The study — which was funded by St. Michael's and the Canadian government, not Big Dairy — also found that kids raised on both kinds of milk were still shorter than kids who consumed just cow's milk. Interestingly, the authors included goat's milk in the nondairy category, suggesting the bovine version (versus just any old animal variety) could have some naturally occurring nutrient the others lack. They write that further study is necessary, but why wait if you're a parent hoping for the next Kevin Durant? Probably just go ahead and bump your little tyke's milk intake up accordingly.