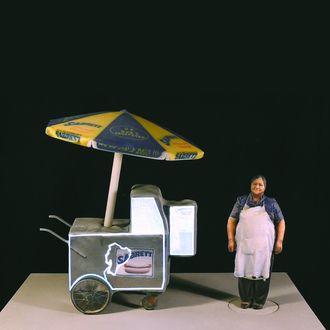 Photo: hiddeninplainsight
New York City's street food would be a bunch of overly chewy pretzels and meh-tasting hot dogs if not for the vibrant community of immigrant vendors running the carts. Sadly, these hardworking individuals are generally underappreciated for their role in creating one of the city's most iconic cultures.
To rectify this, artist Michelle Hessel, a research resident in NYU's Interactive Telecommunications Program, made a mixed-media installation called Hidden in Plain Sight that shares the stories of three vendors using a wild mix of hi-fi 3-D scanning, audio tracks, and trippy neon illustrations:
One vendor she follows is Thiru Kumar — he's a Sri Lankan who used to give diving lessons, but is now better known as Washington Square Park's Dosa Man. Another is Ana Herrera, an Ecuadorian in her 17th year of running a tamale cart out in Corona, Queens. The third is a Moroccan bagel-stand operator named Dany Hassan. He's at Broadway and Waverly Place, but is newly married and planning a return to school to study biology.
Her related project Meet Adam is an even cooler tour, also in 3-D, of a fourth vendor's cart. Adam has been her go-to coffee source for over two years, she says:
She also does interviews with all of the vendors, which you can check out, along with more pictures, on the Hidden in Plain Sight website.