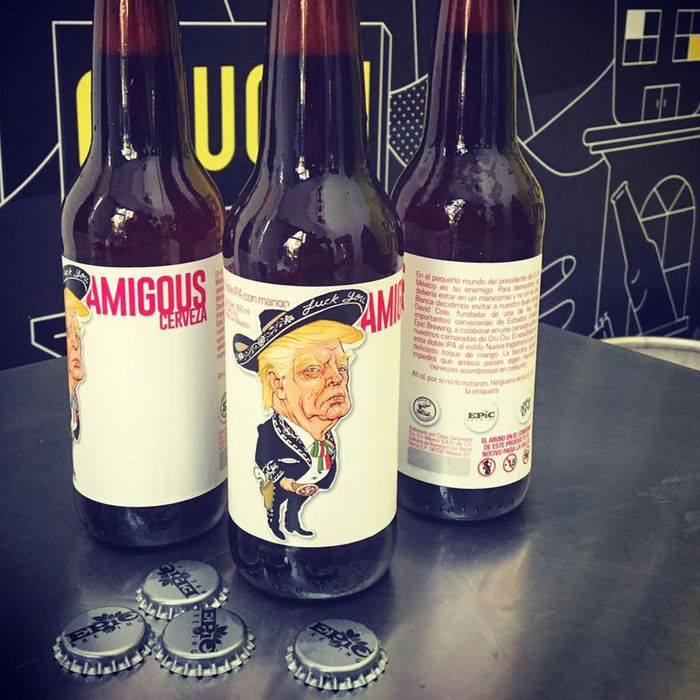 Amigous Cerveza is a mango IPA created by Mexico City's Casa Cervecera Cru Cru. That alone sounds potentially great, but the real highlight is the label, which imagines what President Trump would look like if he were a grumpy, gunslinging mariachi. The brew was created in partnership with Salt Lake City's Epic Brewing, and the makers say it's meant to symbolize harmony — or at least a shared taste in humor and beer — across the border.
There's a lot going on in this label. It depicts Trump as extremely sad-looking, perhaps because he's visualizing all the bad hombres pouring into America at this very moment. Between the dejected stare and his outfit, he kind of looks like if one of the Three Amigos had been left behind by his compadres. (Also, his mariachi pants are held up by a swastika belt buckle, and the label's reverse side declares that he belongs "in a mad house, not the White House.")
The idea has also proven extremely popular: "We knew that a Trump label was going to be controversial," CEO Luis Enrique de la Reguera tells Reuters, "but it's been selling extremely fast." By that, he means the original batch of 1,200 bottles plus another 400 liters on tap went on sale in May, and disappeared within days. Since importing beer to the U.S. can unfortunately get nightmarish, Americans on Cru Cru's Facebook page are begging the brewery to do the next best thing and just mail them empty bottles.