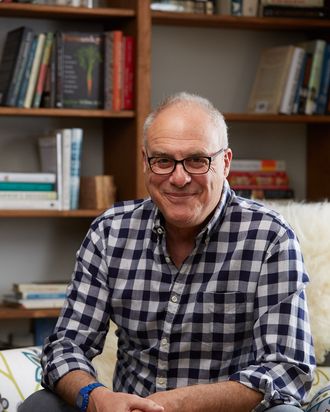 Mark Bittman.
Photo: Burcu Avsar & Zach DeSart
Grub Street and New York Magazine are honored to welcome our new columnist: Mark Bittman. Bittman, a familiar name to anyone who cares about food, was a New York Times columnist for 20 years, is the award-winning author of 20 acclaimed books, has starred in multiple television series, and is a member of the faculty of Columbia University's Mailman School of Public Health. His first column will appear on Grub Street later today, but before that, a quick recap of what Bittman's been doing.
It's close to two years since I left the Times, and though I've written a couple of op-eds since then, as well as some pieces for GQ and The Guardian, it's been the most peaceful, reflective time of my life. Without weekly deadlines for the first time since 1980, the rhythm of my life changed and, probably not surprising, I've become less anxious.
"The Minimalist" column was one thing; cooking is part of my life, and writing about it is a joy. It's never been difficult for me. The opinion column was a different story entirely. It shouldn't have been easy, and it wasn't (I wasn't dumb enough to think it would be, but I may have been overconfident at first). It brought me a lot, and it cost me a lot, too. So I left, for a variety of reasons, some of which I've written and talked about, and some of which are going to have to wait a bit longer.
I joined the vegan meal-kit company Purple Carrot, which in retrospect might have been a mistake, except everything that followed was kind of great, so … I'm reminded that nothing is black and white. I've made a couple of other mistakes since then, but nothing really "bad" has happened. I've been lucky.
One thing that wasn't a mistake was moving to Berkeley, California, which I did right around New Year's 2015 — before leaving the Times — fulfilling a longtime dream. It also wasn't a mistake to move back East, which I recently did, also for a variety of reasons — including my daughters and my partner and my mom and my grandson and my sister and my closest friends. I do miss Berkeley, but I'm settled at Glynwood, a wonderful, inspiring, and smart sustainable food-and-farming nonprofit near Cold Spring. That's about as personal as I'll get here for now, except to say that I'm happy.
The cookbook work has continued through it all: How to Bake Everything was published last fall, and the completely revised, better-in-every-way How to Cook Everything Vegetarian (with photos!) is coming out this fall. And there are some surprises in seasons to come .
Obviously, the cooking has continued as well. Sometimes, I think Berkeley ingredients spoiled me for the East, but … no. Granted, there's nothing like having a lemon tree (and once you do, it sucks to not have one). However, East Coast tomatoes are better. East Coast stone fruit, challenging as it is to come by, is equally good. And East Coast apples are so much better than western apples that they almost make you forget about the great western citrus.
So what the hell? There's no paradise. After exploring a winter's worth of cooking, using almost only Glynwood meat (mostly the less popular bits) and vegetables — which meant an incredible assortment of offal, shins, feet, roots, tubers, cabbages, and winter squash — I felt I had a much better understanding of, and affection for, those things. That's not nothing. And, after 47 years of trying, I became a good bread baker. Now, I'll put my whole-grain sourdough up against most anyone's.
Yet, I ultimately came to miss the weekly writing. It certainly wasn't the torture of feeling like the only time "off" was between filing a story on Tuesday and its appearance that night or the next morning; it was having a voice that people seemed to want to hear. So I began talking with the people here, at New York, which felt like the best possible home. And I said, basically, "I want to write about cooking again, daily cooking, the kind of thing I think I do best, and I want a place to rant about food, justice, and the future of humans."
As of today, they've given me that. Let's see what happens.
I wrote my first piece for the New Haven Advocate on or about March 1, 1980. (I have that piece; I'll post it sometime.) There had never been a week without a deadline since then. ("The Minimalist" column ran for 13 years without a missed week.)
I'm reminded, too, of an acid trip in 1968 in which I yelled, at one point, "It's all black and white." Should I be discussing this? Oh, well, it was a lifetime ago, so … We were in a tiled hallway near Gramercy Park, and the tiles were, indeed, black-and-white squares. Except there was color everywhere. (Chuck, do you feel me?)
I was there recently, and am writing this from a surreally fabulous house in Point Reyes, at a writing retreat sponsored by the good people of Mesa Refuge.
Credit where it's due: The guys who really taught me, Jim Lahey and Rick Easton and Sam Fromartz, make better bread. So do a bunch of other obsessives. (I use that term affectionately, of course.)
When I started writing opinion, Frank Rich said to me, "It's like living under a windmill. As soon as you duck one blade, you look up and another is coming straight at you." Yeh.
I remember when New York arrived nearly 50 years ago. And when it absorbed "Cue." But now I'm just strutting my NYC cred.