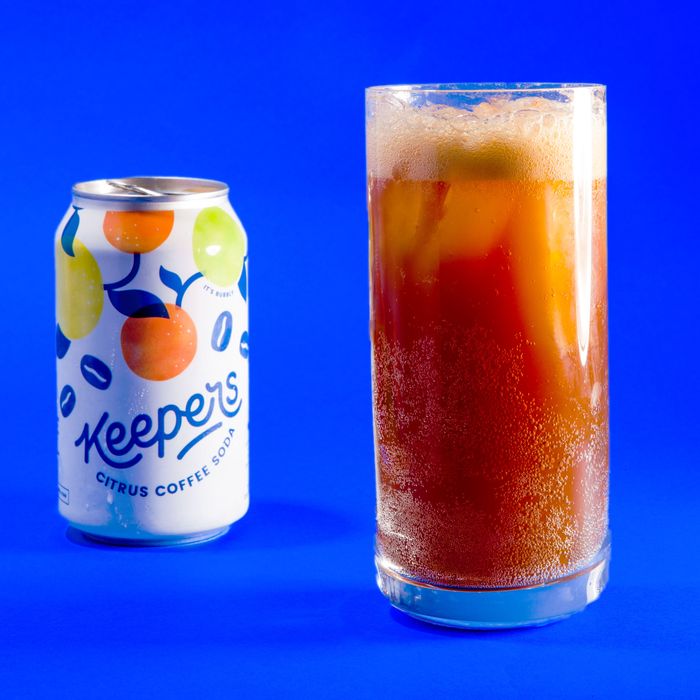 Like an espresso tonic, but good.
Photo: Jed Egan
There are some universal markers of summer. Comic-book movies. Grilling accidents. The start of iced-coffee season. As you no doubt know, cold brew has taken over the iced-coffee game, and is now so pervasive that it's sold at Dunkin' Donuts and, likely, your local bodega. In other words, it's everywhere.
So, coffee companies that fancy themselves as being on the vanguard of our caffeine consumption have had to hunt down the Next Big Thing. Over the last few years, that's meant marked advancements in canned coffee drinks, which feature fresh roasts and unadulterated flavors — everything bottled coffees previously hadn't been. Blue Bottle and Stumptown started selling milky drinks with chocolate, spices, and sugars, while La Colombe hedged its bets on a gourmet bottled Frappuccino. And now, there's yet another advancement in chilled coffee, and it is one that Grub Street finds itself recommending to people a lot these days, because it is both refreshing and relatively unusual: Keepers Coffee Soda.
Because this is a pretty cool product, and it is the year 2017, Keepers' origins are in an incubator called Foodworks Brooklyn, which is located in the old Pfizer Building, home to an entire artisanal ecosystem with a kombucha brewer, pickler, and kimchee company. Premiered at the Brooklyn Holiday Bazaar last November, it has been rolled out at stores and restaurants (at a suggested price of $3.99) — including Foster Sundry, Littleneck Outpost, the Greene Grape, Foragers Market's Brooklyn location, and, as of today, Whole Foods' two Brooklyn stores. (Keepers has plans to make it available online; New Yorkers will soon be able to order it through FoodKick.) Think of it as a gourmet Brooklyn version of a Manhattan Special, the New York espresso soda that debuted in 1895. Keepers is made with beans the company roasts and cold-brews itself then mixes with some sugar, lemon juice, lime juice, tangerine juice, and tangerine oil. If it sounds like an unusual pairing, it's not unprecedented. Swedes mix coffee with lemonade. Indonesians do it with both ginger and avocado. New York baristas got into spiking espresso with bitters and citrus peels, and it's a natural evolution of the espresso-and-tonic-water combination that first started gaining popularity a couple years back. Most important, it tastes really good.
It's juicy, citrusy in a bright but robust way, and only moderately sweet. (The flavor is not unlike San Pellegrino's clementine soda, only shot through with a cold brew your coffee-geek friend would describe as having "notes of cherry and chocolate.") This makes it particularly pleasant to drink during the summer and, with day-drinking season at hand, excellent for a Vodka Coffee Soda or, why not, an Espresso Martini Soda. It also plays nicely with the smokiness of mezcal, and has a lot of potential as a secret ingredient for summer highballs. Booze, though, is not at all necessary. Maybe you're just suffering from cold-brew fatigue, yet still craving cold coffee. Either way, it's versatile, and Grub plans to stock up on a couple cases this summer.