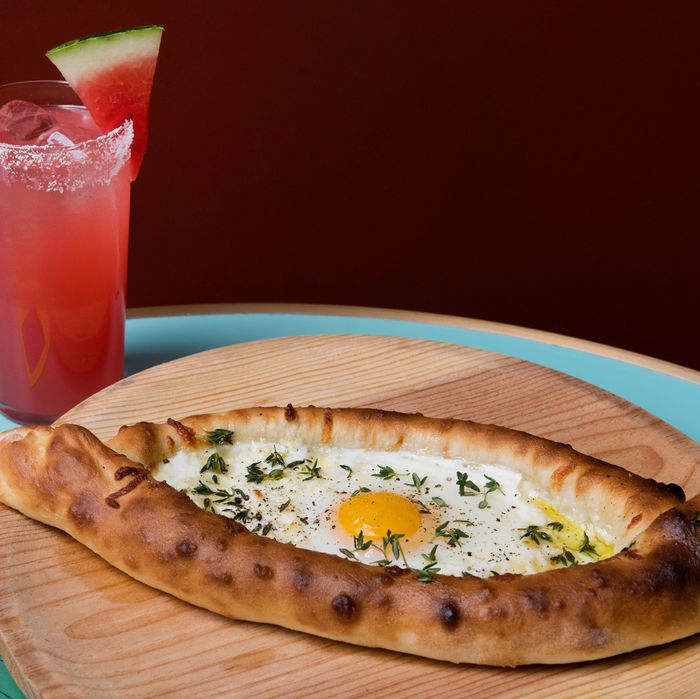 At the Standard's new bar, John Fraser cooks dishes like khachapuri to go with cocktails like the Souvenir (tequila, fresh watermelon juice, Campari, and lime).
Photo: Liz Clayman
Every month in New York, there's a bewildering number of new dishes to eat, drinks to imbibe, and food-themed events to attend. Often, the hardest part is just figuring out what's really worth your limited time. So Grub kicks off each month with a curated collection of dishes, drinks, and events that should absolutely be on your agenda. Make your plans now.
1. Drop by a new bar from a Michelin-starred chef.
First at Dovetail and then at Narcissa, John Fraser made a name for himself as one of the city's most accomplished chefs of semi-vegetarian cooking. (At his newest restaurant, Nix, he goes full veg.) On July 6, he'll open Narcbar, in a space that was formerly part of Narcissa in the East Village's Standard hotel. Fraser's menu is a mix of what's now and good for drinking, which means there will be an onion-ring tower ($9), French dips with bone broth ($15), and the irresistible Georgian cheese bread called khachapuri ($18). Cocktails are from New York bar veteran Tonia Guffey, who has contributed drinks like the White Pony ($12; gin, white vermouth, and Salers Liqueur), and the wine list has been selected by Ashley Santoro, late of Casa Mono and Bar Jamón.
2. Pair great views with food from the Vinegar Hill House team.
Vinegar Hill House has been one of brownstone Brooklyn's favorite (and most charming) restaurants since it opened in 2009. Now, the owners have branched out with the all-day VHH Foods in Dumbo, with outdoor seating and great views of the city. You can check the full menu here, but know that there will be breakfast tacos in the a.m.; pastries like a sunrise bun and chocolate Guinness cake; and meats by the quarter, half, or whole pound for lunch and dinner. To go with that food, there's natural wine and pitchers of cocktails. Barista Grace Lowman and Mission Chinese Food bartender Sam Anderson have also collaborated on some unusual coffee drinks. Namely, there's the Mai Tai Iced Latte ($9) that's made with almond syrup, orange-blossom water, nutmeg, salt, and toasted coconut milk to keep it tiki.
3. Find your Maple replacement in Made Nice.
When Maple shuttered in May, Manhattan office workers were left to wander a jungle of less-streamlined delivery options in search of its healthy-ish, straightforward replacement. Their prayers have been answered by Made Nice, Daniel Humm and Will Guidara's fast-casual restaurant that recently started delivering through Caviar. The salad-centric spot leans light like Maple, though it offers its entire menu, and thus a broader selection of dishes to choose from. Still, Grub confirmed through some rigorous fact-checking, the food holds up well — and won't cause you to fall asleep at the desk!
4. Have a covert drink at New York's buzziest bridge demolition of the century …
On July 11, the Kosciuszko Bridge will go kaboom. Its imminent doom has drawn a highly unusual amount of excitement as far as demolitions of small bridges go. (More than 23,000 people have RSVP'd to a Facebook event for it.) This has prompted another event calling on "dedicated warriors" to defend the bridge by forming "a circle of sword wiedling [sic] human warriors and their wolf warrior brethern [sic]." In other words, this promises to be a bridge demolition for the ages. So Grub Street suggests checking it out with a few clandestine drinking options: maybe some Keepers Coffee Soda with mezcal, or a solo cup of sparkling wine recommended by a top New York sommelier?
5. … Then have another drink at New York's latest spot devoted to all drinks sparkling.
Speaking of bubbles endorsed by that sommelier: Ariel Arce, who was the beverage director at Riddling Widow and Birds & Bubbles, has opened Air's Champagne Parlor (at 127 Macdougal Street). The French sparkling wine is synonymous with special events and expense accounts, but Arce has put the emphasis on more affordable versions (with relatively inexpensive caviar to match). The rest of the menu features wine-friendly food like hamachi tartare ($12) and duck confit bo ssäm ($20).
6. Keep drinkin' those spritzes.
Dante recently introduced a "Summer of Spritzes" section to its menu, and for those who can't get enough low-ABV bubbles, Casa Apicii has jumped onboard. This month, the Italian restaurant will serve six variations (all $15) of the Italian apéritif, including the Meyer Lemon with limoncello and Prosecco and Sardinian Sunset with Champagne and Mirto de Sardegna.
7. Take a tour of New York's newest brewery with the city's beer-nerd-in-chief.
On July 8, beer guy (and occasional New York contributor) Josh Bernstein will give New Yorkers a sneak peek of the city's latest brewery and taproom, Five Boroughs (tickets are $32.04). Housed in a former factory that the owners have covered over the last couple years, it isn't even open to the public yet. You'll get a first look, complete with samples of Five Borough's Czech-style pilsner, raspberry gose, a Munich-style lager called Helles, and other brews. If that's not enough suds for you, Bernstein's home-brew tours will visit amateur brewers in Fort Greene and Prospect Heights on July 9 (tickets are $35).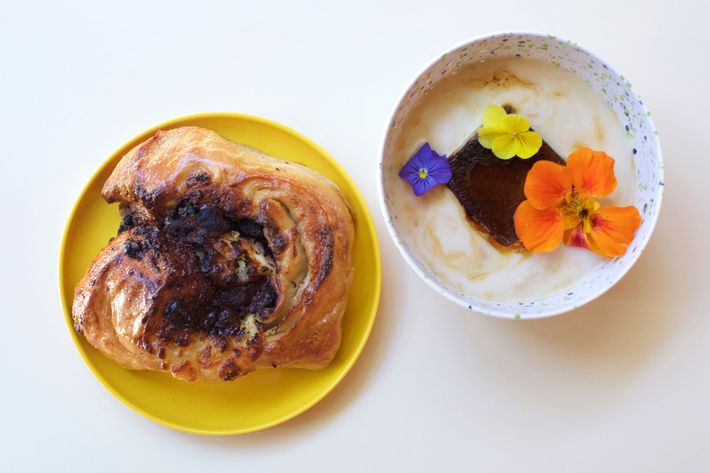 8. Get tickets to a couple Middle East pop-ups, including one dinner cooked by refugee chefs.
Through its Displaced Kitchens events (originally called Displaced Dinner Sessions), the Palestinian restaurant Mazeish Grill and the website Komeeda have given refugees an opportunity to share their food and make money. Now hosted at Spreadhouse Cafe, the next dinner will be on July 7 ($65). Two Syrian refugees, Yusra and Lutfi, will cook a "Bedouin Dinner" of dishes like Syrian-style kibbeh, Bedouin chicken over red rice, and baklava. If you can't get enough Middle Eastern cooking, on July 11, there's also chef Moeen Abuzaid's new Brooklyn English pop-up ($75), a seven-course meal of modern Arabian food.
9. Eat churro ice-cream sandwiches and Korean shaved ice.
At the Tapas Bar at La Sirena, pastry chef Thea Habjanic has introduced churro ice-cream sandwiches (all $8) in flavors like coffee gelato with dulce de leche and cocoa nibs, mango sorbet and vanilla-gelato swirl with sea salt, and a weekends-only strawberry gelato with strawberry coulis. And of course, that's not only the new icy sweet in town. There's also a fancy bingsu, a.k.a. Korean-style shaved ice, as part of the five-course tasting menu at Michelin-starred Jungsik. There, pastry chef Eunji Lee flavors her ice with omija, a wild berry from China, and serves it with lemon-basil sorbet, rhubarb syrup, and the plum-apricot hybrid pluot.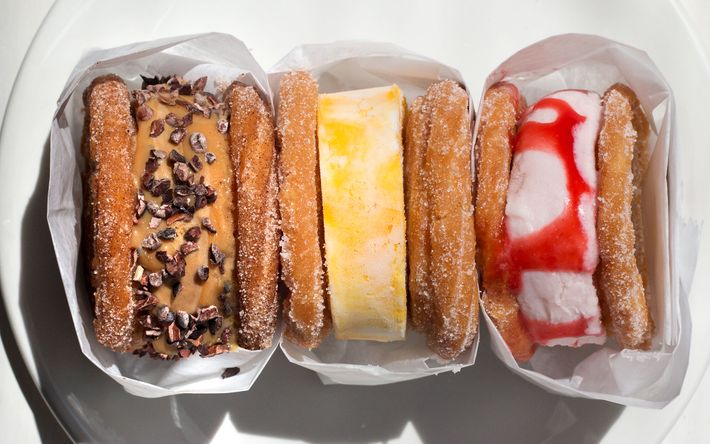 10. Go to the Indonesian Food Bazaar, then help judge a jollof-rice competition.
Who doesn't like a good old-fashioned food fight? Fans of West African cooking will want to mark their calendars for July 23, when Afropolitan Insights' NYC Jollof Festival (tickets are $5 to $125) will go down at 26 Bridge Street in Brooklyn. The one-pot rice dish is possibly the region's most popular dish and one of contentiously debated origins. In that spirit, guests will taste versions from seven countries and vote on them to crown a winner. Also of note: One of the city's most popular food fairs, the Indonesian Food Bazaar, will return to Queens on July 8.
11. Drop by the Four Horsemen on the weekend for its new prix fixe lunch.
For fans of natural wine and bars owned by LCD Soundsystem front men, there's really only one place to go: the Four Horsemen. Last weekend, the bar introduced its new prix fixe lunch ($28, walk-ins only) from 1 p.m. to 4 p.m. on Saturdays. The three-course menu will always consist of a salad, bread, a main, and dessert, but will otherwise change weekly. (The inaugural one, to give you an idea, included sweet-potato rolls, chilled bean salad, roasted duck breast with stone fruit and pistachios, and lemon-verbena ice cream with sour cherries.) To sweeten the deal, they'll also offer a specially priced wine — like Brendan Tracey's Pineau d'Aunis for $10 a glass — which you should almost certainly take advantage of.
12. Eat some local grub before catching a show at Forest Hills Stadium.
The revitalized Forest Hills Stadium is a very pleasant place to see a band in the great outdoors of suburban Queens. This month, they've pulled in alt-country act My Morning Jacket and, for all you dads out there, Tom Petty and the Heartbreakers. If you're checking out one of those concerts and trying to figure out dinner, consider a few local options that aren't Shake Shack (no offense to those great burgers, but they're everywhere and summer is the time to live a little). There's the classic ice-cream parlor Eddie's Sweet Shop for great sundaes and nostalgia, Violet's Bake Shoppe for bánh mì if you're in a hurry, and, over in Rego Park, Marani for solid Georgian food.