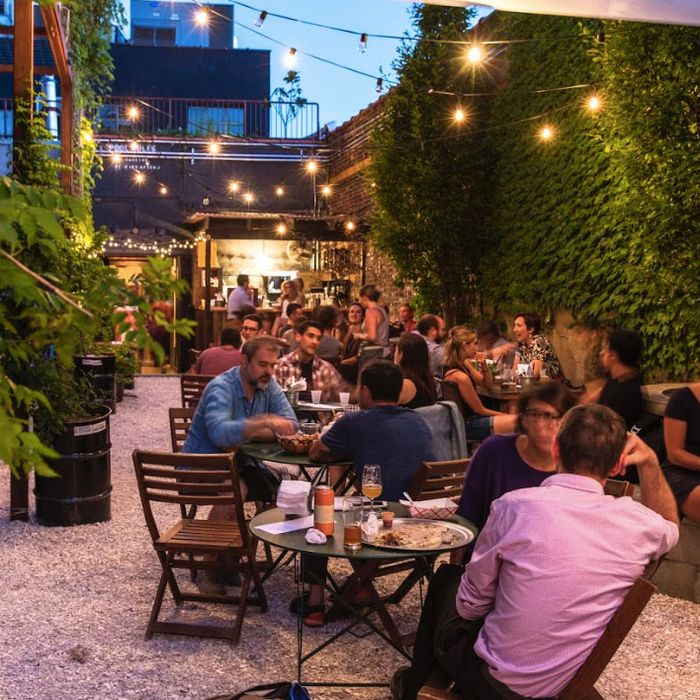 Threes Brewing and the Meat Hook will host a pig roast the day before the holiday.
Photo: Matt Furman
July 4 is right around the corner — and since it lands on a Tuesday, it marks an opportunity for a truly extended weekend. That means two things are certain: Many people will flee the city for Beachtown, USA; and lots of restaurants and bars will throw parties for the people who stay in the city. There are plenty of exciting options — from a rooftop party to pig-outs — that ensure a festive celebration. And there's more: A number of restaurants will offer food specials for those who want a quieter day, as well as takeout options for others who need to buffer their backyard barbecue buffets. Here's what you need to know about where and what to eat this July 4 weekend.
All Hands
What: A sidewalk barbecue.
Price: À la carte
The Williamsburg seafood restaurant is taking to the streets with a sidewalk barbecue and serving dishes like a burger with celery-seed mayo ($9), oysters with yuzu-kosho cocktail sauce (MP), and crispy fish fritters ($7), as well as drink specials. It's location near the waterfront means great views, and the owners promise festivities through the night.
Atlantic Social
What: Pig roast with open bar and unlimited food.
Price: $25 for food, $15 for drinks
At the Dale Talde–helmed restaurant and bar, there's an all-you-can-eat pig roast on Sunday (tickets here), complete with sausage and peppers, burgers, barbecue chicken, corn on the cob, and more. There will also be beer pong, in case you want to relive your college glory days.
The Brooklyn Barge
What: Waterfront, open-air festivities.
Price: $250 for barge seating, $200 for picnic tables, $150 for rear-deck seating, and $50 for standing room
You'll get obstructed views of the fireworks at Greenpoint's restaurant-on-a-barge, which will have a DJ, a setting-appropriate lobster boil, and an open bar. Those who don't want to throw down cash for those seats can get "standing room" tickets on the south side of the barge, which come with popcorn and two beverages.
The Dutch
What: A Hawaiian pig roast.
Price: À la carte
It's an all-day luau again at the New American restaurant, which will serve specials like smoked-brisket egg rolls, kalua pig, halo-halo, and tropical cocktails like a macadamia mai tai. Plus, there will be games like Putt-Putt and cornhole.
Good Story
What: Barbecue on a roof.
Price: $79
You'll get killer views of the city at the Arlo Soho's rooftop bar, which will host a party (tickets here) with unlimited barbecue, an open rosé and beer bar, and red, white, and blue bomb pops. There are two sessions: one from 1 p.m. to 4 p.m., and another from 6 p.m. to 9 p.m.
The Heights
What: Hot dogs with serious views.
Price: $70
Or you can head up to Talde's 31st-floor rooftop in midtown (tickets here), where guests will get three hours of unlimited wine, hot dogs, and pretzels.
Il Buco Alimentari
What: A sit-down Italian meal.
Price: $45
If you're looking for a sit-down meal, the Italian restaurant has a special three-course prix fixe with watermelon salad, a choice of lobster panini or lamb ribs for a main, sides like new potato salad, and burnt-honey cheesecake for dessert.
King's County Distillery
What: Grilled food, cocktails, and one competitive eater.
Price: À la carte
Competitive eater Kobayashi will once again drop by the Brooklyn distillery (full disclosure: A New York editor is a co-owner) to eat hot dogs and raise money for the Ms. Foundation for Women. The party will go from 3 p.m. to 10 p.m., and there will be hot dogs from Feltman's, tacos and other grilled food, as well as drink specials.*
Maison Premiere
What: Garden jazz and classic American food.
Price: À la carte
From noon to 2 a.m., the Williamsburg absinthe and oysters bar will throw its annual July 4 party, with specials like Texas-style smoked brisket, cast-iron cornbread with jalapeño jam, and blueberry-and-peach cobbler. There will be live jazz in the backyard, and the regular dinner menu will be available from 5 p.m. to 11 p.m.
Miss Lily's
What: A Jamaican crab boil.
Price: $28
The Jamaican restaurant will launch its annual summer crab boils on July 4 at both locations, with jerk-spiced blue crabs, corn on the cob, jerk sausage, banana pudding, and buckets of six Red Strips for $22.
Mister Dips
What: Burgers, ice cream, and waterfront views.
Price: $17.76
The William Vale hotel will host a party (tickets here) from 7 p.m. to 11 p.m. in its elevated green space near the waterfront, with drinks, burgers, fries, and ice cream from its burger truck.
Nowadays
What: DJs, pulled pork, and the great outdoors.
Price: À la carte
In Ridgewood, the outdoor venue will extend its hours from noon to midnight and host a trio of DJs. There will be pulled pork and a couple specials from South Carolina–style barbecue restaurant Arrogant Swine.
Salvation Burger
What: A backyard barbecue in the city.
Price: À la carte
If you're in midtown and trying to keep it local, April Bloomfield's burger spot will host a backyard barbecue that starts at noon.
Threes Brewing
What: A pig roast at a brewery.
Price: $20 per order
The brewery and its resident kitchen, the Meat Hook, will host a pig roast (menu here) on July 3. The space opens at 2 p.m., food will be available at 5 p.m., and they'll cook pig with pineapple salsa, sides like tropical papaya salad, and a dessert of grilled watermelon and pineapple.
Specials
Barba Bianca
Price: À la carte
If you've escaped the city for Long Island, Peasant chef Frank DeCarlo's new North Fork restaurant will be a great place to celebrate. It's directly over the Peconic Bay, will have great views of fireworks, and there will be eight sparkling-wine specials by the glass.
Blue Smoke
Price: $45 for half a brisket, $80 for a full brisket
Boost your backyard-barbecue game with an assist from Danny Meyer's barbecue spot, which is offering brisket takeout specials available to order until noon on July 3.
Colonie
Price: À la carte
Along with a raw bar from 5:30 p.m. to 7 p.m., expect specials like grilled peaches with burrata and ham, buttermilk fried quail with coriander yogurt, and punch.
Dominique Ansel Kitchen
Price: $10
From July 1 through July 4, relentless dessert-tinkerer Dominique Ansel's West Village restaurant will serve sliced watermelon filled with watermelon soft serve and garnished with sea salt and chocolate "seeds."
Gran Electrica
Price: À la carte
It's weekday brunch from noon to 4 p.m. in Dumbo. Come dinnertime, there will be specials like barbacoa and drinks like La Helada cocktail, by the glass and in party sizes.
Harold's Meat + Three
Price: $7.50
For fueling before your party, the southern-inspired restaurant will have a "Recession Special" of a fried-bologna sandwich, Miller High Life, and a bag of chips.
Red Rooster
Price: $8 for two
Marcus Samuelsson will celebrate the holiday by serving one of his signature foods with a spin. From a cart on his Harlem restaurant's patio, he'll serve chili dogs topped with the Ethiopian chicken stew doro wat and berbere cheese sauce.
Smile To Go
Price: À la carte
Along with ribs dry-rubbed with brown sugar, cumin, and oregano, the downtown takeout spot will sell specials on Monday and Tuesday, like a Yukon gold-and-green-bean salad, fusilli with arugula pesto, roasted zucchini, and tomato salad with lemon dressing.
Trapizzino
Price: $20
The Roman import will have two new summer specials on the holiday: a take on the lobster roll made with its pizza-bianco bread and tiramisu-soft-serve gelato.
Walter's
Price: $50
It's a win-win: You don't have to cook and you're eating for a good cause. Head to Fort Greene for a picnic basket for two with fried chicken, potato salad, watermelon salad, a brownie, and root beer. It's available for preorder from July 1 through 4, and all proceeds go to Hunger Free America.
*This post previously referred to a party attendee whose name organizers had included by mistake.