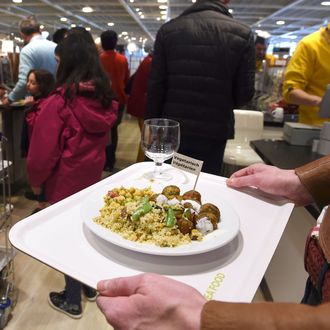 Now, more meatballs will get a home.
Photo: William Van Hecke/Corbis via Getty Images
The latest company to pledge its commitment to helping the world's food-waste problem is also the company that probably made the bookshelf you had in your first apartment. Ikea has recently gone big on food, innovating its Ikea Restaurant arm, and now implementing a plan to curb food waste.
According to Reuters, Ikea is aiming to halve its waste by 2020, a move that will save money, as well as reduce its environmental footprint. The company explains that each store currently discards about 660 pounds of food per day. That adds up to 43,000 metric tons a year for all of Ikea's stores worldwide. In December, the company started testing a waste-reduction plan at 84 locations that works by ensuring that the amount of food coming out of the kitchen better fits demand throughout the day. Ikea says this tweak has carved off 79 metric tons of food waste so far, and saved it just under a million dollars. The three-year plan is now to roll out this initiative across all Ikea stores, whose restaurants now feed some 650 million people every year collectively.