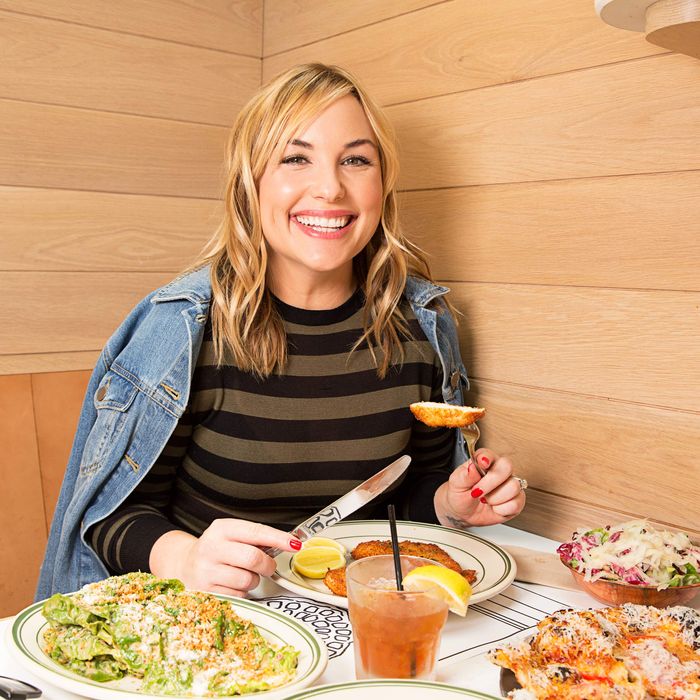 At Jon & Vinny's in Los Angeles.
Photo: Bradley Meinz
As the co-founder of Clique Media Group — the parent company behind Who What Wear, Byrdie, MyDomaine, Obsessee, and College Fashionista — Hillary Kerr has been on a mission to democratize and modernize the fashion industry since starting her company in 2006. (She just launched a mobile shopping app and a clubhouse for College Fashionista's members.) Kerr, who lives in West Hollywood, has a very Los Angeles diet, filled with kale salads and vegan chocolate mousse, but she mixes it up with vodka-sauce pizza and Russ & Daughters spreads (shipped in from New York, natch). Read all about it in this week's Grub Street Diet.
Thursday, June 15
I'm in Ojai at the Ojai Valley Inn for the last day of our annual executive retreat, which means my last day of quasi-decent resort food. I get up at 7 a.m. and head to the gym for 30 minutes. Before our day of meetings starts, I grab a turkey sausage, egg, and cheese on an English muffin, a small cup of blueberries, and a black, unsweetened iced tea at the hotel coffee shop.
We break at 12:30 p.m. for lunch, which is an assortment of salads, sandwiches, and a huge basket of fries. Naturally, I only want the fries, but I'm an adult, so I load up my plate with an arugula salad; a mini caprese salad with cherry tomatoes and cherry bocconcini; half a bacon, turkey, and lettuce sandwich; and some fries. I don't love the turkey, so I take it out, add in the cherry tomatoes, and have a semi-BLT. There's some sort of brownie situation for dessert that I try a bite of, but it's not great, and I know I'm going to feast tonight, so I leave it alone.
After a couple of brutal hours in traffic, I get home from Ojai and get ready for an earlyish dinner at one of my favorite places in Los Angeles: Jon & Vinny's. It's right by our house, and it's definitely my go-to spot for work breakfasts and indulgent dinners. Tonight, I'm particularly excited because my husband, Jonathan, and I are having dinner with one of my oldest, dearest friends from college and his new fiancée. They've never been before.
Jon & Vinny's is truly special; the chef, Courtney Storer, is a wonderful human who makes the most insanely delicious pastas, pizzas, salads, and desserts, and the wine list is just gem after gem. I also love Helen's, the tiny jewel box of a wine store in the back of Jon & Vinny's, which is my favorite place to buy bottles. We end up getting a chilled bottle of Il Poggione Brunello di Montalcino.
Aside from the wine, we order a feast: a gem-lettuce salad with Calabrian-chili dressing and bread crumbs; mozzarella sticks (the best I've had since I was a kid); the El Chaparrito pizza with homemade chorizo; the Ham & Yeezy pizza with ham, vodka sauce, smoked mozzarella, and pickled fresno chilis; ranch dip for the crusts; the brilliant spicy fusilli; the cacio e pepe bucatini; meatballs with ricotta and garlic bread; and the chicken cutlet with a chicory side salad. Oh, and a chocolate-vanilla soft-serve twist. We make it through almost everything, but I send both pizza halves home with my friends. Cold pizza is my favorite breakfast, but it seems like the generous move, since it's their first time.
My husband and I pass out almost immediately upon returning home, and sleep the good sleep of a thousand carbs.
Friday, June 16
My alarm goes off a little before 7 a.m., and I rush around trying to get ready before an 8 a.m. doctor's appointment. I don't have time for a proper breakfast, but my husband makes me a to-go cup of tea and I eat a handful of raw almonds in the car on my way.
I'm meeting a dear friend who works for Valentino for lunch, and we end up at one of our comfort spots: Du-par's in the Farmers Market on Third and Fairfax. It's an old-school diner that's been there since 1938, and we always get the same thing: a short stack of pancakes (possibly my favorite in L.A.) and a patty melt, both of which we share. It's a working lunch, and the bad thing is, we have so much to discuss; we end up leaving half the pancakes on the table, which makes me feel weirdly guilty. I'm also drinking a ton of water, as per usual.
I've decided to cook tonight, since I've been on the road all week and am heading to New York in a couple of days, so I start searching for something that's heavy on greens and light on delicious carbs.
I crack open Melissa Clark's new cookbook, Dinner, and pick something almost at random before heading to the grocery store. She's such an amazing recipe writer, and her recipes work practically perfectly for us 95 percent of the time. (I allow that the 5 percent error might be in my execution, rather than her skills.) Since my husband tends to work late on Fridays, I pick something that I will enjoy knocking out on my own: speedy roasted chicken with garlic, rosemary, and mustard. I'm also making a big dinosaur-kale salad to go with it, also one of Clark's recipes and probably the thing I make the most. Because I'm not a monster, and also have no willpower, I pick up a pretzel-bread baguette at the store, and use part of it to make croutons for the salad. Best of all: Jonathan gets home early enough to cook with me, which just makes everything better, as he's great at it. This dinner, plus the finale of House of Cards, is exactly what we need after a long week.
Saturday, June 17
Alarm goes off at 8 a.m. because I have a workout class that morning. I have the usual: a small handful of almonds and a cup of breakfast tea. I take a liter of water to class with me, and it's gone by the time I get home. I'm lightly starving at this point, but I must get ready for my business partner's baby shower, so I don't have much time. I throw half of a container of Fage Greek yogurt into a bowl and wash a big handful of blueberries, which also go into the bowl, along with some leftover toasted coconut flakes. I've never liked the flavor of coconut, but when it's toasted, I am quite into it.
After getting ready and finishing wrapping presents, I head to Katherine's baby shower, ready for lunch. I'm in luck! The shower has made-to-order street tacos, so I get a chicken and a steak taco with onions, cilantro, and radishes, along with some grilled veggies and a little rice and beans. It's hot as hell, and I'm driving, so I opt for fizzy water over the fruit-and-tequila drink. There are all kinds of gluten-free desserts, and I end up eating an oatmeal-chocolate-chip cookie (which is a little healthy-adjacent for my taste; if you're a cookie, be a cookie, you know?) and some strawberries, blackberries, and pineapple (perfect). It's the ideal baby shower: no games, no balloons, no presents, just good people and good food. I approve. I spend the rest of the afternoon being lazy (translation: reading magazines on the couch) and purging my closet, as you do. Lots more water along the way, as you do.
We have dinner plans with two of Jonathan's friends. They are a Taurus-Virgo couple, just like us, but the real reason we get along is that they are just exceptional humans. They are the easiest semi-vegans in the world, and have taken us to some amazing places that "you'd never know are vegan," which is apparently the highest compliment. Normally, that phrase makes me roll my eyes, but in this case, it's true. The destination tonight is Elf in Echo Park for veggie-forward food with a slight Moroccan vibe.
We start with their special watermelon, mint, and Feta salad, and then eat market greens with grilled halloumi, with oranges and cumin almonds. We have salt-cured potatoes that come with a mojo-verde sauce, which is kind of like the perfect mash-up of pesto and chimichurri. We order roasted oyster mushrooms with eggplant purée; fresh pasta carbonara; risotto with grilled pimento and smoked vegetables; and a khachapuri with muhammara and fresh greens, which is some sort of pastry-tart situation with marinated Feta, smoked mozzarella, roasted tomatoes, and red peppers. It's a lot, and truthfully, there's probably more I'm missing. We end with a vegan chocolate mousse that's deliriously good, though I'm admittedly a sucker for anything chocolate.
Jonathan and I had secret plans to visit one of our favorite taco trucks — Taco Zone — for late-night mulitas (they're like small quesadilla sandwiches, if you haven't had one), but we're so stuffed, we can't muster the strength. We are sad, but resigned.
Sunday, June 18
Sunday is normally our farmers' market day, but I wake up dreaming about the tortillas from Burritos La Palmas, which are Jonathan Gold's favorite flour tortillas in L.A., if one Pulitzer Prize–winning man's opinion matters to you. While Burritos La Palmas is an hour's drive from our place, sometimes the tortillas are sold downtown at Grand Central Market, at the Chiles Secos stand. This seems like a more reasonable food journey, so after my husband makes us coffee, we set off, day-dreaming of tortilla (or at least I am).
Disaster strikes: The women manning the stand tells me that they're not selling tortillas right now. Fortunately, I am consoled by pupusas at Sarita's Pupuseria. I'd never had a pupusa until I started dating my husband, and now I'm moderately obsessed with them. He orders us a handmade bean, cheese, and pork pupusa, with extra pickled cabbage and hot sauce on top. It is heaven, and makes up for the lack of tortillas.
On our way out, we stop by Clark Street Beard, which makes my favorite bread in the city. One of Jonathan's colleagues is having a pool party, and I decide to bring one of the beautiful seeded loaves as a hostess gift (along with a bottle of Champagne, because manners). I also end up buying a pain au chocolat, a loaf of Danish rye, and a baguette for no real reason other than gluttony and desire, both of which I have in spades. Before heading to the party, I eat some more blueberries and share the pain au chocolat with Jonathan, and by that, I mean he gets two bites.
At the pool party, there is a full-on spread from Russ & Daughters: tons of bagels, lox for days, and like nine kinds of cream cheese. Jenni, our hostess with the mostess, loves food the way we do, and has a huge pitcher of Bloody Marias waiting on the kitchen counter, along with a big bowl of cold rosé and white wine. There's also a box of apple fritters and old-fashioned cake doughnuts from Bob's Coffee & Doughnuts from the farmers' market, not that I notice.
After a couple of hours, we head home for a productive afternoon. Well, productive for Jonathan, who is working on the theme music for my upcoming podcast for MyDomaine.com, which is called Second Life. I spend the afternoon on the couch, catching up on magazines and a Veep binge. As for dinner, I've been dying to try Fat Dragon, which is a new Chinese place in Silver Lake. I end up eating a boatload of their Persian-cucumber salad, which is spicy and fresh and fabulous, some honey-walnut shrimp, and noodles with mixed veggies and chicken. It's delicious; we'll definitely eat here again.
Monday, June 19
Back to regularly scheduled programming! I like routine, so as per usual, I get up at 7 a.m., eat a few almonds, grab a bottle of water, hop into my car, and head out for a tiny-trampoline workout class. Yes, I am an adult woman who bounces on a personal trampoline for fitness, and I love it. Don't knock it till you try it.
I race home, hop in the shower, and make breakfast — a piece of that amazing Danish rye bread from Clark Street Bread, toasted with Rodolphe Le Meunier's beurre de baratte. I buy it at Cape Seafood and Provisions, which is Michael Cimarusti's incredible shop, and it's worth every penny. It's the same butter they use at Providence and Petit Trois, and it's like the Alec Baldwin of butter — it just makes everything significantly better. I also eat the final handful of farmers' market blueberries before they go soft.
I spend the morning in meetings, on calls, and doing interviews, and then run out for a quick lunch with Courtney Wartman, who is our VP of business development. We decide to pop out and have our meeting over lunch at Cecconi's. We get crudités with avocado-and-chickpea dip to start, and then I have the Tuscan-kale salad with almonds, apple, parmigiana, and chicken. Nine times out of ten, you'll find me eating a kale salad for lunch during the week, mostly because I don't want to think about it.
The afternoon is spent in more meetings, and working on the upcoming podcast, and then I cut out a little early to go home and pack for my trip to New York tomorrow. On my way home, I pick up chicken thighs, lemons, and preserved lemons because I want to make a recipe that Jenni — the pool-party hostess — recommended strongly. It's a recipe from Food52 by way of Canal House, and it's dead simple, but takes a little time, so I want to get them on the stove before I start packing. I'm also making another kale salad, and use the baguette to make garlic croutons; I can make it with my eyes closed at this point. The chicken thighs are incredible and my favorite kind of cooking: low fuss, high impact.
Tuesday, June 20
I'm flying to New York, which means a 4 a.m. alarm for a 6 a.m. flight. Not my favorite time of day, but what can you do? Skipping my normal breakfast, I eat a fruit plate on the plane, some Greek yogurt, and drink yet another breakfast tea. Since I'm doing some on-camera work tomorrow morning, I drink two liters of water on the plane.
By the time I land in New York and get to the Bowery Hotel, I'm ready for dinner, and I consider my options. I have another 5 a.m. call time tomorrow, and a bunch of writing to get through before bed, so I decide to stay in, which is a wise but painful choice. My favorite delivery order is a salad, deviled eggs, mini-waffles, and a piece of fried chicken from Root & Bone, which is around the corner from the hotel, or scallion pancakes and dumplings from Mimi Cheng's, but the salt factor makes me slightly nervous. Can't be puffy for the cameras, so I end up ordering the chicken paillard with an arugula-and-cherry-tomato salad from room service.
The room service at the Bowery is one of the reasons I stay here; it's delicious, fast, and they charge you normal restaurant prices, not crazy room-service prices. Since I have been "good" tonight, I plan to Postmates scrambled-egg gougères, an everything croissant, and a couple of crullers from Daily Provisions tomorrow. Don't worry, that's not all for me; the crullers are for my husband. Yes, I'm planning on taking pastries on the plane back to L.A. tomorrow afternoon. That's normal, right?