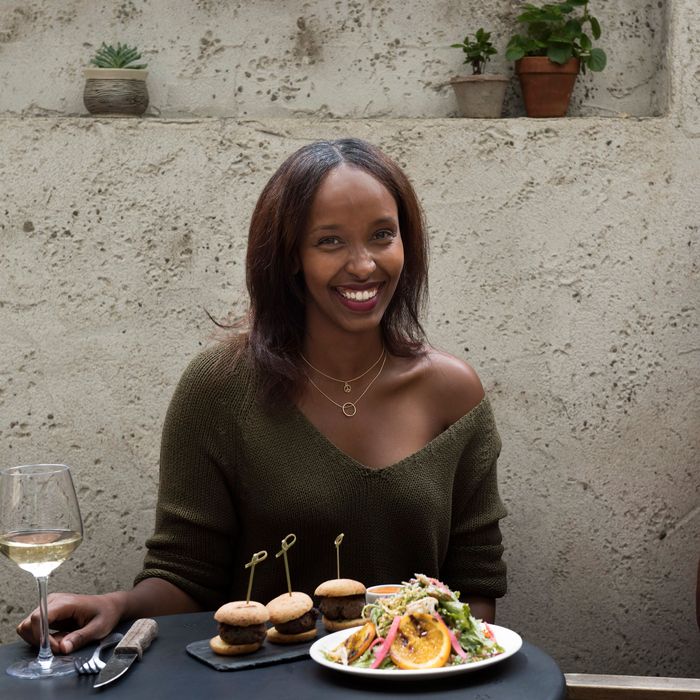 At Colonia Verde in Fort Greene.
Photo: Liz Clayman
When Hawa Hassan couldn't find the sauces from her home country of Somalia in the States, she made them herself. Now, she's the creator and CEO of Basbaas Sauce, a line of condiments that so far includes tamarind-date sauce and coconut-cilantro chutney. (She's also involved in fundraising efforts for ZanaAfrica.) Basbaas is currently the only Somali line of sauces sold in America, and this week, Hassan took a break from her hustle to go back to Seattle, where she moved as a refugee when she was 7. There, she feasted on Ethiopian food and a 10-year-old's excellent home cooking, and returned to New York to enjoy meals at Santina and Colonia Verde. Read all about it in this week's Grub Street Diet.
Friday, June 23
I'm in Seattle, where I spent many of my formative years. I'm here to see my goddaughter, Smary, who recently turned 10 and is graduating from fifth grade. Her mother, Mulu, has been my best friend since we were about that age. After the graduation, about ten of us head over to our favorite Ethiopian restaurant, Abeba. Mulu's dad is already there and waiting for us with tej (honey wine) on the table. As soon as we sit down, he suggests we cut the sweetness of the wine with a few squeezes of lemon. This is radically different to me, so I listen closely. Mulu is a refugee like me, but she's Ethiopian and I'm Somali — a big difference. I spent many years sharing meals with her and her family, and this outing feels wonderful, like coming home.
Lunch is doro wat, Ethiopia's national dish. It's made with chicken slow-cooked in a spicy, onion-based stew, and served with hard-boiled eggs. There's also a veggie combo, shiro (ground chickpeas), and doro tibs (beef cubes sautéed in a spice blend). Ethiopian food is served on a communal platter and eaten with your hands. Once the food arrives, Mulu's sister Elisabeth asks for mitmita, a hot Ethiopian spice blend. It transforms the flavor profile and makes everything taste even better. Of course, through all of the spices and delicacies, we're all talking, laughing, and feeding each other, a practice known as gursha. I wish I could express how lovely it all is.
For dinner, Mulu, her sister, and I set out for a girls' night. We grew up in the South End neighborhood of Seattle, and we all have fond memories of Lake Washington. We head to BluWater Bistro and sit outside. We start with a Sauvignon Blanc, which I relish, as I'm still stuffed from that big lunch. Mulu orders jerk-chicken satay, pineapple-jícama salsa, and wild greens for the table. She's excited to be out on a Friday night, and I'm enjoying how laid-back it all is. We make plans to meet more of my friends at Stone Lounge in Bellevue, where my high-school friend Zack Bruce is singing.
Saturday, June 24
I wake up early (7:30 a.m. on a Saturday — that's early). The girls are heading to tap class, so I read a little, check emails, and set my schedule for the week. Soon, it's brunch time. Mulu's husband, Zithri, is a Ph.D. student, so they live basically on campus in a lively neighborhood called U Village, which has a lot of options. I walk over to Joey Kitchen, get a seat outside, and people watch. I order a BBQ salmon-rice bowl with sesame soy sauce, snap peas, edamame, mushrooms, and daikon. It's crunchy, savory, and filling.
Dinner is made by my goddaughter, and she's so excited to feed us (with help from her mom). We have seared salmon, butter-lettuce salad, and simple Asian egg noodles. I love that she credits her sous-chef — mom. She's 10, and this is honestly better than anything I usually make on a Saturday night. I'm so proud of her love for cooking.
Sunday, June 25
I wake up really early, at 6:45 a.m., chug water, and do a little writing. I go for a walk and get coffee for everyone. I'm having breakfast with my friend Vanessa, and she suggests Jujubeet, a juice bar, which is a new spot for me. We both order a "power smoothie" with almond milk, cacao, almond butter, protein powder, and banana. It tastes like chocolate milk, and I don't feel guilty.
Today is Eid, which marks the end of Ramadan, the Islamic holy month of fasting. Mulu, whose husband is Muslim, invites me to lunch. We go to Stanford's Restaurant & Bar in Tukwila. I order the pan-seared crab Benedict, which features poached eggs, hollandaise sauce, asparagus, housemade biscuits, and country potatoes. It's great, but too much for me.
We rush home because I'm due to fly back to New York tonight, and I want to spend more time with the girls and Mulu. My time in Seattle always flies by; it's bittersweet.
Monday, June 26
I drink a ton of water on the red eye, and ginger tea when I get home. I'm not really hungry (for once), so I plunge back into work. Basbaas, my Somali condiment company, is growing fast, and it's definitely time to raise money for the next phase. I've got meetings all over town. It's exciting, exhausting, and overwhelming. But through all the daily craziness, I'm grateful to be sharing my culture and my cuisine.
I run home and whip up a late lunch of scrambled eggs on rye, a personal favorite. Sadly, my spinach went bad while I was out West, so I sauté a red onion, a handful of mushrooms, and diced garlic. I throw in the two eggs at the very end. For seasoning, I only add black peppercorns, because I'm obsessed with using my Basbaas coconut-cilantro chutney on everything.
Just before dinner, I have a boxing appointment with my dear friend and trainer Susan Reno.
I've been boxing for ten years at the Wat in Tribeca. I love it there, but I haven't done any workouts for two weeks, and I know Susan is going to kick my butt. She does, and then I head to Santina. It's airy, bright, and refreshing, and I meet my friend Joseph Mizzi for dinner. Joe is the co-founder of 14+, a nonprofit that builds and operates schools and orphanages in rural Zambia. I'm inspired every time I see him.
I start with a glass of Sauvignon Blanc, while Joe gets a Montepulciano. Joe and I always eat alike, so we share. We get the salad with tuna carpaccio and the cecina, an Italian pancake served with broiled rock shrimp, crispy fried shallots, spicy ginger, and bok choy. I'm in heaven and probably dancing, which I'm known to do when the food is this yummy. We transition to the branzino crudo and the spaghetti with blue crab. I can't believe how light the spaghetti is, and how much flavor the cherry tomatoes and parsley add. I love New York, but right now it feels like I'm cruising the Mediterranean.
Tuesday, June 27
I've got jet lag and I'm still on PT. I chug water and take a rehab shot from Juice Press. I pick up coffee on the way to my first meeting, but like most New Yorkers, I'm moving slower than normal because of the MTA. After kicking myself for not making breakfast, I run into Sun in Bloom and huff down some corn-tortilla tacos. Feels so good.
Later, after work, I run to Trader Joe's to get some fixin's for tonight's dinner (and a Clif bar). I often find myself craving my mom's cooking, and when this happens, I make a Somali pasta sauce that we call suggo. Somali cuisine is rich, aromatic, and flavorful, influenced by the spices and tastes of far-off lands, such as India and Italy. (I share this recipe in Julia Turshen's upcoming cookbook, Feed the Resistance.) Instead of spaghetti, I serve it over a sweet potato, and it's delectable. After dinner, I have a couple cups of ginger tea, and then it's off to dreamland.
Wednesday, June 28
I wake up around 6:30 a.m., down some water, and follow it up with a shot of apple-cider vinegar. My friend Lisa is stopping by at 8 for a walk and catch-up session before work, and when she arrives, we head to Bittersweet for iced coffee. Fort Greene, my Brooklyn hood, is buzzing this morning, the weather is perfect, and we do a brisk walk for an hour before we both need to get to work. I skipped breakfast and it's fine.
Lunch is at Colonia Verde. I go there at least once a week, and it's become my favorite local hangout. I love taking my Manhattan friends there. We order Cómodo's sliders, which are lamb meatballs with cranberries on gluten-free pão de queijo, and a big salad.
I run home, catch up on emails, and get ready for a work meeting in the evening. Dinner is at Piora in the West Village, and it's new to me. I start with espresso, and then dive into monkey bread (with chicken wings, potato, and artichoke barigoule), crab, shrimp mandu, and crispy poussin, which our server insists tastes like candy apples. We move to a nightcap at Hudson Clearwater. It's been a busy day and I'm grateful.