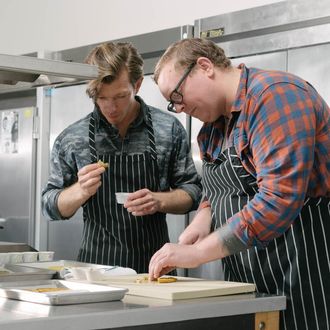 A couple Hampton Creekers discussing how to make you a steak.
Photo: Courtesy of Hampton Creek
Hampton Creek, known lately as maker of the vegan mayonnaise you can't buy at Target anymore, has secretly spent the last year developing the technology to make lab meat. Yesterday, it unveiled an R&D plan involving robots and lots of test tubes that will allow it to start producing so-called "clean meat." Never big on modesty, Hampton Creek also claims it's going to beat the rest of the fake-meat industry to market, pledging to get there by 2018, almost three years faster than anybody else in the business right now. "By the end of next year, we'll have something out there on the marketplace," CEO Josh Tetrick tells Quartz. Memphis Meats, one of its biggest new competitors, has said it thinks it will have chicken nuggets ready by 2021, and Cultured Beef's Mark Prost — sort of the field's pioneer — has suggested maybe 2020.
"Most of the world's 353,000 plant species are unexplored," Tetrick explains. That's why his company has spent the past few years analyzing plant protein, storing the data in a giant database that now includes species from 51 countries. They already make Just Mayo and Just Cookie Dough without eggs, and a year ago they teased the idea of producing plant-based eggs and dairy products. Tetrick's team argues the next phase is using those plant-based nutrients in their database to grow meat and seafood.
Per Tetrick's post laying out the plan:
Meat and seafood are primarily a combination of muscle and fat cells. They require nutrients to grow, whether inside an animal or in a clean facility. And the main limiting factor in scaling clean meat has been providing cells with a sustainable and economical source of nutrients required for cell growth. Our methodology of discovery (material isolation, assays, and discovery output) is the same whether we're finding a plant to replace dairy in butter or a plant to feed cells for clean and sustainable meat and seafood.

With plants providing nutrients for animal cells to grow, we believe we can produce meat and seafood that is over 10x more efficient than the world's highest volume slaughterhouse (a 1,000,000-square foot facility in Tar Heel, N.C.). All this without confining or slaughtering a single animal and with a fraction of the greenhouse gas emissions and water use.
In Hampton's vision, bluefin tuna can be lab-produced in unlimited supply without ecological disruption. Since its products are already in Whole Foods, Walmart, and 7-Eleven, among other places, Tetrick argues they can ensure demand, so investors will be enticed to throw money at them. Money is a limiting factor for lab-made meat. Nobody is selling it yet, despite collecting fawning praise from people like Google's Sergey Brin. One reason why is that the cost is still way, way too high to scale. The first in-vitro burger — a hunk of meat that Prost's Cultured Beef cranked out in 2013 — cost $325,000 to produce. In 2015, Prost proudly announced his lab had made marked improvements, estimating the price had dropped as low as … $27 a pound.
Hampton Creek argues the process is so expensive because of the laborious method used — growing cells by using serum from cow and chicken fetuses. The company believes its plant-activated version will be a bargain comparatively. It hasn't outlined the alternative method in detail, but does note that the product, whatever it is, will cost "at most" 30 percent more than conventional meat once it hits shelves.
* This post was updated to more accurately explain how the plant database factors into Hampton Creek's clean-meat initiative.