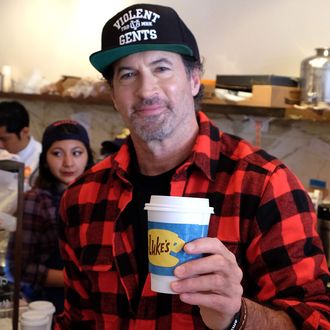 This time, a man bun or cell phone won't get you turned away.
Photo: Sarah Morris/Getty Images
Seven years of watching Rory and Lorelai get their coffee fix at Luke's Diner has spawned fans spanning generations, something made even clearer when mobs across the U.S. descended upon the 200 Gilmore Girls pop-ups Netflix served free coffee in last fall. Clearly a man who understands the uncaffeinated condition, the actor who played Luke Danes, Scott Patterson, now sees an opportunity to make a few extra dollars off that insanity by starting his own brand of coffee.
Patterson dropped the news in an interview with the website WealthManagement.com last week. "It's going to be called Scotty P's Big Mug Coffee," he explains, before adding that coffee is apparently a real passion of his, not just the best-known prop from his most famous role. "Quality coffee is something that I am obsessed with," he says. "It's the thing I look forward to every morning and throughout the day and throughout the evening and now throughout the middle of the night." (Luke would sternly recommend his real-life counterpart skip that last cup.)
He doesn't give much in the way of a timeline yet, besides saying, "We're almost ready to launch, but we want to have our ducks in a row before we come out with it." The holdup is probably finding a way to capture the essence of being flannel-clad and ornery with a bag of coffee.