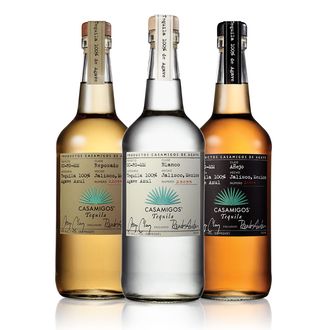 George Clooney is selling his award-winning tequila company, Casamigos, to liquor colossus Diageo for an amount CNBC reports could end up being as high as $1 billion. The already very well-off actor confirmed the news in a very Clooney-esque, humblebraggy email: "If you asked us four years ago if we had a billion dollar company, I don't think we would have said yes," he tells the news outlet. "But we're not going anywhere. We'll still be very much a part of Casamigos. Starting with a shot tonight. Maybe two."
In its own press release announcing the news, Diageo breaks down the gargantuan payday: $700 million will go straightaway to Clooney and his two partners, entrepreneur/Cindy Crawford's husband Rande Gerber and real-estate mogul Michael Meldman. Then, if their popular tequila continues performing well, the trio will earn an additional $300 million over the next ten years.
The funny thing is, Casamigos was essentially created by accident. According to the origin story Gerber and Clooney tell, it started as a private tequila collection they could enjoy while vacationing together in their side-by-side villas in Baja, Mexico. Gerber told Business Insider in an interview earlier this year that they'd go try all the tequilas at local bars, but leave a little underwhelmed: "There came a point where George turned to me and said, 'Why don't we create one that's perfect for us?'"
This set in motion a two-year taste test in which the two men sampled 700 separate tequilas. (The difficulties of being George Clooney!) "We wanted one that didn't burn going down, that was super smooth, and had the right flavor profile," Gerber said. Something they could drink straight all day, and still "not be hungover in the morning." Meldman later joined as a third partner, and in 2013, they publicly launched the spirit, which they market as low-cal and "an extension of who we are and our lifestyle." In four years, it's managed to leap ahead of a competitive field to become one of the fastest-growing tequila brands, doubling sales between 2014 and 2015. Distribution has since expanded to 20 countries on five continents. (Gerber claims he and Clooney still taste every single batch.)
In its announcement, Diageo says it wants to grow the brand's footprint even more internationally. The sale is supposed to close sometime in the second half of this year.