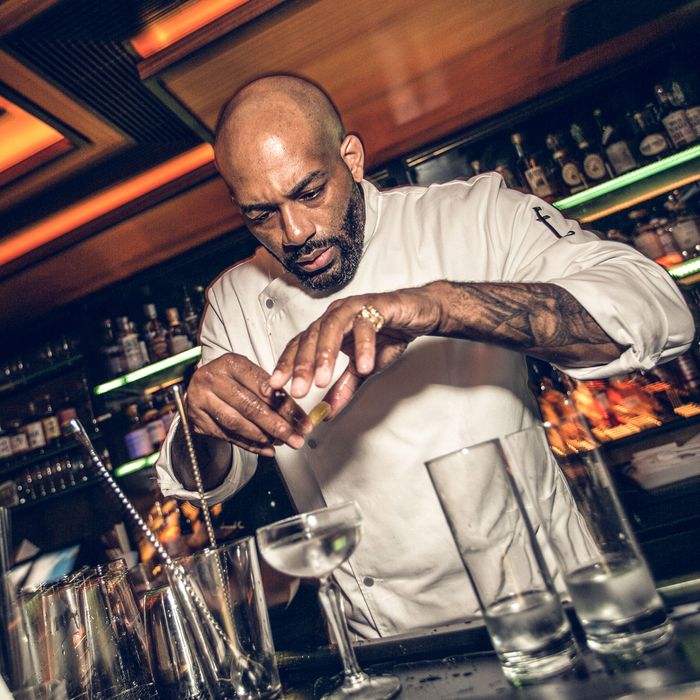 At Hong Kong's new Employees Only, many of the workers and customers are New York expats.
Photo: courtesy of employees only
Behind the curved bar at Employees Only the other night, a white-jacketed bartender dutifully measured and mixed a signature Manhattan. Waiters ferried orders of steak tartare and bone-marrow poppers to diners seated at red café tables. Near the entrance, a psychic told fortunes. And, 30 minutes before closing, homemade chicken soup was offered to anyone who wanted it. It was, in every way, a typical Wednesday night at one of the bar world's most famous destinations — except it was taking place in Hong Kong, where the iconic Manhattan bar has just opened its newest outpost, one that's so true to the original that many original staff members have made the permanent move to Asia in order to make it work.
"It's a hands-on business," says EO co-founder Igor Hadzismajlovic, who himself has made the move to Asia, something he admits isn't typical for a bar owner expanding to a foreign market. "I could just re-create the same décor, and hire the right people, and put the Employees Only name on it, and come for the opening, and visit twice a year, but it's not the same."
Employees Only is, of course, one of New York City's most famous bars. Opened in 2004, it helped popularize the mixology movement. Last year, Hadzismajlovic announced his plans to expand globally, with locations planned for Singapore, Miami Beach, and Austin, Texas. (The Asian expansion is due, in part, to Josh Schwartz, who has known Igor since their Pravda days, and his wife, Sarissa-Rodriguez Schwartz. Also former New Yorkers, they had previously relocated to Singapore, where they thought a bar like EO would work well — so they proposed the idea to Igor.)
In Hong Kong, which was planned later, the team made a point to re-create the look and feel of the New York bar as closely as possible, but what is probably most surprising about the expansion is that Hadzismajlovic has been joined in his move not only by his wife Helen Zhang (one of New York's more prominent hospitality-industry publicists), but also by several of his Manhattan colleagues. Running the show in Hong Kong is general Manager Rachel Tow (her husband, Owen Gibler, is the principal bartender); and Mauricio Espinoza was a longtime sous-chef at EONY before moving to Asia to help with expansion. Two other bartenders, Jameel Frith and Sean Marino, are also New York City expats (though they didn't come directly from EONY).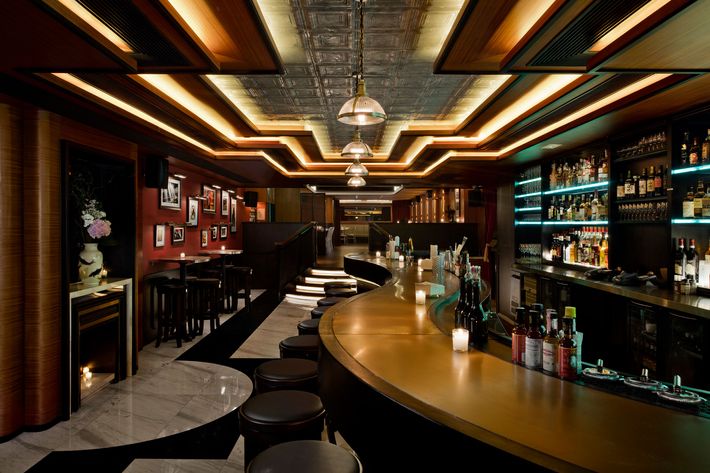 Many employees first made the move East in order to help with the opening of EO's first expansion in Singapore last June. Steve Schneider, a manager at EONY, is now a partner in Singapore and Hong Kong, and will split his time among the various locations. "So I live out of a suitcase," he says.
Tow says she and Gibler didn't take too much convincing. "Igor, you know, he's our favorite," she explains, "So when he asked me to come to Singapore, he asked us to go for a little recon, you know, 'See if you like it, if you like the culture.'" From there, it was more or less a done deal: "We were on our honeymoon, and decided, like, fuck it, let's just go. Bought a one-way ticket, packed up all our shit."
That kind of loyalty to Hadzismajlovic is common among many Employees Only vets: "No one ever leaves," Schneider says. "I've been there nine years and I'm the fifth-most senior person there on staff, so there are four other people who have been there longer than me. We've had apprentices there for five years just waiting and waiting and waiting for me to go open a bar in Singapore so they can get some shifts."
The crew members aren't the only familiar faces from EONY: Expat regulars in Singapore and, now, Hong Kong, have also been happy to see new versions of their favorite bar from back home. "We have the best regulars," Tow says. "They just wanted to hang out with Igor and Steve."
Still, it sounds like Hadzismajlovic and Zhang might not make Hong Kong their permanent home. "I'm in a business where I can do it from anywhere, as much as I miss doing what I do specifically in New York — but we'll go back," Zhang says. "It's a requirement. It was a precondition of our nuptials."
Hadzismajlovic, who says he hates New York winters and loves the idea of exploring a new continent, sounds like he's not entirely sold on returning just yet, countering, "We're still in the negotiating process."