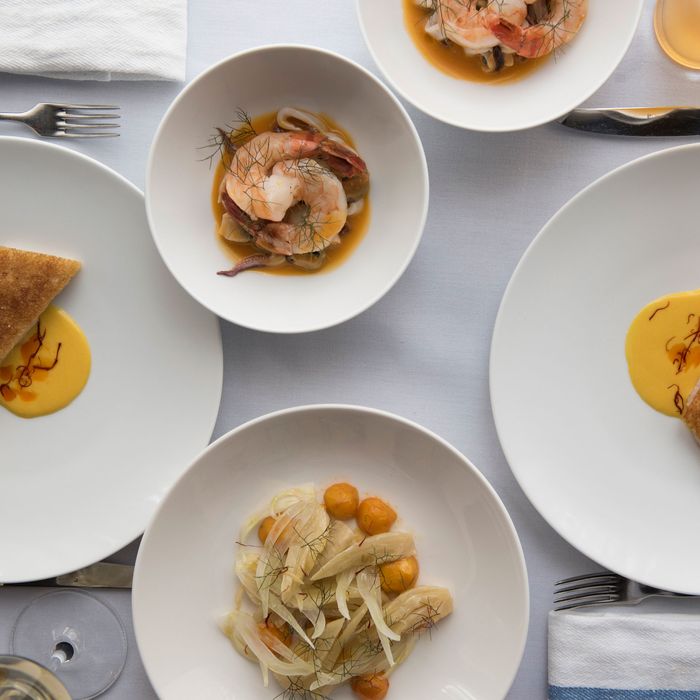 Daniel Humm is cooking bouillabaisse in the Hamptons this summer.
Photo: Liz Clayman
Summer means backyard barbecues and seafood feasts. Clambakes, crab cakes, lobster rolls, and any and all (preferably messy) local aquatic specialties best eaten at or near the beach. For this summer, Daniel Humm and Will Guidara transplanted their acclaimed Eleven Madison Park from its Manhattan digs (which is undergoing renovations) to the decidedly more summery setting of East Hampton.
As you might expect, the so-named EMP Summer House, which opened this past weekend, is no seafood shack, but Humm has nevertheless embraced the beach for his summer menu. Take, for example, the party-size, gussied-up lobster boil ($125), which is served only at the space's outdoor picnic tables. More in keeping with the restaurant's French roots is Humm's version of bouillabaisse, which, at $95, is more like a family-style seafood extravaganza than a simple stew. Each diner gets a bowl of fennel barigoule, potatoes, roasted tomatoes, and confit garlic that gets doused in broth tableside; a baguette crouton with rouille and herbs; and a shared cast-iron pan of black bass, shellfish, bouillabaisse sauce, and herbs.
Humm also has you covered if you can't make it to the Hamptons: At the NoMad, he and Guidara are breaking out a Summer Lobster Fest ($125, through Labor Day) complete with, yes, cheddar biscuits. The barrage of lobster starts with snacks of tempura, ceviche, and miso-glazed tail; followed by lobster chowder with corn, potatoes, and those cheddar biscuits. The meal peaks with a main course of grilled lobster with lobster salad, runner beans, tomato, and artichoke. Dessert, meanwhile, is rhubarb cobbler with ricotta ice cream.