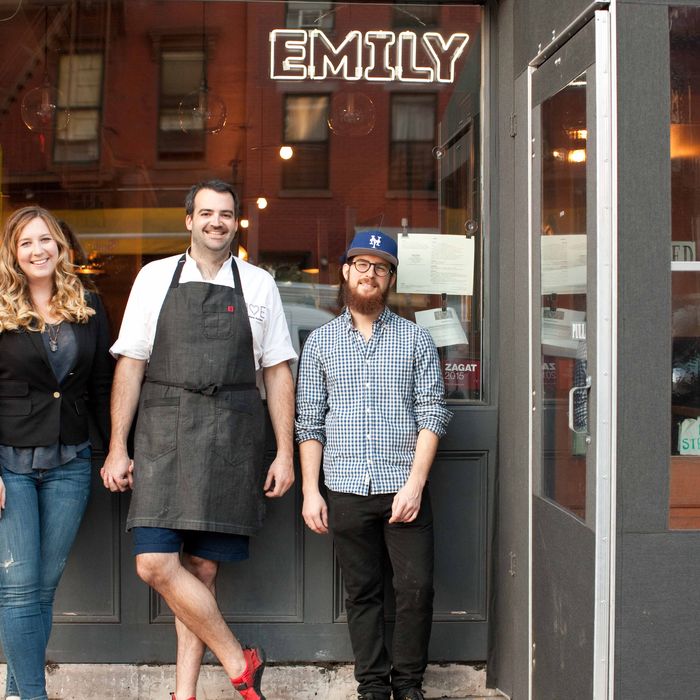 Emily and Matt Hyland with Lou Tomczak in Emmy Squared, in 2015.
Photo: Melissa Hom
Any number of factors can doom a restaurant, even one that appears successful by all traditional metrics. Brooklyn favorite Bark Hot Dogs seemed poised to be a fast-casual success, only to vanish in a matter of weeks. Keith McNally's Pastis was famously pushed out of its space in favor of a Restoration Hardware. Babu Ji was hammered by wage-theft allegations and damning accusations, including that the owner threatened employees, before quietly reopening in a new location. Roberta's has been notoriously mired in a legal quagmire, including a wage lawsuit and an ugly $5.4 million court battle that pitted two of its founders against a third. And now the owners of Emmy Squared — easily the city's preeminent destination for Detroit-style square pizzas and an all-around great place to hang out in Williamsburg — are locked in a legal battle that, ironically, sounds like the result of the restaurant's very success.
Emily and Matt Hyland have had a very good run over the last three years. In January 2014, they opened Emily in Clinton Hill, offering a small number of pizzas and, eventually, one blockbuster burger. They expanded with Emmy Squared in Williamsburg, and just this month opened another Emily in a high-profile West Village corner location. According to a "Page Six" story, however, a group of Emmy Square investors are now suing the Hylands, alleging that the couple "hid profits from them, squandered their cash and went behind their backs to expand to Manhattan and beyond."
 
The investors in question are Emmy Squared chef-partner Lou Tomczak, as well as Michael and Kelly Puma; John Farrell; his mother, Rita; and George Tapinekis. (Michael Puma and Tapinekis are also members of Gotham Burger Social Club, an Instagramming group of Wall Street burger nuts.) Matt Hyland says that Tomczak's lawyer contacted him on February 2 with "50 or 60 different accusations," including that the Hylands had a frozen-pizza line and were using Emmy Squared's funds to buy ingredients for Emily (where Tomczak and the disgruntled investors have no financial stake).
 
Matt says that he and Emily called an investors' meeting to try to reach a solution, but no deal could be reached. The couple was notified of the lawsuit on March 10, and it was filed on April 20. Among many other allegations, the lawsuit specifically contends that the Hylands failed to provide shareholders with access to the books and records, paid themselves unauthorized management fees, and dissolved the corporation, formally known as Garlic Knots 364, Inc., "without prior notice to their shareholders" and reorganized it as an LLC. Matt and an investor contend that this was done for tax purposes. Essentially, the investors in question allege they were cut out of a potential deal to expand Emmy Squared. Matt counters that those investors simply did not like the opportunities they saw. (At issue is the new Manhattan location, which is an Emily, and not an Emmy Squared.)
 
"It's a frivolous lawsuit designed to spite us and hurt our name because they're angry," Matt tells Grub Street, denying all of the allegations. (A lawyer representing the disgruntled investors, meanwhile, shared a statement and said only that the suit speaks for itself.) Matt, who along with Emily is planning a countersuit, also says that their disgruntled investors' attorneys had reached out in attempt at mediation. "I think their lawyers know there is no case here," he explains. "We tried to do that, but it just seemed like it was for show somewhat. So we're going to answer their claim."
 
What that means for lovers of Detroit-style square pizzas is now something of an open question. Though, as Roberta's has made clear, ongoing legal issues by no means spell the end of a popular pizzeria. Alternatively, there are plenty of other examples of operators that haven't been so lucky. But it's yet another reminder that even the restaurant empires with the sturdiest foundations can see cracks appear when money, ego, and fame are at stake.