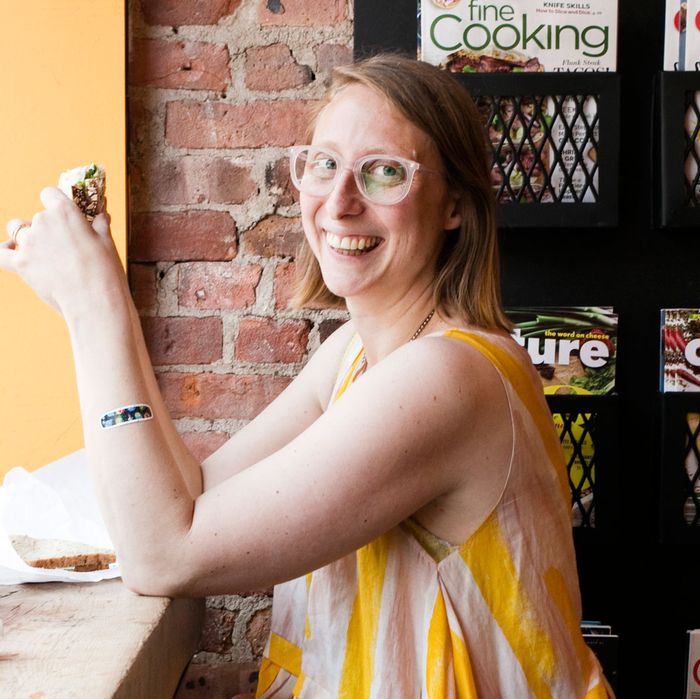 At Stinky Bklyn.
Photo: Melissa Hom
Only six weeks have passed since Emma Straub — the author of Modern Lovers, The Vacationers, Laura Lamont's Life in Pictures, and Other People We Married — opened Books Are Magic, an independent bookstore in Carroll Gardens. Her eating, as a result, is slightly more erratic than usual. "The big difference is that both lunch and dinner are hard now," says Straub, who's also a mother to two young children (ages 17 months and 4). Fortunately, she can always make time for pizza. Read all about it in this week's Grub Street Diet.
Thursday, June 8
My two children love cereal. They eat an organic one shaped like bunnies that turns the milk purple. It's basically Fruity Pebbles, but for people who shop at Whole Foods. On good days, like today, I have three seconds at 7 a.m. to pour myself a bowl of Cheerios and shovel a few mouthfuls in before the baby drags it away and eats it. He's very efficient at stealing food, in part because he is very cute, but mostly because he has superhuman strength.
The baby had a special gym class, in which he was awarded a participation medal, so I'm slower getting to the bookstore than usual. But it means that I get to walk by Bien Cuit, so I duck in and get two slices of something called breakfast Sicilian, or something, which is basically room-temperature pizza. One for me and one for my husband, plus as large an iced tea as they've got.
My mother texts to see what's going on at the store, and offers to bring lunch from Hanco's. Thank god — I've been in a three-hour meeting with a sales rep from Random House, and my eyes are crossed and I am dying of starvation. I make an enormous tofu bánh mì vanish in about two minutes, and then run out the door to school pickup. My older son lets me eat a tiny, tiny bite of his chocolate-chip cookie. Another large iced tea, this time from the Iris Café.
At 5:30 p.m., I eat some macaroni and cheese off the table as I'm cleaning up after kiddo dinner. Okay, fine, I also eat some off the floor.
My friends Jennifer Romolini and Rumaan Alam did a terrific event at the store, and afterward, my husband and I have enough bandwidth to eat some pizza before going home. Honestly, sitting at the counter at Sal's Pizzeria, our backs to a clear, warm night on Court Street, it almost feels like a date.
We stop at the grocery store on our way home, buy a thing of chocolate-covered raisins, and nearly polish them off. Romance!
Friday, June 9
We have run out of the bunny cereal, so my husband makes pancakes in order to staunch the bleeding. The baby (obviously) wants the pancakes that are on my plate. I manage to eat one or two while he's not looking.
My older son likes to pretend to be allergic to things — chicken, eggs, asparagus, the list goes on and on — and right now, bananas seem to be included. I eat his banana on the walk to school.
On Fridays, our babysitter leaves early, and I have to hustle home from the bookstore. I stop at Union Market to pick up lunch — a fairly sad-looking salad with goat cheese and the world's most perfect appetizer, a chocolate doughnut from Dough. The salad — what joy to write these words — exceeds my expectations, and the sherry-vinegar salad dressing is well above average, at least to someone who has been starved for salads. There are also some candied walnuts that I avoid, because who needs them?
I make a giant vat of iced tea, my first of the summer! Easy breezy. It also occurs to me that there is no good audience for this food diary — the people who love food are going to think I'm a snooze, and the people who love me are going to worry that I'm only living off sugar and cheese and iced tea, because I am.
I steal some fresh mozzarella while making pizza for the kiddos. We are good at making pizza, though tonight's was ruined by the Instacart shopper who bought the whole-wheat dough instead of regular. What kind of monster makes pizza with whole-wheat dough?
I am somewhat embarrassed to admit that my husband and I get boxed meals from Plated. It has actually been wonderful for us — we both like to cook, but have no time to plan meals, and most of the time, the meals are good. But lately, we've been so busy with the bookstore that we haven't had time to select the meals they send. We end up with things like "pizza tostadas." Whenever I ask my husband what Plated is coming, he says that it's pizza tostadas. Tonight, it's actually a chickpea-Greek-salad kind of thing, which we could very easily have made without Plated, but so it goes. At least it's a salad. I do worry that we're going to get the plague, or gangrene, or whatever you contract when you stop eating food that is actually good for you.
Saturday, June 10
The big kid is happily reunited with his bunny cereal, and the little one has three courses: scrambled eggs, cereal, and a banana. I manage to fry myself two eggs and make an English muffin. Julia Turshen's wonderful new book, Small Victories, taught me how to fry eggs perfectly, after 37 years of doing it badly.
At a 4-year-old's birthday party, the baby and I eat a lot of cantaloupe and watermelon. The parents order really good pizza — not just birthday-party pizza — from Sottocasa. The four of us eat about a hundred slices. I swear, I don't only eat pizza, even though it seems like it. A friend of mine (not a doctor, but trustworthy nonetheless) told me that it didn't matter if I drank while on antibiotics. I decide to believe her.
I eat six chocolate-covered raisins while no one is looking. I eat six because there are only six left, not because I'm on a Barack Obama "seven almonds" diet.
The children are having broccoli-rabe ravioli for dinner, and I eat one, too, because they are covered in butter and irresistible.
We have another thing from Plated, but it's another pizza-tostada-type situation, so we opt for Pok Pok instead. We live close enough that we can call after the kids are in bed, and then run over in our pajamas. I have the catfish, the chaca, which is always perfect and delicious, and add some extra peanuts, because you only live once, accompanied by a Sixpoint Crisp, same reason.
Sunday, June 11
The children both eat, but somehow, I don't. We go on a family adventure to Target and Prospect Park, and stop at Joyce Bakeshop on the way. The big kid and I each eat a chocolate croissant the size of our heads, and it makes me realize that most croissants are pathetic and butterless. This one is sublime — fluffy as a hotel pillow.
The baby is sleeping, and the big kid and my husband are drawing with chalk. I make us grown-ups some breakfast burritos because I am starving and want to eat everything in the fridge. My husband laughs at me for using Greek yogurt as a sour-cream substitute, but I think I'm a genius.
We decide to be ambitious and go to our friends' restaurant for dinner, the Meat Hook at Threes Brewing. Because I am an idiot and forget that it is the weekend, I assume that it will be empty at 5:30 p.m. We all pile into the car — the four of us plus my parents — and Threes is jumping. I drink a glass of rosato very quickly, because if I don't move quickly, the baby will knock it over. We get an order of asparagus with an extremely decadent sauce that tastes like cream, but my friend Ben (owner of the Meat Hook) says it's something called an "aquafaba," which sounds like swim class for babies. It's apparently a sort of vegan mayo made out of cooking liquid from beans, which sounds not even a tenth as delicious as it actually is.
We get an order of French fries and a cheese plate for the big kid, who is in an almost exclusive cheese period. Then a lot of roasted pork and sausage and potatoes appear, plus a truly stupendous wedge salad with the kind of dressing that tastes like it has six raw eggs in it. I want to marry the wedge salad, especially if we can be polyamorous with the sausage. The baby eats a lot of French fries and throws a lot of asparagus. I have no idea if anyone else eats anything, because I am too busy being an octopus and rescuing glasses of water and flying knives, and fishing crayons out of the baby's mouth.
I really want the Mister Softee truck to drive by. It doesn't. Once, a very long time ago, I got Doug Quint and his Big Gay Ice Cream truck to make a special stop at my parents' house. I would give $1 million to have that happen right at this second.
Monday, June 12
Cheerios. The baby pulls my bowl next to his and allows me every other bite, the generous boy.
Last-day-of-preschool party. I eat a blondie cut into pieces small enough for 3-year-olds to eat without going insane. My kiddo has two. There are also strawberries. I don't know what kind of bribe it would take to get my child to eat a strawberry at this particular moment in time.
Stinky is half a block away from Books Are Magic, thank god. We've only been open for six weeks, and it's still hard to find time to eat during the day — there is so much to do. But Stinky is close and fast and perfect, so my husband and I eat their turkey, Gruyère, and arugula sandwiches several times a week. Sometimes, I also get a brownie, because I like to support local small businesses. I don't even like brownies.
Kiddo dinner at 5:45 p.m. I try to steal a piece of a quesadilla but am rebuffed. They both eat all of their broccoli. This is now a national holiday.
Today, I was struck by a sudden, urgent need to see Wonder Woman. We go to the Alamo Drafthouse, because that way we can eat dinner and watch the movie, instead of just doing one. I have reached the point in my life where I understand dinner theater, like in Soapdish. Man, I would love that. Do you think they serve dinner at Dear Evan Hansen?
Anyway, here is the mortifying truth: I have more pizza. I know! It's too much pizza. But here's why: At Alamo, you have to eat in the dark, and I think most things are too messy to eat in the dark, while sitting in a movie theater. Once, I ordered the burger, and it was a super-drippy mess. So now I stick to the pizzas, which they call flatbreads, because they are flat ovals. Whatever you need to tell yourself, Alamo. My husband has tacos. I have two glasses of rosé. I wish they'd shown what the Amazons eat — I bet they eat perfectly grilled fish and vegetables, like what I had at Threes Brewing, only maybe with less dressing, and definitely with no cheese. I don't think the Amazons eat cheese, which is maybe the biggest difference between me and Wonder Woman. If there were Raisinets, I would eat them.
Tuesday, June 13
Cereal. The baby is on my husband's lap, so I get to eat the whole bowl. Large iced tea.
Listen, I wake up early, and school pickup is at 11:15 today, so I have to eat a bagel with chicken salad at this ungodly hour, 10:45 a.m. I am hungry, and it is delicious.
We plan to have a picnic with some of my son's classmates in the park after school, so I bring a giant box of pink and green pretzel-shaped cookies from Caputo's, one of the Italian bakeries in our neighborhood. Because it's a hundred degrees outside, and the park has not an inch of shade, we scrap lunch pretty early and go into the fountain, which means that the kiddo and I eat most of the cookies ourselves. I also eat a lot of the grapes I brought for the picnic, because I am an adult.
Back at the bookstore, where I am not, Hetty McKinnon hand-delivers some beautiful salads from her new book, Neighborhood. My husband sends a photo, and I am jealous.
I suddenly find myself alone in the house and have a chips-and-salsa party. The party goes on too long, and then I have a giant stomachache.
I have to go back to the bookstore after bedtime, so I eat with the boys — fusilli and pesto and more asparagus. The baby and I trade bowls repeatedly. The big kid and I share several open cans of LaCroix, because we are sophisticated.
We have a great event at the store tonight — empress Elin Hilderbrand, resplendent in a pink dress that reminds me of Andie's prom dress from Pretty in Pink, only much, much cuter, and Katherine Heiny, who is as hilarious as Maria Semple and is my new personal crush. Katherine is kind enough to let me babble at her with a glass of Champagne in my hand, and gently tells me that my children would not always be so young. She doesn't know about the food diary, but she might as well have said something like, "Emma, someday you will again eat meals. Someday you will go to restaurants with your children, and they won't throw things and wave their arms like deranged baboons."
Afterward, my husband and I walk a few doors down, to Uncle Louie G's, and get ice cream. Soft serve is really all it takes to make me happy. I am a woman of simple pleasures. Sugar, dairy, carbohydrates. Don't @ me, as I think people say. Maybe they don't say that anymore. As you now know, I don't have time to learn slang. I'm too busy eating pizza.