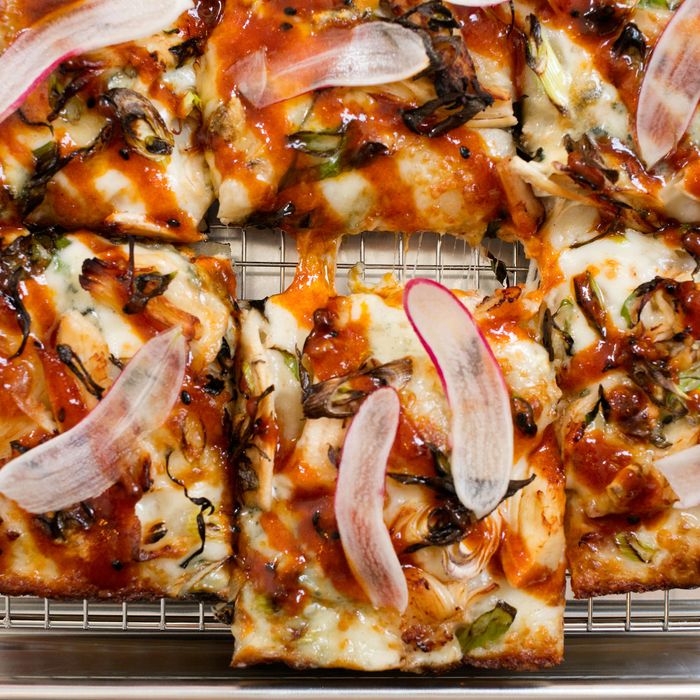 For the Nguyen is a riff on the buffalo-chicken pizza, made with smoked chicken, Emily's wing sauce, scallions, bleu cheese, and radishes.
Photo: Melissa Hom
The charm of Clinton Hill's blockbuster pizzeria Emily has always been its rough edges. Matt and Emily Hyland opened the small restaurant on Fulton Street in 2014, serving their pizzas on no-frills metal pans (and, eventually, a much-discussed burger served, in similar fashion, on a sheet pan). When they expanded to Williamsburg by opening Emmy Squared, they put the emphasis on Detroit-style square pizza, with a signature version involving banana peppers and ranch dressing. As Emily once told Grub Street, "we're the most untrendy people there are," and yet they've built a growing collection of restaurants with legions of devotees. This week, they're opening their most ambitious project yet: a second location of Emily, in the West Village corner space that formerly housed Blue Ribbon Bakery.
"It doesn't matter where you open, opening a restaurant is pretty difficult," Matt says of the new spot, which is scheduled to start serving the public tomorrow. "I think the anticipation of having a restaurant open in Manhattan definitely is different … It's more pressure — more eyes on us, more focus on us."
To that point, Emily says she feels nervous about trotting into Manhattan, a pair of successful Brooklyn restaurants in hand, because she wonders whether critics and customers will be harder on them now. The margin for error, Matt agrees, is slimmer, and they're focused on making sure everything is "as well done as we can" right off the bat.
The hardest part, really, has been learning how to bake in the space's enormous, wood-fired oven. (In Clinton Hill, the kitchen's oven there is 49 inches in diameter; in Manhattan, it's 18 feet by 14 feet.) Still, that oven is also what sold the Hylands on this space, and Matt will use it to cook dishes like "bánh meatballs" and baked pasta, as well as round pizzas that are more in the New York style. To start, look for toppings like clams and Calabrian chili (the Dune Road), as well as one topped with garlic, herbs, and spicy anchovies (the Margot).
There's more: The Hylands will also serve square pies, something like a mash-up between Detroit-style pies and New York's famed grandma pies, for a pizza with a thinner crust and a richer sauce. Matt will get more creative with toppings on the squares. There's a riff on buffalo-chicken pizza called For the Nguyen that will employ smoked chicken and the hot sauce they use on their wings in Clinton Hill. Lastly, it wouldn't be an Emily without trophy burgers, and the new menu will rock two of them: a double-stack Emmy Burger with American cheese and a side of curly fries, plus a new creation. The Lammy is a lamb burger with achaar aïoli, papadums, green papaya, and pakora onion rings. If the Hylands' previous openings are any indication, expect something of a wait when the doors open tomorrow at 5 p.m. for dinner. Until then, take a look at some of the food you can expect.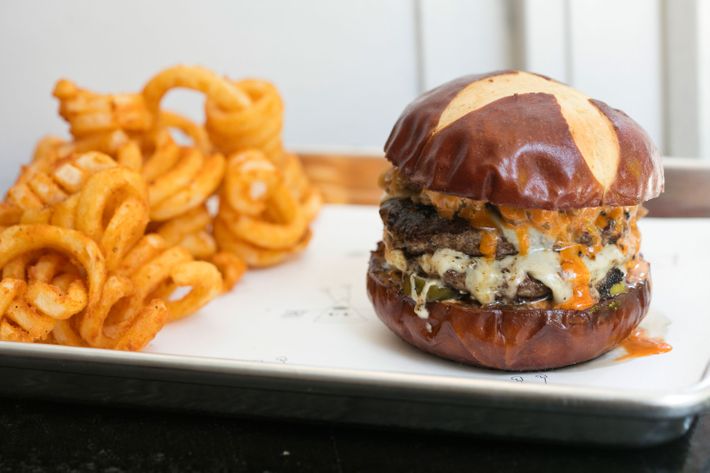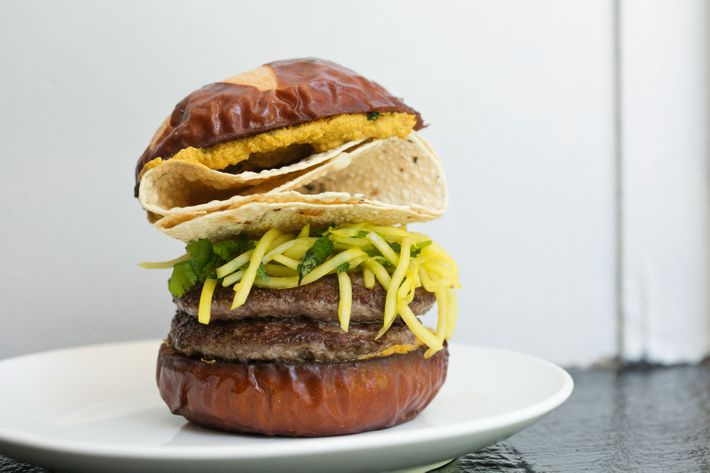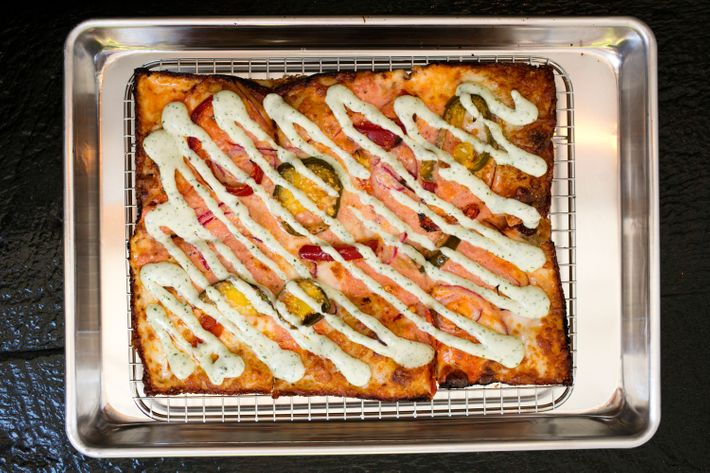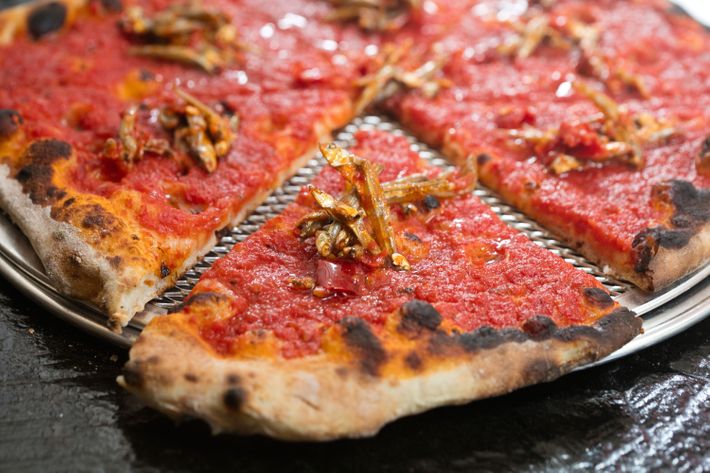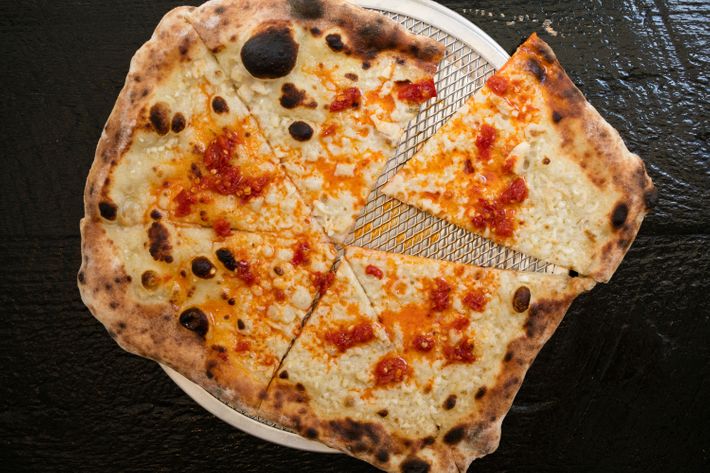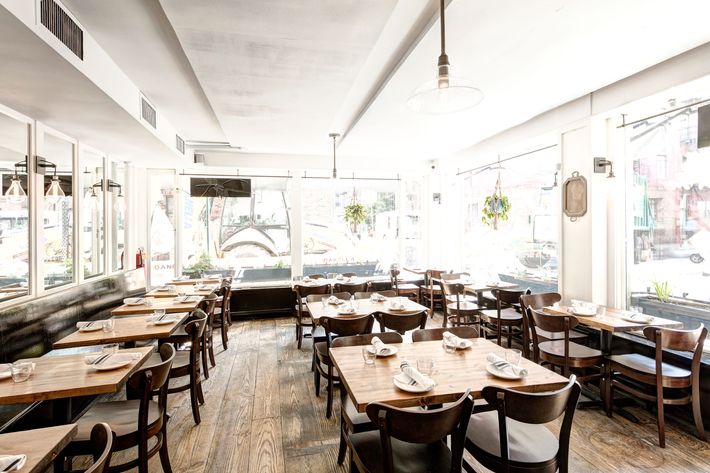 Emily, 35 Downing St., at Bedford St.; 917-935-6434