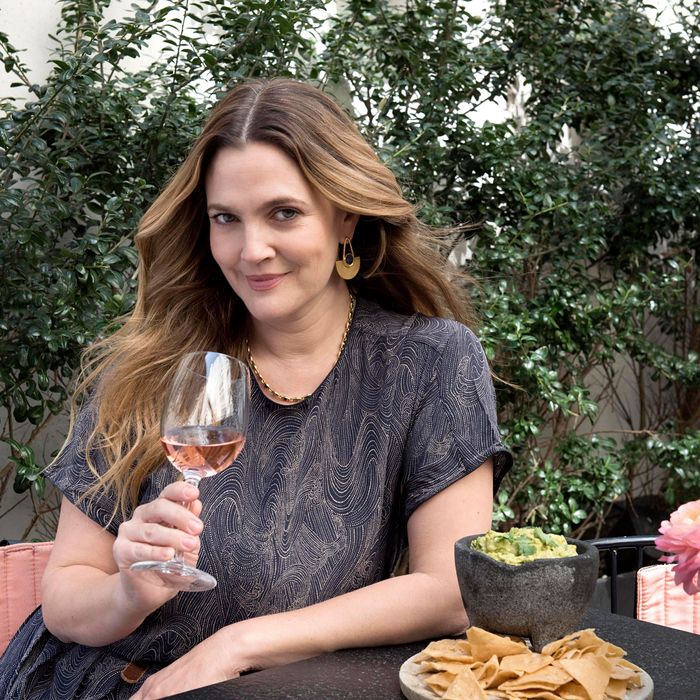 She's serious about her wine.
Photo: Liz Clayman
Drew Barrymore has come a long way since E.T. — obviously, you know all about her acting work (Never Been Kissed, Charlie's Angels, The Wedding Singer, and Netflix's Santa Clarita Diet, to name a few highlights), but she's also an entrepreneur. Barrymore has her own eponymous line of wines, plus a beauty line and a brand-new print magazine. This past week, she split her time between New York and Los Angeles, balancing nights out with pals (at restaurants like Joseph Leonard and the Waverly Inn) with time cooking alongside her two young daughters. This and more, in this week's Grub Street Diet.

Thursday, June 1
This morning was nutty. One of my daughters had a swim lesson; the other had her last-day-of-school party. Needless to say, I didn't have breakfast. It wasn't until I was halfway through my first work meeting that I realized I was starving! I also then realized that one of my favorite sushi spots was around the corner — Nobu. I sneaked out and got some spicy tuna rolls, California rolls (both with seaweed on the outside), miso soup, and their famous Nobu house salad.
After my sushi feast, I finished my meetings downtown and went to pick up my girls from school. It was such a nice day out that we decided to take a field trip to Central Park and grab Popsicles from one of the groovy little ice-cream carts.
After cooking dinner for the girls, it was time to head back out to a work dinner. I took the 1 train (I hate sitting in traffic) down to the West Village and actually got there early. One of my favorite NYC spots is Joseph Leonard — it has the best brunch and dinner menus, but also an amazing white-wine selection. Decided on a dry glass of Pinot Grigio.
It was then time to head to dinner, around the corner at the Waverly Inn. This iconic NYC spot never gets old. It has the most classic booths that make for a very intimate dinner. It has so many classic dishes to choose from, but I decided on the lobster thermidor. So good!
Friday, June 2
Started the day with a good workout at the Class. Some of my mom friends and I try to do this class together once a week. It's a tough one, but a great way to get Friday going.
After showering and deciding on a groovy rainbow-inspired dress, it was time to head to the Columbus Circle Subway Station. I started a new magazine called FLOWER Press, and my team and I wanted to get copies in people's hands. We partnered with the New Stand and set up shop down in the underground shopping center in the subway. We quickly learned that a lot of people are just trying to get from point A to point B without being solicited, but once we got our sales pitch down, people were more excited to take a copy. Overall, it was a success, and we had a lot of fun and met a lot of new people.
It was then time to head to the office for some meetings. On the way, I grabbed a veggie burrito from Dos Toros. After a couple of meetings at the office, my next meeting was at Hôtel Americano. This hotel has one of my favorite rooftops in the city. On a sunny day, you can see the Hudson and all the way up town. The vibe is laid-back and just a good place for a casual work drink, or a drink with friends. PS: Their chips and guac always hit the spot!
After a full day of meetings and an afternoon with the girls, it was time for Friday dinner with my girlfriends! We decided on one of our favorites: Smith & Mills in Tribeca. They have some of the best oysters, and their take on the Dark 'N' Stormy cocktail is amazing. They use muddled ginger and fresh lime. The cozy ambience, good food, and refreshing drinks of this place make it perfect for catching up and laughing with friends.
After a long, fun dinner, we decided it was Friday night and wanted to hit one more spot, the Fat Cat. How do I describe this place? It's part bar, part arcade, part art gallery, part music venue. They have live jazz bands, Ping-Pong, cheese, pool, and art on display. It's a hidden spot in the West Village that is perfect for hanging with friends, or a fun date night.
One of my girlfriends and I decided it was late and time to head home. (It was only 10 p.m., but we're both moms, and anything past 9 p.m. feels like midnight to us these days.) We grabbed a slice of cheese pizza from Joe's Pizza in the Village and shared a cab home.
Saturday, June 3
I had a mellow morning at the house with the girls today. We had a flight later in the afternoon, so took it slow and enjoyed a lazy Saturday. The girls had buttered toast, avocado slices, and Honey Nut Cheerios while we all watched Tom and Jerry cartoons on the couch together.
It was then time to head to JFK to catch a flight to Los Angeles. For the car ride, we grabbed turkey sandwiches (my favorite — toasted wheat bread, turkey, American cheese, lettuce, tomato, mayo, and mustard) and matzo-ball soup from Pastrami Queen. In hindsight, the soup was a little tricky to eat in the car, but it's just so good.
One of my girls' favorite traditions when we fly is stopping by the Dylan's Candy Bar in the JetBlue terminal. They each get to pick out a treat to take on the plane with them. Sometimes, it feels like I'm negotiating a business deal with them on the fact that they get to pick one item, but today was smooth. A lollipop for one and gummies for the other.
Sunday, June 4
Back home in L.A.! It had been a while since I'd been back in L.A., and I just wanted to soak it all in. The girls and I got up and went to breakfast at Du-pars, which is at the farmers' market at the Grove. It's a staple at the market and has been there forever. We ordered pancakes, French toast, eggs, and fruit, and shared between all of us. Classic comfort, diner-breakfast food — or at least I think so. The girls were too distracted knowing that the sticker store and ride on the Grove Trolley would be our next stop.
In the afternoon, we threw a little pool shindig for some friends we hadn't seen in a while. Kept it simple and Postmated sandwiches and salads from Joan's on Third. Some of the favorites were fresh mozzarella, tomato and basil, grilled cheese, Joan's turkey meat loaf with chili aïoli, and, of course, crunchy peanut butter and jelly.
I wasn't planning on leaving the house again for the day, but a friend texted, and we decided to meet at Sunset Tower for a quick drink and catch-up. The Tower Bar instantly transports you to old, classic Hollywood. The bar now sits in Bugsy Siegel's old apartment on the ground floor. It has walnut-paneled walls and amazing views of the city. Their drinks are handcrafted, and the service couldn't be any better.
Monday, June 5
When I first woke up this morning, I had a hot water with lemon juice. It's a great way to jump-start your body for the day. I had a great training session with my trainer, Marnie Alton. She kicks my butt, but is inspiring at the same time. It really has changed my life.
For a post-workout snack, I made avocado toast. I keep it simple with mashed-up avocado, fresh lemon juice, sea salt, pepper, and sometimes chili flakes, if I'm feeling bold.
The rest of the afternoon was conference calls with the FLOWER Beauty team in NYC, reviewing new package designs and social-media assets. I also sneaked away from everyone for 30 minutes to read the script for episode one for Santa Clarita Diet season two, which had just come in. Season two is going to be even crazier and more fun than season one!
For dinner, I Postmated La Otra Taqueria Escuela. Escuela is the creation of chef Steven Arroyo, a friend of mine. The vibe is so fun, with hundreds of vintage shoe forms hanging from the ceiling and bright, colorful tiles. They serve their guacamole in little glass jars, have some of the best tacos in town, and it's BYOB, which is even more fun. Tonight, I indulged and had the lobster tacos.
Tuesday, June 6
French toast was the breakfast request from the girls this morning, so French toast it was! They love to help dip the bread in the batter. It becomes a big mess at a certain point, but it's so much fun to have them in the kitchen.
It was another busy day of running around. Swim lessons for the girls in the morning, work calls and meetings in the afternoon for me. I kept lunch simple and just chopped up romaine lettuce with sliced cucumbers. A light lemon juice and drizzle of oil for the dressing.
Our neighbors and their three kids came over for a late-afternoon swim session. The kids can never seem to get enough of being in the pool.
We were all tired from the day, so kept dinner quick and light — fresh salmon and veggies for everyone.