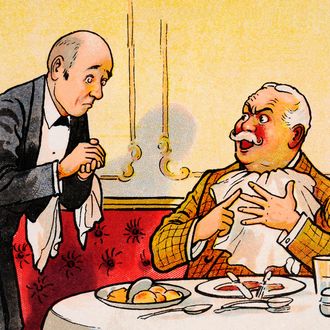 How to cook for a super VIP.
Photo: Popperfoto/Getty Images
One day, not long after the new Union Square Cafe opened in December, I caught a glimpse of the photos taped to the inside of the hosts' wooden podium. A series of faces, they looked like those pictures of busted shoplifters you see at bodega cash registers, but these were the faces of New York's small army of esteemed restaurant critics: Adam Platt, Steve Cuozzo from the Post, Ryan Sutton from Eater, and of course Times critic Pete Wells. God help whoever was working the door if any of them slipped by unnoticed.
In a lot of ways, the new restaurant already felt like home, since I'd started my cooking career at the original version, which had stood a few blocks away during its 30-year run. I'm what you call a career changer. A cook, I was older than most of my colleagues by a decade. I joined the kitchen after spending eight years as a talent agent for film and TV actors. When Hollywood lost its appeal, I cold-called the chef at my favorite restaurant, and the next thing I knew, I was working as a line cook at Union Square Cafe, for one of the country's most respected dining dynasties. Every day at the restaurant, the company's flagship, felt like I was going into battle with family by my side, and when the restaurant reopened, the family was reassembled.
Most New York restaurants don't even get reviewed by any critic, but USC is as high-profile as it gets, and the new version had been written about, and anticipated, for more than a year. As is customary, we were granted a few months to settle in, then the critics arrived.
Review season at a new restaurant is like the playoffs in sports: Every second of every play matters. Any chef who says they don't care about critics is either a liar or a fool. Though it's true that a single review won't make or break a restaurant, reviews set the tone for the restaurant's early life, and a less-than-stellar write-up would have likely killed staff morale, and sucked much of the early energy out of the dining room. Carmen Quagliata, the executive chef at USC, knows how important reviews are, and by mid-March, we'd gotten a few good ones, though we were still waiting on one critic in particular: Wells.
So every night, at 5:15, just before dinner, Chef would call a meeting to pump up the kitchen crew and to visit the cooks' stations to check the quality of the mise en place, the prepped ingredients and tools we use during service. More specifically, Chef wanted to know which portion we had set aside for Wells. Every night, we would all reserve the finest portion of every single component of a dish just in case Pete — "Don Pedro," as some of us in the kitchen called him — graced us with his presence.
I worked the entremetier station and was responsible for all side dishes — honey-glazed roasted carrots, fully loaded beets, bone-marrow mashed potato — and an extremely popular appetizer, fritto misto. Every night, I reserved the eight most beautiful carrots, three flawless beets, and two gorgeous rounds of bone marrow. I also kept a small plastic cup of seltzer filled with equal-size calamari rings and tentacles, handpicked for Pete. Next to that were two identical scallops and four perfect triangles of red and yellow peppers. (Most nights, a critic didn't come in, and the portions were sent out to other diners late in service.)
After months of this, the call came during a busy service. Chef answered the kitchen phone, hung up, and turned to the line of cooks: "Pete's here." It was his second time in. We should have been terrified, but the reality is that when super VIPs arrive — especially major critics — the chef and sous-chefs usually take over each station to cook the food that goes out. A guy like me, who didn't go to culinary school and occupied a lower spot in the kitchen hierarchy, usually got benched in situations like this. Sometimes, they'll cook a couple different versions of the same dish: The best one will go to the critic, while the others will go to diners who may never know their that entrée was originally cooked for Adam Platt or Pete Wells.
When the expediter finally fired Wells's table, he announced the order to the cooks: Bibb salad, gnocchi, duck crostone, polenta, and — the kitchen was silent while we listened to the order like a group of lotto junkies awaiting the numbers of a Powerball jackpot — fritto misto.
Chef jumped on the garde-manger station to make the cold appetizers. The sous-chefs jumped in on other stations. And amid the chaos, I heard Chef call out, "Armen! How are you looking on that fritto misto?"
Holy shit!
"Uh … good … great, Chef." I nervously glared down at my collection of Wells's Dixie cups. I felt like one of those backup players in the tearjerker sports movies who gets put in for the big game because the star is hurt. I was Rudy, and this fritto misto was my moment.
I dumped the calamari into the dredging basket, then tossed and re-dredged to ensure the squid was fully covered in flour. I dropped two scallops in buttermilk and added them to the dredging basket. I tossed and re-dredged, tossed and re-dredged, until I knew no two pieces would stick together. The peppers went into the oil for a few seconds, then the seafood, then I waited, watching as they swam around the fryer. The expediter continued calling more orders at me, shouting, "Why aren't you calling back?" There were, after all, 50 other people in the dining room who were expecting, and who deserved, a great meal. "I'm making the most important fritto misto of my life!" Nothing else mattered. After 50 seconds in the fryer, I pulled the basket out of the oil. In a shallow bowl fitted with a small square of parchment, I plated the calamari, scallops and peppers, a bit of fried parsley, and the most soigné seedless-lemon wedges ever cut by human hands.
Clutching the warm bowl, I walked to the pass where dishes undergo final inspection before heading to the table. Chef examined my misto and asked me, "Is this your best?" I nodded, and he handed the bowl to the food runner along with Don Pedro's other appetizers. That was it. Service resumed.
The review came out a month later. I was off that day, sitting at lunch when I started to get texts from my co-workers and sous-chefs. He'd written about my fritto misto. I froze up, anticipating a review that trashed my dish (this is the same critic, after all, who famously compared mushroom bouillon at Per Se to murky bong water). But we'd gotten three stars. Wells wrote, "consider me a fanboy when it comes to the ideally crunchy fritto misto," and even called it out as a recommended dish.
Regardless of what happened with the review, we'd planned a party that night to celebrate the end of critic season. As it turned out, we were toasting an epic triumph. Champagne flowed down an ice luge, my co-workers nicknamed me Misto Miyagi, and I stood beside Danny Meyer, the owner, for a photo.
I threw my arm around him, smiled wide, and got ready for the photo: "'Fritto misto' on three!"