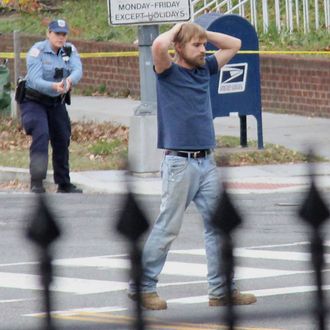 Edgar Maddison Welch just moments after not finding Hillary's pedophilia ring.
Photo: Sathi Soma /AP
The North Carolina man who drove up to Comet Ping Pong on the edge of D.C. so he could check out a rumor that the family-oriented pizzeria was harboring a child sex ring run by Hillary Clinton was sentenced today to four years in prison. That's essentially the exact sentence prosecutors had sought for Edgar Maddison Welch, who already pleaded guilty back in March to two weapons charges stemming from the incident. The Feds argued that Welch "traumatized" Comet's employees and customers when he barged in carrying a loaded AR-15 and fired it several times, in his quest to expose the secrets of #Pizzagate, and that a stiff sentence was necessary to deter anyone who falls prey to "the next internet-inspired conspiracy theory" from acting so foolishly.
Welch has essentially been apologizing since the day he got arrested, saying it was never his intention "to harm or frighten innocent lives." In her statement, U.S. District Judge Ketanji Jackson said she believed that the father of two isn't a bad guy, even though he'd somehow convinced himself that "self-investigating" a neighborhood pizzeria at gunpoint was an okay thing to do. Nevertheless, she wrote today that she's "never heard anything like the conduct that brings us here." She also added, "The extent of the recklessness in this case is breathtaking."