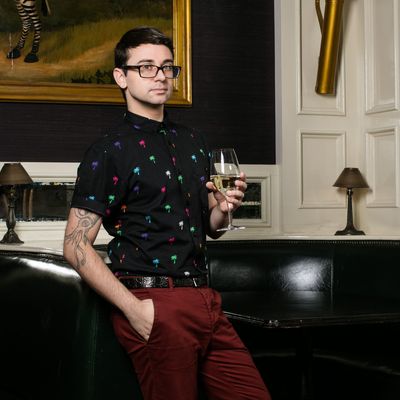 The Beatrice Inn is one of his favorites.
Photo: Melissa Hom
Fashion designer Christian Siriano became a household name after winning Project Runway, and he's gone on to build a successful eponymous label — earning recognition for creating dresses for women of varying ages, sizes, and statures. He also just collaborated on a wine with Ecco Domani: "I work on clothes all the time," he says. "I like projects that are about designing something else." Siriano spent Memorial Day weekend at his country house, drinking his own wine (of course) and grilling burgers and corn. Back in the city, he ate sushi and sandwiches in between celebrity fittings and prep for his upcoming Resort collection. Read all about it in this week's Grub Street Diet.
Thursday, May 25
I wake up at 7 a.m. It's a bit cold and dreary in New York for this time of year, and with so much going on, it doesn't feel like a long weekend is coming up. I start the day with some steel-cut oats and a chopped banana mixed in, and a cup of hot tea. I'm not a coffee person. I drink water throughout the day, and if I need a caffeine boost, I'll have an occasional Diet Coke.
Head to the office. The day is full of preparation for my upcoming Resort collection, which I'm shooting next week. I'm so busy, I almost forget to eat lunch. I love trying new restaurants, but my office becomes hectic when I'm working on a collection. At around 2:30 p.m., I go for the tuna sandwich and cucumbers I brought from home, and it's just enough to power me through the rest of the day.
Resort collection is done! Around 7 p.m., things seem to be winding down, and I make plans to meet my husband, Brad, for dinner at Momoya, a sushi restaurant near our apartment. I said I would make an effort to scale back on the carbs, but hunger gets the best of me, and I cheat a little with some crispy rice and a tuna tortilla. I pair it with a green salad — that balances it out, right?
Friday, May 26
Another 7 a.m. wake-up call, but at least the sun is shining! For breakfast, I make some scrambled eggs and avocado, with a cup of hot tea. It'll be another busy day in the studio before everyone heads out for the holiday weekend.
For lunch, the team orders in from Sushi Star near the office. Clearly, last night's dinner wasn't enough. I order a tuna-poke bowl, but opt for zucchini noodles instead of rice. I head out shortly after lunch to get home and pack for the weekend — Brad and I are going to our country house in Connecticut for some (hopefully) sun and (definitely) R&R before a crazy week ahead.
But first, around 6 p.m., before we hit the road, we stop by one of our favorite restaurants in the city for an early, quick bite: the Beatrice Inn. Brad gets the burger, I get the lobster, and we share. Brad's driving, so he sticks to water. I sip on a Pimm's Cup.
Off to Connecticut! We get there around 10:30, and pass out as soon as our heads hit the pillow.
Saturday, May 27
I love waking up in our country house — it's just such a fun, different vibe than the energy of the city. I sleep a bit later, until around 9 a.m., and then get up and take our pups out for a morning walk.
Back in the kitchen by 9:30 a.m., and it's time for breakfast. I make some whole-wheat toast with peanut butter, and sit down with a hot cup of tea and a newspaper. Whenever we come out to Connecticut, we like to do a lot of casual hanging around, since we're always on the go in the city.
By 1 p.m., I'm already hungry for lunch, so Brad and I (mainly Brad …) whip up some brown-rice bowls with assorted veggies. The weather isn't great, but we eat outside by the pool and feel like we're on vacation. Brad and I cooked a ton early on, when we first started dating. Now, we don't cook as much as we would like to, but he's so good at it. Every holiday, he loves cooking for 20 people. Whereas for me, it feels like a chore. I'm just hungry! I just want to eat.
At 4 p.m., Brad and I run out to Dom's Garden Center in Danbury and pick up a few new arrangements for our garden, and for dinner! We have a few friends coming over to eat and catch up, and fresh florals are always a must-have.
I'm definitely not someone who is great in the kitchen — beyond making my breakfasts — so I leave the gourmet cooking to Brad. Pasta is among his specialties, and tonight he's making some penne tossed with a homemade sauce of fresh tomato, basil, and olive oil. We pair it with some grilled leftover veggies from lunch.
My limited-edition label design for Ecco Domani Pinot Grigio is finally coming out next week, so we open one of the bottles and have a fun, casual dinner party. It's a light, fruity wine, and it goes well with the flavors of Brad's pastas. The design was inspired by Palm Springs — and between the food, the drinks, and the atmosphere, we're starting to feel like we've been transported there a bit. I'm definitely more involved in the packaging — I didn't create the wine! — but I was excited to create something that was beautiful and feminine and romantic.
Our friends leave around 11 p.m., Brad and I clean up and crash.
Sunday, May 28
Wake up at 9 a.m. Take the dogs for their walk. When I come back, Brad's making scrambled eggs, avocado, and sautéed veggies. I pair all that with my tea and a tall glass of water.
Another day of lounging around. Around noon, Brad and I head out to check out a yard sale in the neighborhood. I love finding little trinkets and treasures in places like that — yard sales, antique shops. Spoiler: We find nothing and head back home.
A late lunch around 3 p.m. Brad grills some chicken, and we have it along with brown rice and hummus. Brad has a little leftover pasta, too.
The yard-sale trip took a bit out of us, and we settle down for a nap. We wake up around 7 p.m. and decide we want to get Mexican for dinner — really hitting on all the cuisines this weekend. We head to Las Mañanitas, a local place not too far from our country house, but we keep it light, since we're still a little full from lunch. We split chips and guacamole, and an order of chicken enchiladas.
Monday, May 29
Our last morning in Connecticut! We wake up early, around 7 a.m., walk the dogs, and make breakfast. I'm back to my steel-cut oats with banana. And, you guessed it, a hot tea.
Our office is closed for the holiday, but the work doesn't stop! I answer a few emails and remind my staff to try not to work today. But it's a busy week — my Resort collection is getting shot; I have a few celebrity fittings.
Around noon, we pull together a homemade Greek salad, minus the Feta. Brad's got all the fixings for a barbecue for dinner, so we don't want to have a heavy lunch.
Around 4 p.m., Brad fires up the grill — hamburgers, hot dogs, corn, and other vegetables. It's the perfect end to Memorial Day weekend.
It's getting close to 8 p.m., and I'm getting ready to head back to the city. I hope I've stuck it out long enough to not be caught in traffic. Brad stays in Connecticut one more night.
Back by 10 p.m.! Not bad at all, but the driving was exhausting, and knowing I have a busy week ahead, I head to bed right away.
Tuesday, May 30
Back to work! I wake up a bit earlier than usual, around 6:30 a.m., and make myself some whole-wheat toast with peanut butter.
I'm in the studio at 9 a.m., and do a few fittings before heading back to the Beatrice Inn at 11 to do my photo shoot for this article! A few quick snaps, and I'm rushing back to the studio for more fittings. We have the CFDAs on Monday, and the Tony Awards a week later. I'm excited. My hint for the CFDAs is that I'm taking a '90s icon. I can't say more. What's great about the Tonys is, we're making some custom pieces for theater legends and for some young stars attending their first show.
For lunch, around 1 p.m., I order in from Balade Your Way, which is just a couple of blocks away. I get grilled chicken, brown rice, hummus, and cucumbers. The rest of the day flies by, with fittings and prep for our Resort collection photo shoot tomorrow. I can't wait for everyone to see it.