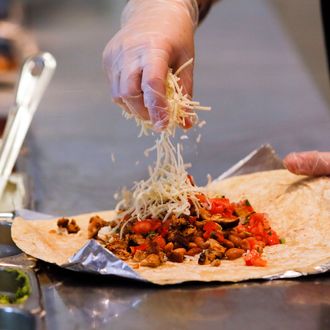 It's got your name on it.
Photo: Patrick T. Fallon/Bloomberg via Getty Images
American consumers probably haven't seen the last of Chipotle seductively dangling free burritos. The hard up chain apparently sees no reason to abandon giving away food and running lighthearted ads, even though that business strategy has yet to translate into a big boost in sales. In a note to investors this week, it explained that because it plans to keep spending more on marketing and promotions, its expenses will likely rise during the next quarter by as much as 0.3 percent.
The company tried neutralizing this warning by adding that sales should increase as well, by an amount "in the high single digits." But it looks like investors kind of rolled their eyes at that news: CNBC points out that Chipotle's shares fell by almost 7 percent yesterday, turning the chain into Tuesday's single worst performer on the S&P 500. The context is important, since last quarter's sales didn't look so bad either (they were actually "up" 18 percent), but that jump came immediately on the heels of literally the worst two years Chipotle's ever had. As part of its ongoing turnaround plan, the chain launched a new ad campaign in April that features Jeffrey Tambor as a giant talking burrito, and just debuted buñuelos as its first-ever dessert item.