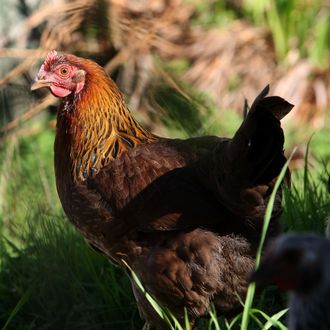 Still edible, though.
Photo: Justin Sullivan/Getty Images
Well, here go your evening plans: The CDC says you must quit snuggling your chickens and ducks and winged whatnots because the country's in the throes of a colossal 47-state salmonella outbreak "linked to live poultry in backyard flocks." According to the agency, eight separate outbreaks tied to these birds have taken place since January, hospitalizing 71 people and sickening at least 372. It's unclear why this needs explaining, but these animals are gross, germ-infested, and in constant contact with their own poop. As a result, "Avoid kissing your birds or snuggling them," the agency warns. Eating or drinking around them is also a bad idea, it advises, and there should be absolutely no cohabitating.
Turns out that salmonella outbreaks are on the rise lately. When the CDC started interviewing patients to understand why, nearly half admitted to cuddling a baby bird or two. The agency says that 190 of the currently sick people reported some kind of "contact with live poultry" the week before the illness started.
As additional safety precautions, it instructs flock owners to always wash their hands after handling either the birds or their eggs, which themselves harbor bacteria. But don't wash the eggs, it warns — the water can force bacteria inside them. Instead, you're supposed to clean them "with fine sandpaper, a brush, or cloth." Whatever you do, just don't let the creatures' good looks and kissability fool you: "Live poultry that look healthy and clean," the agency adds, "can still carry Salmonella bacteria."