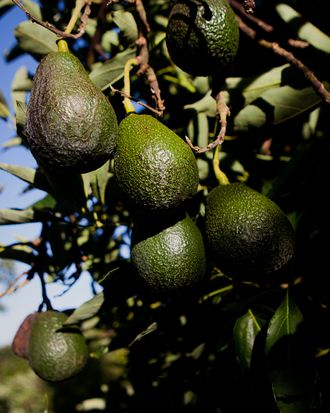 Grand theft avocado.
Photo: Sam Hodgson/Bloomberg via Getty Images
Avocado demand keeps surging, and people are looking to capitalized any way they can. A trio of workers was arrested last Wednesday for allegedly pilfering and reselling $300,000 worth of what's basically become green gold these days from a processing center in Southern California. The Ventura County Sheriff's Office didn't say how many avocados were stolen, but given the dollar value of the theft, a good guess would be eight, maybe nine. All three men were charged with grand theft of avocados.
The L.A. Times has it that authorities started investigating the suspects back in May after getting a tip. The employees had spent several years working at this Mission ripening facility in Oxnard, and they used their familiarity with the distribution system to perfect a plan for selling the company's avocados at a steep discount. They reportedly ran their unauthorized side business from a back door where customers could purchase a $50 box of avocados for $20 or $30. Customers eventually let the secret slip, though; Mission caught the men with surveillance footage. "We take these kinds of thefts seriously," a local sergeant explained to the paper. "Everybody loves avocados."