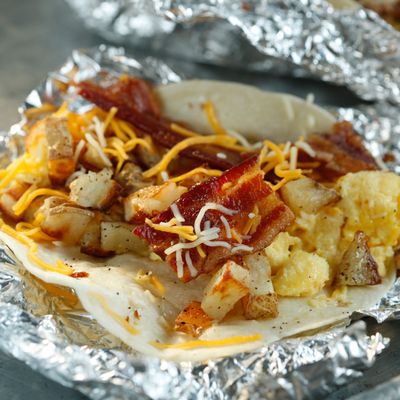 King David Taco does them right.
Photo: Melissa Hom
It was just five years ago that the arrival of a couple taquerias serving breakfast tacos was a novelty greeted with great fanfare. Of course, Texans' collective passion for this morning staple knows no bounds, and they're one of those foods that everyone obsesses over. While it seems that new breakfast tacos still get great fanfare, it's just that they're no longer such a novelty. New Yorkers now have many more options to eat them, as well as their California cousin the breakfast burrito. More keeping popping up, but who is going to complain about that? A couple weeks ago in May, two San Francisco expats opened the beachside Super Burrito out in the Rockaways. And on Wednesday, the owners of the Lower East Side's Egg Shop will expand to Brooklyn, where they'll serve a whole menu of breakfast burritos and tacos. Here, 16 options across the city.
Egg Shop
Price: $10-$12
When the downtown breakfast favorite opens its second shop at 138 North 8th Street in Williamsburg, they'll serve all-new breakfast burritos and tacos — like the ranchero burrito (black-bean scramble, shaved cabbage, pickled onion, avocado, cream ranchero, and Jack cheese) and papas-bravas taco (crispy potatoes, sofrito scramble, jalapeño aïoli, and Cotija cheese).
Super Burrito
Price: $4-$8
The rookie vendor out in Rockaway has brought San Francisco's Mission-style breakfast options — like a steak-and-egg taco, with carne asada, and egg-and-cheese-only li'l breakfast nosher.

King David Tacos
Price: $4 each (call about orders of less than 100 tacos)
A real live, actual Austinite started this delivery service, which offers three types of tacos that, as the breakfast-taco gods dictate, come in foil. All are good, but the one with scrambled eggs, potatoes, bacon, salsa, and a cheddar–Monterey Jack cheese blend is ideal. (It's also poping up at Rippers in Rockaway Beach from June 9 to June 11.)
Empellón Taqueria
Price: $12-$18
At Alex Stupak's original Empellón in the West Village, brunch means fried egg tacos with avocado and burnt morita-chili salsa. And while it's neither a traditional version or offered during breakfast, his recently opened midtown spot does offer a hash-brown taco with ketchup.
Güeros Brooklyn
Price: $3.50
The breakfast tacos here are so good, they alone make this list of New York's finest source for Tex-Mex grub. On weekends until 4 p.m., the Crown Heights restaurant serves housemade flour tortillas with scrambled eggs and a protein of your choice, as well as migas tacos with fried tortilla strips.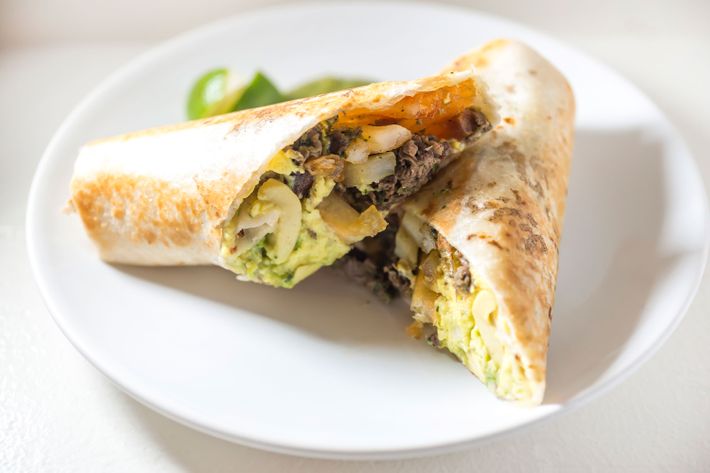 Lalito
Price: $12
The Lower East Side restaurant puts its homemade flour tortilla to good use during brunch, offering it with chorizo and eggs, or — for some corn-on-corn action — chilaquiles.

Downtown Bakery
Price: $6.50
At this bare-bones East Village, they serve both breakfast tacos (on corn tortillas) and burritos, which are the thing to get, with fillings like chorizo and fried potato.
El Donkey
Price: $4
The guys behind Chelsea Market taco destination Los Tacos No. 1 operate a cart (8 a.m. to 11 a.m.) specializing in tightly wound burrito variations: California with eggs, potato, and cheese; with just eggs and chorizo, or shredded beef; and à la Mexicana with tomatoes, onions, peppers, and cactus.
Lucha Lucha
Price: $10
The San Diego–style shop makes New York's finest burrito, so it's an obvious choice to get your fix and fight a hangover. Theirs are stuffed with chorizo, beans, guacamole, Oaxacan cheese, salsa verde, crema, and, of course, fries.
Tacombi
Price: $4.95-$6.95
At the Flatiron and Nolita locations of this taco chainlet, breakfast tacos are available with both flour and corn tortillas wrapped around eggs and either chorizo, slow-roasted beef, or sautéed vegetables and pico de gallo.
Gabriela's
Price: $5.5 for tacos, $13.5-$17.5 for burritos
The tacos here are served on corn tortillas with scrambled eggs, home fires, and meats like bacon and carne asada, while the burritos are flour tortillas filled with eggs, black beans, white rice, and a house cheese blend.

Dimes
Price: $9
During breakfast and brunch, the sceney, heathly-ish spot serves a slightly lighter take on the Texas staple. There's no meat on these corn tortillas, just scrambled eggs, spicy mango salsa, avocado, tomatillo, and house hot sauce.
Avenida Cantina
Price: $4-$6
Served all day long, these breakfast tacos are made the properly Texan way with eggs, cheese, and meats like bacon, and vegetarian options like potato and fried avocado. There's also a steak-and-egg taco with pico de gallo, and a migas taco with tortilla strips and salsa verde.
Choza Taqueria
Price: $4-$5
Midtown workers can drop by this casual taqueria in the Gotham West Market for both tacos and burritos, both made with scrambled eggs and Jack cheese.
Jalapa Jar
Price: $4.50
Its location in a subway station makes it ideal for commuters seeking a grab-and-go breakfast (at least those passing through the Clark Street station). And it offers its breakfast burritos all day long, with a choice of corn or flour tortilla, and fillings like jalapeño-garlic mashed potatoes, scrambled eggs, and crumbled bacon.