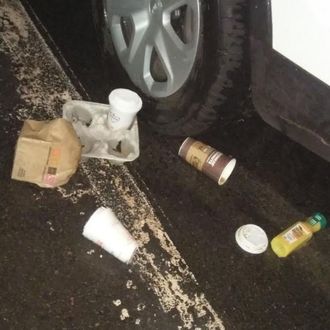 Aftermath of the officer springing into action.
Photo: Boston Police Dept./Twitter
Quick PSA for anyone considering a doughnut-shop robbery: If you're dead-set on this life decision, don't do it in Boston at a Dunkin' Donuts where there's an on-duty police officer inside ordering coffee.

Boston PD couldn't help but joke about the incident, which sounds like Casey Affleck's next SNL "Boston Man" skit, where this time his DD disgruntlement goes next-level. According to the report, an officer entered a Boston Dunkin' around 1:15 a.m. As he was waiting to order — again, on duty, so that means in full uniform — he observed another man, Stephen White, walk in and ask to use the restroom. As White was talking to the employee, the officer took his coffees and orange juice and left. En route to his cruiser, though, he observed an employee burst out of the store screaming, "He's robbing us! He's robbing us!"
Per the report, the officer "instinctively sprang into action," doing this with "such abandon," no less, "that he dropped the coffee on the ground!" He then took up a "tactical position" near the front entrance, arresting White on the spot when he emerged and simply walking the bagful of money back inside.
"A Cautionary Tale," Boston PD warns. "If you're gonna rob a Dunks, best not to do it during the cop's coffee run."