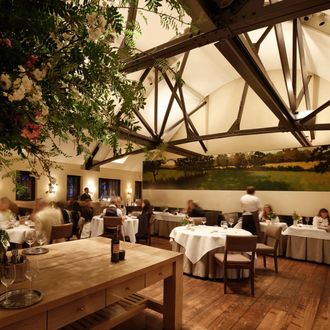 The administrative fee comes to $51.60.
Photo: Melissa Hom
Ever since Danny Meyer announced in October of 2015 that he'd abolish tipping at all of his restaurants, New York chefs have followed his lead with mixed success. The new policy plagued Roman's, and Gabriel Stulman ended up reinstating tipping at Fedora. Now Blue Hill at Stone Barns, which Adam Platt named the absolute best restaurant in New York, has added a 20 percent administrative fee to its subtotal, following a $2 million wage-related lawsuit.
The tasting menu at Blue Hill now costs $258 (a $20 increase from last year) — plus the $51.60 administrative fee that is "not a gratuity nor is it distributed to the service staff." There will be no line on the bill for additional gratuity. David Barber, who runs the restaurant with his brother Dan, tells Eater that this system allows them to "recruit better talent and better protect existing talent" without, he notes, forcing hardworking servers to take pay cuts.