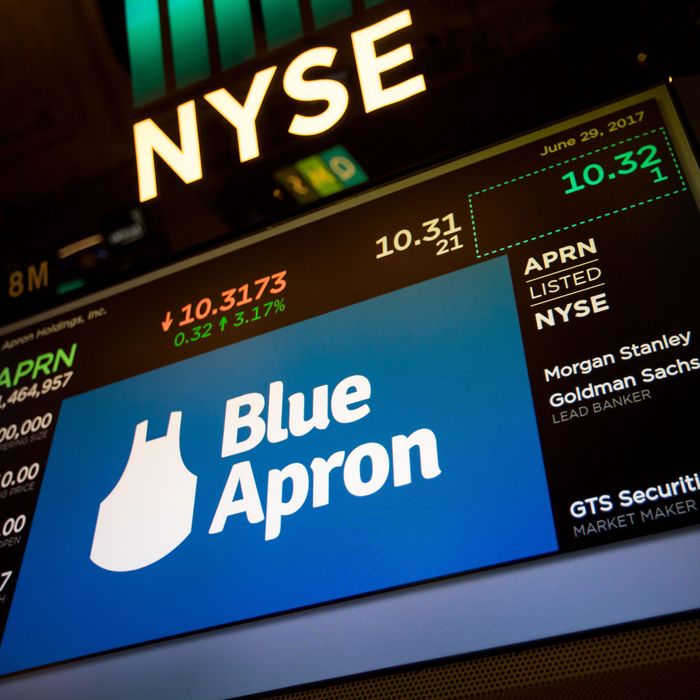 Blue Apron's stock finished the day where it started.
Photo: Michael Nagle/Bloomberg via Getty Images
Meal-delivery pioneer Blue Apron hit the stock market yesterday with a thud, its shares rising moderately, only to close where they opened at $10. This unceremonious debut wasn't unexpected. The company slashed its IPO by a third following Amazon's acquisition of Whole Foods, causing speculation that a newly merged company would be able to launch a superior meal-kit-delivery service of its own.
While Blue Apron didn't do worse than its readjusted expectations, this isn't great news for the company or the meal-kit-delivery industry. One market-research firm found that almost half of customers bounce after six months of using these services (competitors include HelloFresh, Purple Carrot, Munchery, and Martha Stewart's Martha & Marley Spoon). At the time, only half of Blue Apron's customers used it for more than one week, and a meager 10 percent made it to six months. These services tried to draw in customers by offering discounts and deals, but ended up simply disrupting dumpster-diving and giving people an opportunity to dine and dash. That tendency to abandon ship is discussed in a New York Times op-ed by Dirt Candy chef-owner Amanda Cohen, who writes that "everyone I spoke to who used meal kits eventually stopped." Oh, and they create an enormous amount of plastic and paper waste.
Are meal-delivery kits just another example of tech trying to solve a problem that doesn't exist? Yes, but also no. Cohen says that she also worried that meal kits aren't "teaching people how to cook, but are instead teaching them how to prepare meal kits." But in talking to meal-kit users, she found out that she was wrong. The recipe cards, they told her, gave them confidence to cook more, use ingredients they'd otherwise never use or not want to buy a wasteful amount of, and so on. In a sense, the services fill some of the role that families used to in passing on recipes and teaching children how to become comfortable in the kitchen. That doesn't change the fundamental problem these businesses face, however, which is that eventually they outlive their usefulness as users become more adept cooks. These companies keep hemorrhaging customers, and their deals and discounts feel a bit like an attempt to plug a hole. The problem, it seems, is that the hole is part of the fabric of their business models.