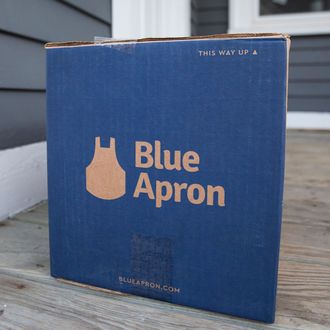 Left out in the cold.
Photo: Scott Eisen/Getty Images
Blue Apron is finally realizing the obvious: that launching an IPO two weeks after the blockbuster Amazon–Whole Foods news is going to be greeted with yawns. Because of underwhelming demand, the meal-kit company has cut the price of its upcoming offering to $10 per share, a good deal less than the $15 to $17 range it was after initially. At this price, Blue Apron's haul would be about $300 million, two-thirds of what it expected to raise a week ago, and good enough for a valuation of about $1.9 billion — which, cruel irony, is actually less than its value in 2015, following a solid fundraising round.
Blue Apron's business model has raised eyebrows, so that didn't help either. The company touts the fact that 2016's sales were ten times higher than 2014's, equaling $795 million last year. But marketing costs have also increased tenfold, a lot of which is burned on podcast ads that seemingly run ad nauseam. More to the point, the company has never, ever been profitable, and its annual losses have been mounting, not shrinking.
But as analysts note, beggars can't be choosers: Blue Apron already abandoned plans to launch this IPO once, explaining last December that it needed to "focus on improving its financial metrics" first. Amazon armed with the food-sourcing infrastructure and loyal customer base of the country's most famous organic grocer is a looming threat for sure. (Amazon and Whole Foods have separately both toyed with meal-kit deliveries.) But if Blue Apron had passed now, it might not have gotten another chance.
For better or worse, the stock debuts today, trading under the ticker symbol APRN. The company of course wants to look confident and excited about its prospects regardless, so it's apparently paid to convert the entire front of the New York Stock Exchange into a vegetable garden: