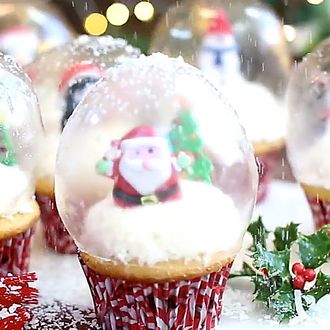 LaBau claims Food Network deprived her of 11 million views on Facebook.
Photo: SugarHero!
Food blogger Elizabeth LaBau, who runs the website SugarHero, created a viral recipe for snow-globe cupcakes back in 2014. Took a little trial and error, but she found a relatively painless way to make edible clear globes by wrapping gelatin sheets around inflated balloons. The trick proved so popular, it crashed her site. Last December, she posted a how-to video of what she was by now calling her signature dish. It was also popular. Three weeks later, a snow-globe-cupcake tutorial appeared on Food Network's Facebook page. LaBau argues that Food Network stole her idea, and according to The Hollywood Reporter, she filed a copyright-infringement lawsuit against the company at the end of last week.
Technically, copyright laws don't protect recipes, but they do extend protection (or can) to the way recipes are presented artistically. In this case, to the video: LaBau claims Food Network's video — which is no longer available — "willfully and intentionally" copied her video "shot-for-shot." She claims the colors, the lighting, the text, the camera angles, and even the Santa inside the globe in her original video were replicated a little too closely:

Food Network's post cost LaBau page views, she argues, and therefore income. Her suit says the first viral post "more than tripled" her income for that particular month, adding this was no small victory in her eyes: "Competing with numerous corporate food websites, often backed by large companies with deep pockets, is very difficult as an individual and requires endless work." The lawsuit also points out that her website has won several awards, like Better Homes and Gardens' Best Baking Blog in 2015, but asks what the point is, at least financially, if a larger player like Food Network can ape her work with no repercussions. LaBau reportedly asked Food Network to remove its video, or to at least credit her somehow in it, but the company refused.

The suit seeks as much as $150,000 in damages per copyright infringement. Food Network has not issued any sort of comment.